I had the pleasure of sitting down with Rana El Faramawy co founder of Bikya the coolest mash up of all that is art. Five girls on the train of change, looking to do something different is what Bikya ended up representing to me by the end of our conversation. With nothing but respect for the girls, here is what they had to say.
Who are the Bikya team?
Bikya's team are Rana El Faramawy, Reem Khamis, Yara Taha, Nancy El Hady and Sarah Boctor, these are the owners. We have been together since we started our IGCSE and ever since we've been best friends. The team also includes 3 who have been with us since in the beginning bouncing back between the 2 branches, we consider them family now. Although they started as waiters they are now the foundation of Bikya. Sameh, Hatem and Mohamed as well as the staff and several interns.
We'd like to call it the 'Bikya Family' rather than the 'Bikya Team.'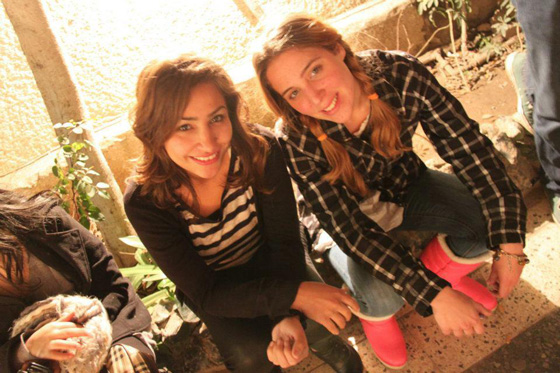 Tell us about the concept behind Bikya and why it is so different to anything out there?
Bikya's idea started back when we were in high school. We're five very different people if you ever happen to meet us, the only thing in common was reading and books. Back in high school we used to head to Soor El Azbakeyya with our back packs using the under ground (we were too young to drive) it was always like an adventure, bargaining for the price of the used books, who will get which book first and who goes back with the biggest number of the best books out there. Between us all I can comfortable tell that we have more than 3000 books that drive our moms crazy (dust issues, you know moms) second hand books for us was always a very normal idea, the idea that you are reading a book after someone else did, sometimes you'd find the weirdest shit hidden inside the books, a gynecologist card or old family pictures. It adds this nostalgic sense to any book rather than the newly acquired one off any shelf in a bookshop or something that's ordered online.
Although the idea was there since high school, of course back then we couldn't have afforded doing anything as such. Luckily, when they graduated and I was still in my final year, a family friend decided that he wanted to sell off a huge library of his. we decided to buy the library only to find out there's nothing to be done with it and moms would freak out from the thousands of books. we decided its time we execute our old idea and we started immediately (our immediately was basically us tearing down a wall the 2nd day, no thinking, no second thoughts)
Why did you feel like the market lacked such a concept?
We lacked the idea of a cozy place where you can just go open up your work, book, laptop or sketch book, feel at home and start being productive just as if you're at home. it lacked a place where you can talk to the next table comfortably or even move yours to theirs just because you decided to join them in the pictionary round they were playing. Proof that the concept was lacking the market is that as soon as we did, several places with the same concept did elsewhere.
Why books?
Its the love of our lives, for me shoes come right before though 😀 (but that's just me)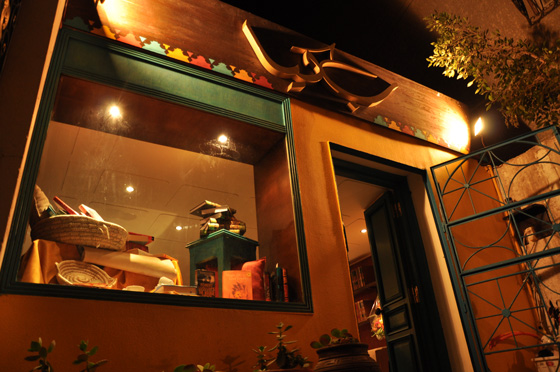 What are 5 things I can find at Bikya?
Second hand books, art work, coffee, food and some of the best, talented and coziest gigs in town.
Can anyone come and preform? Or does it have to be a prescheduled event?
Usually it has to be preschedueled, however it has happened that several performers would be around at the same time and they would start a very spur of the moment jam session/ gig. Some of the best gigs were spontaneous and unplanned for, sometimes being inside and other times on the bean bags in the garden. Lucky people who're there at the time get the opportunity to join in by singing along and clapping.
What should we expect for Bikya in 2013? Expansion plans? Type of events?
We have no concrete plans, just like Bikya started as a sudden decision, as well as our second branch in Maadi, we're leaving all our plans to the wind.
How did you and Future Shorts get together?
Salma El Shaffei and Sarah El Adl already used to come to Bikya all the time and we know them through common friends, they decided Bikya can work for the next venue and we were immediately up for it. We'd never say no to an event.
We hear there are other artists such as Shady Ahmed who are a big part of your team, what do you feel is special about this performer in particular and who else do you rep?
They are not a part of our team particularly but Shady as well as many other performers were the ones who started Bikya with us from the very first day. Their support and gigs were one of the reasons we were immediately put on the map. When Bikya grew we made it a point that we'd help with whatever we can, be it displaying their CDs, helping them with gigs (on friendly basis) or making regular concerts.
How many books have you read? And what is your favorite?
I've read probably thousands of books. between the age of 13 up until 20 i used to read one book a day! I'd give up going out if i had a good book in hand. We'd exchange books like crazy and go after a certain book that a friend has by trading another book that she wants. it was never just about the reading, a huge part of it was about possessing the book too. i remember when Harry Potter was released, I'd stay at home for 3 days until its completely finished. No one would hear of me until it is. Oh the good days.
Is Bikya your 9-5 and what were you doing prior to this?
Bikya isnt the 9-5 to any of us. The four of them are engineers all holding very good positions in big companies. Yara is a civil engineer working for a multinational as well as doing her masters in the field, Nancy is a mechanical engineer who is also doing her masters in the field as well as TAing in AUC, Reem and Sara both are digital media engineers who work for a multinational, I am a partner in the firm i work for which is a regional management consultancy firm- hence the traveling a lot (however we only work with design based projects)