Samsung has done it again. The fifth generation of the GALAXY Note line is sleeker and slimmer for a stronger and better grip.The beautiful Note 5 also features enhanced software and a long-lasting battery. Let's take a closer look at this new baby.
Design
By far, the Note 5 has one of the best screens available, so if you're into large screens, this is definitely the one for you. The Note 5 is also even more durable because its new exterior is built with slick Gorilla Glass 4 and well-crafted AL7000 metal – for you non-techies, that's Aluminum Series 7, which is 1.7 times stronger. And while it has maintained its famous S Pen, the phone feels smaller although it is actually bigger, with its trendy dual curved back, convenient for using it in only one hand.
The Note 5 is available in Gold Palitnum, White Pearl and Black Sapphire. However, wait a little longer and the Titanium Silver (which is completely new to the Note series) will be in Egypt real soon.
S Pen
What's a Note without the S Pen? This year, there are seven new enhancements to the infamous Note 5 S Pen that you'll love using.
1. Samsung made a new feature called the "screen off memo". This feature lets you create an "action memo" (more like a sticky note) even when the screen is turned off. It's a very useful feature and will drive users to the S Pen even more.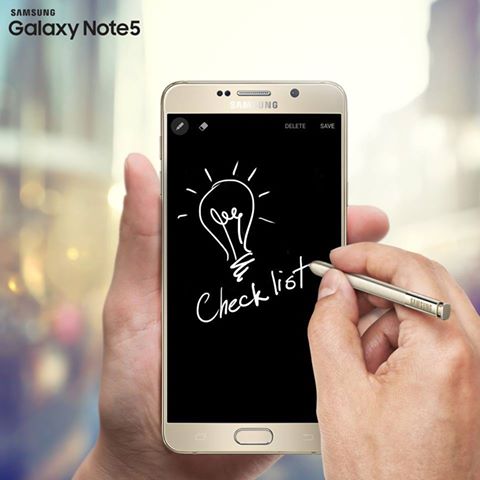 2. With the "Write on PDF", you'll actually be able to Write. On. A. PDF! Enough said.
3. Now, the "Scroll Capture" feature is probably one of the coolest. You can now capture up to 22 pages in one single frame so your screenshots aren't split into several images.
4. Samsung has enhanced the Air Command Interface and it is most definitely more user friendly.
5. When we say "user friendly", we mean it because Air Command now has three empty slots so you can add your favourite apps as shortcuts.
6. Before, in order to get Air Command you had to hover over the screen with your S Pen and click the button in the center of the pen. Now, Samsung has added a floating icon on your screen that only reacts to the S Pen when pressed, so you can access Air Command immediately.
7. Finally, what makes this pen special in all of our hearts is the Push and Pull addition – or what we like to call "the part at the end of the S Pen that makes it go 'click click'".
Entertainment
Display
While the Note 4 and the Note 5 are the same size, the Note 5 is still that much better in pretty much everything else. The colors and brightness of the screen are out of this world thanks to the Super AMOLED Quad HD and when there's direct sunlight, it automatically changes to sunlight mode.
Ultra High Quality Sound
When it comes to the phone's speakers, the sound quality is greatly improved thanks to the superb headphones available with the phone. Samsung has produced new audio technology that ensures the best quality headphones offering 24 bit/192kHz audio with upscaling for MP3 high-quality files.
An added bonus is that you can pair your Note 5 wirelessly with the Level On Pro, Level Box Pro or Level U Pro and enjoy the new Ultra High Quality Upscaling feature.
Camera
The Note 5 has both optical image stabilization (OIS) and video digital image stabilization (VDIS), which will help keep shaking hands from taking blurry footage. With an array of modes and tools and auto-HDR right on the screen, photos will look great and more true to life than ever.
You can also take video editing to the next level with Video Collage, which allows up to four videos to be placed in one frame, so you can show more in less time.
Samsung has also added a brand new live broadcasting feature that lets you stream live to YouTube. There's intentionally a 30-second delay between when you start recording and when the footage hits YouTube. This is essentially Samsung and YouTube's take on Twitter's Periscope tool. The live broadcast feature is appearing first on the Note 5 and S6 Edge+.
Battery and Charging
These days, everyone complains about the battery life of their smartphone. When Samsung announced that the Note 5 would have a much smaller, sealed battery, people were worried because this means that you won't be able to use any additional removable batteries.
However, Samsung has developed fast charging technology that works on wired and wireless charging as well as power banks. Samsung promises that wireless charging will fill up your battery juice in just 120 minutes!
Performance
In terms of specs, Samsung always takes the lead. The Note 5 has increased its RAM to 4GB of DDR4, making it the only phone in the Egyptian market with that much memory, plus 32 GB of internal storage. Now those are the performance capabilities we like to hear about.
Interface
The TouchWiz interface hasn't changed significantly since the last update on the Note 4 and the differences are very subtle. The only notable change is the new iconography. Samsung also trimmed all unnecessary features from its interface and instead, you can download them from the Play Store, so you can enjoy a faster and smoother experience.
WE SAID THIS: Don't miss The First Impressions of the Samsung GALAXY S6 and S6 Edge.