#هواوي_في_قلب_النادي_الاهلي: Huawei Sent These Ahly Fans on the Trip of Their Lives
Huawei competition winners celebrate on the day of the Al Ahly Vs. AS Roma friendly match in Al Ain, UAE on May 20, 2016.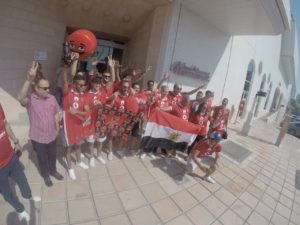 Last week, Egyptian football giants Al-Ahly made us all proud with their epic win against top European club AS Roma.
In separate digital competitions, Al-Ahly sponsors Huawei, Vodafone Egypt, Coca-Cola and Juhayna sent a group of lucky winners to the UAE to attend the match and support their team.
Hossam Ghaly, known affectionately as "Capitano", led the Ahly lineup to a 4-3 victory in the friendly match against Italian legend Francesco Totti and the Roma team.
The stadium in Al Ain was flooded with red, as the majority of the fans were Ahly supporters. But when the "Egyptian Messi", Mohamed Salah, scored the second goal for Roma, the stadium erupted in cheers. The crowd also gave massive love to Totti, with fans thrilled to see the "King of Roma" in action.