Top Egyptian football club Al Ahly have announced Huawei as their new telecommunication partner in a three-year agreement.
The Huawei logo will appear on the chest of Al Ahly jerseys, inspiring the motto of the deal: "Huawei in the heart of Al Ahly".
Al Ahly players and board members alongside Huawei board members were present at the inauguration on Tuesday.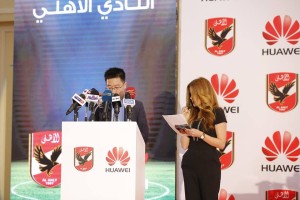 Huawei are proud to partner with club of the century, said Egypt's operations manager George Lee.
"Today's event officially ties telecommunication and smart phone giants Huawei and trophy hunter, Al Ahly. This partnership is a true addition to Huawei's success in the Egyptian market," Lee said at the press conference.
Al Ahly joined Huawei's fleet of prestigious sponsored teams all over Europe, including Paris-Saint Germain, AC Milan, Arsenal, Borussia Dortmund, Ajax, Atletico Madrid and Galatasaray.
WE SAID THIS: Follow Huawei on Facebook and Instagram to stay up to date.