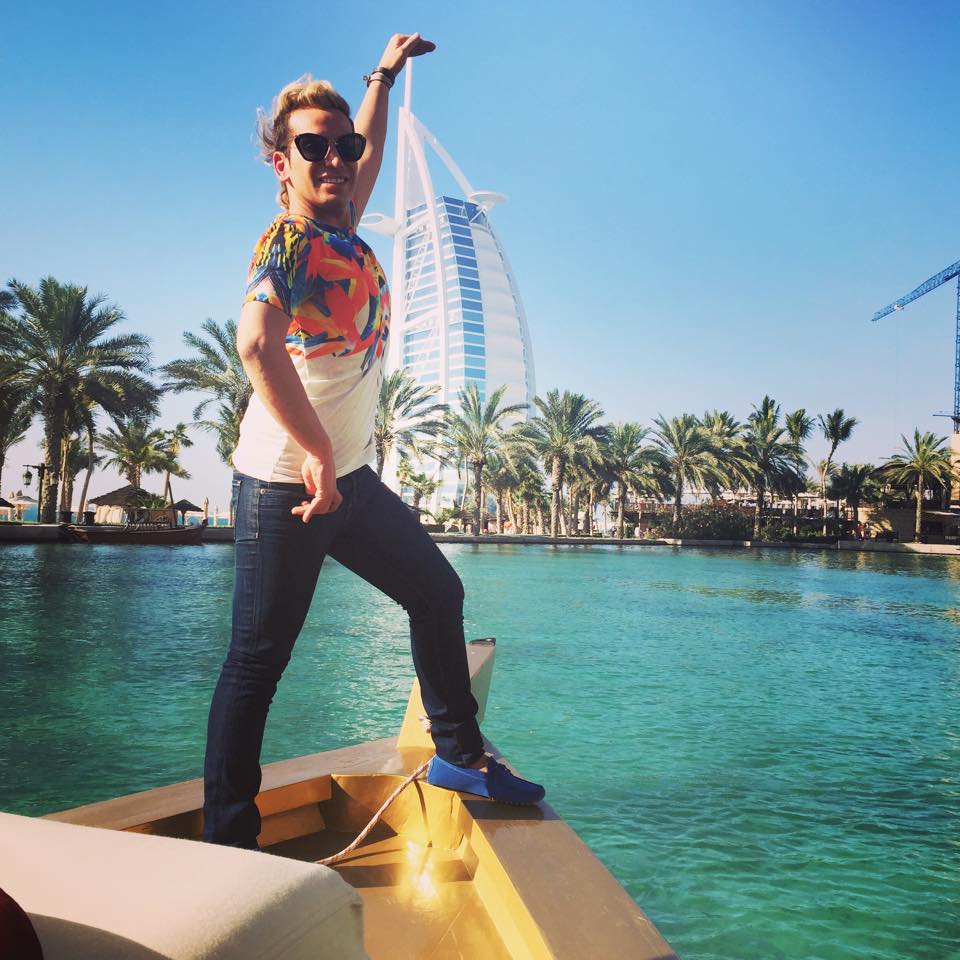 Not much is known about the self-proclaimed "butterfly of Instagram" but we're addicted to the personality. Love him or hate him, Arabs around the world can't stop quoting "mathal el youm" and from hashtags to an insane Snapchat, we won't deny we're a bit obsessed with Makeup By Fifo. We caught up with internet sensational to talk about everything from contouring to dealing with Scoop Empire haters.
If you could have shisha with anyone living or dead who would it be?
I would drink it with my golden star Nawal El Zoughby or Shams El Oghneyya Najwa Karam.
What is your all time favorite "mathal"?
Every saying for me has its own place in my heart and I love them all. But one of my first sayings that I love is: "La taz3al 3ala 7ada 7abaytoh w e3tebro ras orkolih w kabaytoh" #ed3essoh
Which Middle East city has the best party scene?
The best Arab country for parties is definitely Lebanon.
What was the strangest fan moment you've had?
One of the weirdest situation I've ever been in, I was walking in a mall and all of a sudden I find someone pulling me from my shirt and wants to take a picture with me so I got startled and scared for a second but it was fine hahaha.
Hair and makeup can take some time so how much time do you spend on yours…honestly?
If it's a regular quick makeup, it takes me five minutes but if it's for a special occasion, between hair and makeup, it takes me about 30 minutes.
How do you deal with the haters?
It doesn't matter to me but I love to get under their skin by sending them positive energy.
How did you make your way from Lebanon to America?
The last year before finally leaving Kuwait, I spent it between Kuwait, Lebanon and the US and after that someone offered me a chance to go and live in America so I didn't really think about it a lot to take the decision so after a few days, I called and accepted the offer and that's how it happened without any planning.
What makeup mistakes do Arab girls make that drives you crazy?
That the contouring concept is now wrong and it became a necessity that has to be done with any makeup whether her face needs it or not. As if a makeup artist HAS TO do it and if he doesn't contour, he's considered a bad makeup artist even if the final look is good.
Is there a specific cause/nonprofit close to your heart?
There's no specific organization but all the NGO's that deal with kids with cancer really touch my heart.
What's the greatest lesson you've learned in building your brand?
I've learned the lesson whenever I feel weak I shouldn't show it to anyone else i keep it to myself but if I found someone I completely trust I would share it with them.
You have a personality fit for a mosalsal, do you see acting in your future?
I tried acting before in a Kuwaiti series and it was a very small role. If I had another role with a character that suits my personality, I would take it. Anything is possible #Shakhseya3AnidawMoheblKhodElTagarob
Who's your favorite Arab diva?
It's hard to say cause I love a lot of artists but some of my favorite songs are 'Ya Gada3' by the golden star Nawal El Zoughbi and 'Bousa Abl el Nom'  by shinning star Najwa Karam.
What made you decide that your hand motion is the hashtag sign?
It just came like that, even the word hashtag at the end of each quote came spontaneously. People loved it and so I continued to use it and it became my trademark.
Sometimes we get some serious haters! Do you have a mathal for the Scoop Empire's haters?
I always say this quote to every hater, 'El Kafela taseer wa al kelab tanba7" #Yenba7oh
WE SAID THIS: Don't miss Q&A: Lebanese Fitness Guru and Total Badass Maya Nassar.