Gouna Film Festival (GFF) started with a big bang last night, and nothing will ever be the same again. This mammoth of an event will surely elevate the film industry Egypt, as well as the Middle East, to a whole new level.
But we're not gathered here to talk about the film industry, exactly. On the contrary, we're here to talk about the potential celebrity feuds, the one Ghada Abdel Razek is starting in particular, with Ahmed El-Fishawy and Sama El-Masry.
To catch up real quick, Ahmed El-Fishawy was premiering his new movie Sheikh Jackson at GFF when he used the word "khara" (meaning shit) to refer to the supposed not-so-good-screen the movie was going to play on. Social media, obviously, has not been the same since — and people bombarded El-Fishawy with lots of not nice messages and comments. Abdel Razek was one of those people, as she created an Instagram post where she basically says Ahmed El-Fishawy and Ahmed Malek are the worst things that have happened to Egypt.
Of course, social media users did not let Abdel Razek just have her word when they reminded her of the actress' very own incident which involved a nip slip a few months ago. TV host and belly dancer, Sama El-Masry, has also made her way onto Abdel Razek's Instagram post where she pretty much lets everything out.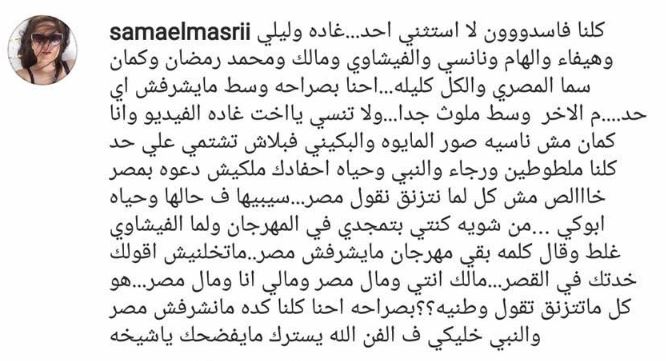 "We are all bad, no exceptions. Ghada, Laila, Haifa, Nancy, Fishawy, Malek, Mohamed Ramadan, even myself. We all are. Or did you forge the video, Ghada? Do not speak ill of someone because we're all in this together. Oh, and please stop talking about Egypt every time something happens. One second, you're like GFF is amazing and God bless Egypt, and when Fishawy said what he said, Egypt became bad. Can we stop and just focus on yourself?" El-Masry said on Abdel Razek's post.
WE SAID THIS: We couldn't find the actual comment on Abdel Razek's Instagram (El-Masry may have deleted it), but the screenshot below has been taking social media by storm.