On Thursday, Oct. 13th at 9:00 PM, "Opera Aida" will be presented at El Gouna for the very first time in a contemporary setting as part of the 150th anniversary of Verdi's masterpiece. In order to honor the magnificence of ancient Egypt, the show retells the legendary story from a modern viewpoint. Soloists from The Bolshoi & The Mariinsky Theatre will be giving a performance unlike nothing you have seen!
I-Events and RMC Egypt Events have collaborated on this event and you can visit their Facebook page for more details about the event and ticket information.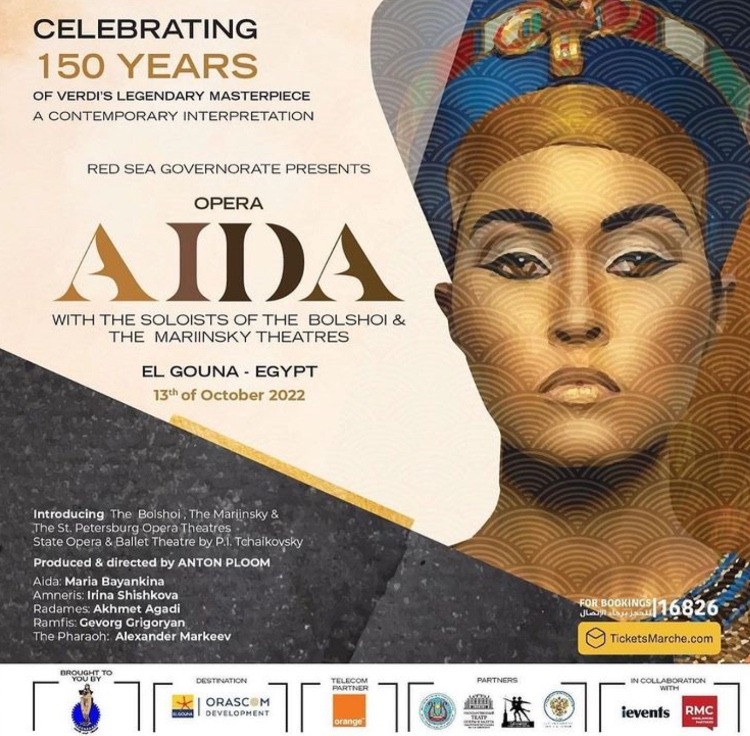 Why in El Gouna? Well, El Gouna has become a melting pot of Egyptian cultures as well as a popular vacation destination. It is safe to say that El Gouna is the birthplace of Egyptian pop culture as it holds the El Gouna Squash Open and the El Gouna Film Festival among many other events, making it a cultural destination that could not be overlooked.
History
To celebrate the opening of the Suez Canal in 1869, Khedive Ismail issued directives for the construction of an opera house. The Khedivial (Royal) Opera House was its name. The Khedive Opera House, designed by Italian architects Rossi and Avoscani, was built in just six months. However, the Khedive began planning for an exquisite performance for his project before the building was finished, one that would honor the rich history of ancient Egypt according to Aida 150. He chose Auguste Mariette Pasha, a renowned Egyptologist and the creator of the Egyptian Department of Antiquities, to write an operatic story with an Egyptian theme.
Mariette commissioned the Italian poem Gialanzoni to write the libretto, and the musician Verdi was commissioned by the Khedive to compose the music. The result was the famous opera, Aida, with its patriotic subject and superb music. However, Aida was not ready by the inauguration of the Opera House so another masterpiece by Verdi; Rigoletto was performed on the 1st of Nov. 1869. Based on Aida 150, Opera Aida itself was performed two years later on 24 Dec. 1871.