This year's Grammy Awards ceremony took place last week, and as always, it was full of incredible performances, beautiful red carpet looks and touching tributes. Here are our favorite moments from each:
The Winners
Mark Ronson and Bruno Mars's "Uptown Funk" was unsurprisingly one of the big winners of the night, winning both Record of the Year and Best Pop Duo/Group Performance.
And the Song of the Year award went to Ed Sheeran's "Thinking Out Loud". Stevie Wonder presented the award, and revealed that the envelope was written in Braille, joking that only he could read the winner before delivering a more serious message, saying "We need to make every single thing accessible to every person with a disability."

Taylor Swift won Album of the Year and Best Pop Vocal Album with 1989, becoming one of only a handful of artists to win Album of the Year twice, along with greats such as U2, Paul Simon, Stevie Wonder and Frank Sinatra.
Alabama Shakes were also huge winners, winning the awards for Best Alternative Music Album, Best Rock Performance and Best Rock Song.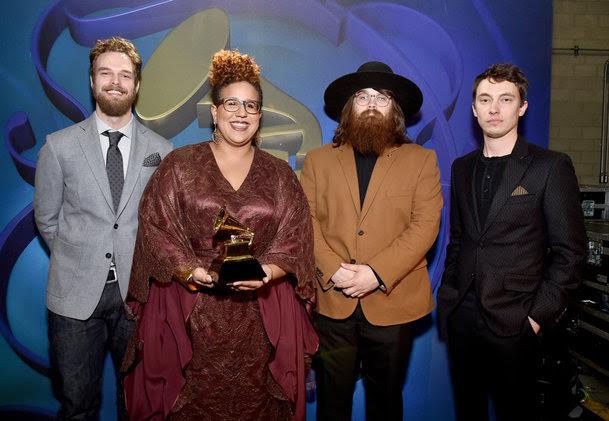 The Acceptance Speeches
Who isn't talking about Taylor Swift's acceptance speech? It was a feminist win, a subtle dig at the haters (we're all looking at you, Kanye), and still gracious:
After everything we've heard about Hamilton, I have no doubt they earned that award for Best Musical Theater Album, and the best part was that musician and lyricist Lin-Manuel Miranda rapped his acceptance speech:
The Tributes
Lady Gaga and Nile Rodgers did a dizzying medley of David Bowie songs with some great visuals:
The Hollywood Vampires, made up of Alice Cooper, Joe Perry, and Johnny Depp (yes, Johnny Depp) dedicated their tribute to Lemmy with, of course, "Ace of Spades".
And Chris Stapleton, Gary Clark Jr. and Bonnie Raitt's cover of B.B. King's "The Thrill is Gone" was pretty amazing:
The Clothes
Selena Gomez sparkled in a slinky sequined cutout dress: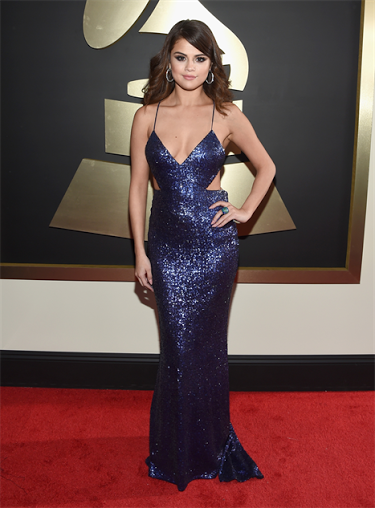 Ellie Goulding looked all grown up in a Stella McCartney gown and diamond necklace:
Here is Zendaya in a beautiful suit and a mullet, which only she could pull off: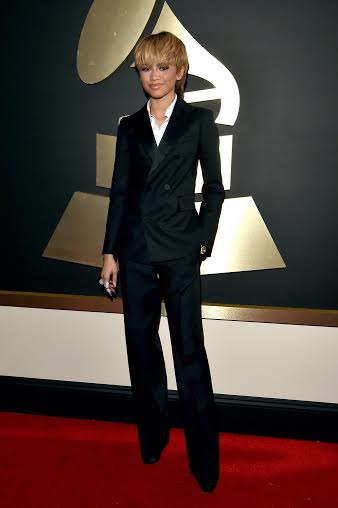 Big Sean looked sharp in a white Zegna blazer:
And how about Miguel's striped suit and open collar:
The Performances
Kendrick Lamar gave an amazing performances with his hits "The Blacker the Berry" and "Alright", and his message was clear – he started the performance in shackles and surrounded by black dancers and musicians behind bars. Lamar also went home with five awards: Best Rap Album, Best Rap Collaboration, Best Rap Performance, Best Rap Song and Best Music Video.
Justin Bieber won his first Grammy this year, which makes sense because he's finally started making music that is listenable. And his performance with Jack Ü of "Where are Ü Now" was refreshing because they played actual instruments, with Skrillex on guitar and Diplo on keyboard and drums. You can hear the live version here:
WE SAID THIS: Don't miss For the Record: Valentine's Day Playlist for the Romanitcally Disabled.