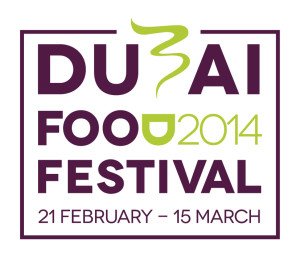 I've been involved in a task recently for the Dubai Food Festival. They contacted me a short while ago, and asked me to assist with creating a "Gourmet Trail", for visitors and residents alike, who would like a little more to get excited about for the food festival month. (As if all the events were not enough!)
The Dubai Food Festival has been a tourism leap for Dubai. It's showing us that Dubai is realising that it's possible to work a little more cohesively to aid the tourist, and also to bring what may have been initially considered to be competing events into a harmonious whole. I think they may have figured out that is is possible to make 1+1=3, because this year, the food events over February and March seem to carry a whole lot more weight. And from what I've seen so far this year, it's quite possible they can make the sum =4 by 2015.
And for food bloggers, it means that it's gone from being a few scattered pieces of excitement to a month of excess. Non-stop eating and drinking, hobnobbing and namedropping, catching up, dropping in, standing by, sliding through and sitting in. I'm only three steps of the way through, and I'm already exhausted and 2 kg heavier.
But back to the Gourmet Trail. The Dubai Food Festival got six bloggers together and asked them for their opinions on the Dubai culinary scene, and for our top 20 restaurants in 5 categories. Others involved are Forkitoverdubai, WhenShaikhaCooks, Foodiva, Saba Wahid, and Secretsquirrelfood, Below you'll find mine (there's a couple more than 20, because there was a little doubling up on our first selections and so we were asked to pop in a few extras. And I just can't bring myself to drop any off at this point.)
Arabian Inspirations

Choosing four was tricky for this category. I found it hard not to throw in my local shawarma joint, as it's so heavily patroned by me, but really, I wanted to pop in some places that really excel. I've chosen four remarkably different venues across different origins and all price ranges.
Abshar
Description and tips: Divine Persian food in a lavish Jumeirah Beach road villa. This is my family's favourite. Save room for dessert and visit the sweets shop. Try the Friday buffet. 3 foot sangak bread-making in the kitchen at entry.
Menu must haves: Kashk Bademjan, Lamb Masti and Jojeh Chicken
Area: Umm Suqeim 1
Price pp: 60-120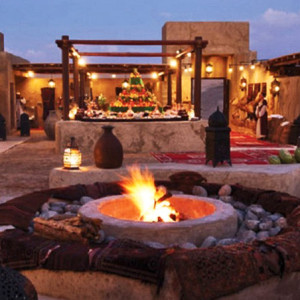 Al Hadeera
Description and tips: The epitome of Arabian dining. Eat on carpets on the sand at the magical Bab al Shams resort. Don't eat all day, and bring a pashmina because it gets cold at night. Look for an inclusive dine and stay deal – it's much cheaper.
Menu must haves: Lamb Ouzi, Umm Ali
Area: Desert – Al Qudra
Price pp: 400+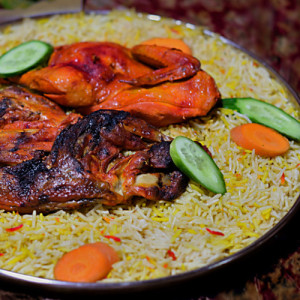 Al Tawosal Yemini
Description and tips: Traditional majlis restaurant with separate male dining area. Take your family to a private tent and sit on the floor. Tent-dining inside – it's awesome! Eat with your fingers so you can lick the glutinous juices off them later.
Menu must haves: Chicken Mandi and Mazby
Area: Deira
Price pp: 40-80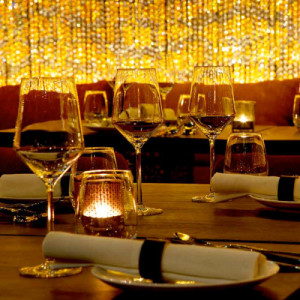 Qbara
Description and tips: Modern Arabic fused with international nuances in a vibrant, luxurious licensed venue. Dubai's first truly chic Arabic restaurant. Take some time to sit at the bar for some lovely cocktails before dining.
Menu must haves: Sea Bass and the Date Dessert
Area: Wafi
Price pp: 180-250
Others on the list:
Al Nafoorah, Al Raslaan, Almaz by Momo, Burj Al Hamam, Café Bateel, Kebab Al Safa, Khan Murjan, Leila, Maraheb, Masgouf London, Massaad, Mezza House, Qwaider Al Nabulsi, Shabestan, Simsim, Turkish Village, Wafi Gourmet, Zaroob
Around the World

These are my favourite restaurants providing an authentic look inside the kitchens, or at least the parlours, of the country they represent. It was a broad theme to go with, considering Dubai's extensively mixed ethnicity – nearly every single restaurant in the region could fit into this – but I've still got a few spots that immediately came to mind.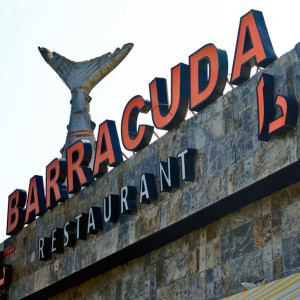 Barracuda
Description and tips: Busy Egyptian seafood restaurant with its iconic fish-tail on the roof. Very fresh fish, served cleanly and simply. Don't over-order! You can always ask for more later.
Menu must haves: Delicate Singary style fish to take your breath away.
Area: Jumeirah 3
Price pp: 60-120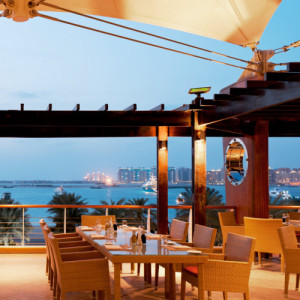 Bussola
Description and tips: Casual and chic Italian dining on the rooftop of the Westin's flagship beach restaurant. One of the best al-fresco spots in Dubai. Go early and watch the sunset over the Arabian Gulf.
Menu must haves: Pizza and antipasti
Area: Mina Seyahi
Price pp: 120-200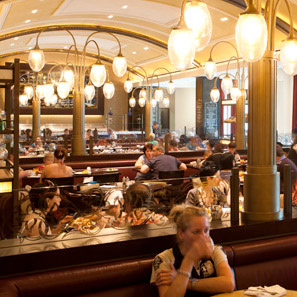 La Brasserie
Description and tips: One of the best places for French bread and cheese in Dubai, with wonderful French ingredients flown in daily. Luxurious Parisian cafe-styled furnishing and beautiful french mirrors, very Parisian. One of Dubai's better breakfast buffets, make sure you have a couple of hours to spare.
Menu must haves: French Cheese and Oysters
Area: Palm Jumeirah
Price pp:: 200-250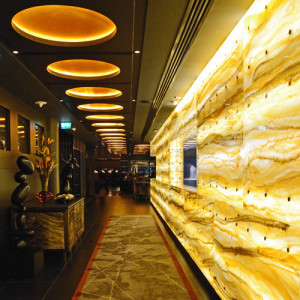 Toro Toro
Description and tips: Modern Argentine restaurant sexy and oozing atmosphere. Great bar and cocktail food, and jumping music. The marble wall at entry is stunning, but the entire interior is quite special. Consider ditching dinner, and have tapas instead in the hopping bar area.
Menu must haves: Ceviche and Salt Cod Croquettes
Area: Dubai Marina
Price pp: 180-300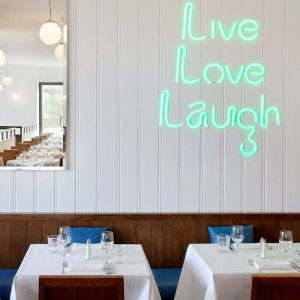 Rivington Grill
Description and tips: Dubai's best gourmet British cuisine – one of the first, and still the most polished. Both casual and classy, with dreamy outdoor terrace at Madinat Jumeirah. Souq al Bahar venue just as good, with super burj fountain views.
Menu must haves: Welsh Rarebit, Anything with Eggs, Fish and Chips
Area: Al Sufouh/Downtown
Price pp:: 150-300
Voi
Description and tips: Elegant dining in the extravagant Jumeirah Zabeel Saray on the end of the Jumeirah Palm crescent. Adorable fusion cuisine – French and Vietnamese. Light and easy food that is also inventive and exciting.
Menu must haves: Entree Quail, Duck Main, White Chocolate Dessert
Area: Palm Jumeirah
Price pp: 250+
Others on the list:
Asado, Baker and Spice, Barbecue Delights, Bentoya, Eataly, El Sur, Elia, Ibn Hamido, Jamie's Italian, Maya Modern Mexican Kitchen, Mekong, Pai Thai, Samad Al Iraqi, Shogun, Special Ostadi, Thiptara, Tom & Serg, Tomo
Cheap Eats

These are the places I hit up when I want something gorgeous for around the 20AED mark per head. Interestingly enough, many of my hot-spots (some not mentioned here) were discovered thanks to Arva of Frying Pan Adventures. That 350 AED spent on a tour of hers will save any resident buckets in the long run.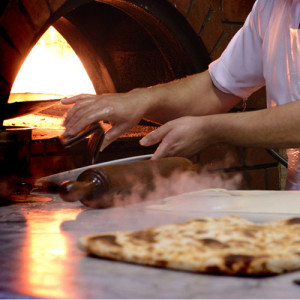 Al Amoor
Description and tips: Watch the guys flip fateer better than Italian Pizza masters. Skip dessert somewhere else and come here instead. Noise, vibrancy and tradition meet and give unceremonious high-fives.
Menu must haves: A cream cheese feteer will set you back all of 15 AED and feed two.
Area: Hor al Anz/Karama
Price pp: 10-25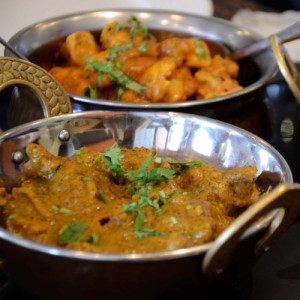 Kabab BQ
Description and tips: Great, cheap Pakistani food in affluent Jumeirah. Check the menu for healthier options – there are plenty there. Slightly healthier versions of traditional fat-laden Pakistani food.
Menu must haves: Thali, Mutton Seekh Kabab and Garlic Naan
Area: Umm Suqeim 1
Price pp: 20-45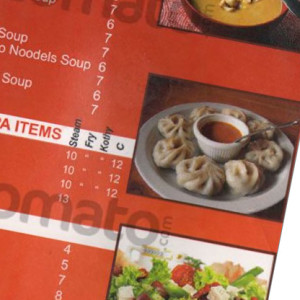 Kathmandu Highland Palace
Description and tips: Hole-in-the-wall falling-down shack in the heart of vibrant Meena Bazaar. Introduced to me on a Frying Pan Adventures tour, and never forgotten. Best momos ever – I would (and do) cross town for them.
Menu must haves: Nepalese Chicken Momos
Area: Bur Dubai
Price pp: 5-20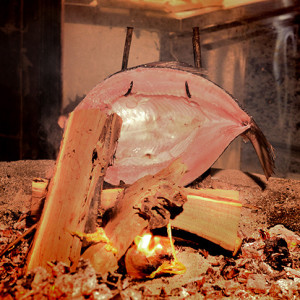 Bait al Baghdadi
Description and tips: Traditional restaurant in old Dubai with happy, knowledgable Iraqi staff. Masghouf (or Masgouf or Masqouf) – best in Dubai and an Iraqi delicacy. Sammi the kebab man is awesome – his smile will keep you happy all night.
Menu must haves: Masghouf (Iraqi whole flame-grilled fish) or Lamb Shawarma in Iraqi Bread
Area: Muteena
Price pp: 15-70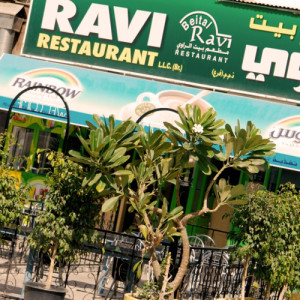 Ravi's
Description and tips: Pakistani cheap-eat in Satwa, known by everybody for a very good reason. Sit outside in the cacophony of the Satwa street scene and watch people drool over your food.
Menu must haves: Order any kind of flat bread (I love the butter naan) and chicken kadai.
Area: Satwa (also in Karama and Al Nahda
Price pp: 15-40
Others on the list:
Al Mallah Cafeteria, Al Safadi, Farwaniya Cafeteria, Fraiche, Global Village, Haretna Restaurant, Just Falafel, Karachi Darbar, Lafayette Gourmet, Moti Roti, Noodle Bowl, PapaRotti, Rice Creamery, Shaikhath Al Arab Cafeteria, Sumo Sushi & Bento, Taqado Mexican Kitchen, Tea Way, The Curry Leaf. Many of these venues I have not tried, so I cannot with authority agree with the selections, but if you visit the Dubai Gourmet Trail page, there is a little more info on each.
Ultimate Dining

Such a tight category. In this section, where expectations are higher, it's easier for a restaurant to fall down on occasion and give some an experience lesser than others. The question of cost also prohibits us from trying all the options out there. My choices are all from venues where I have dined recently, which have wowed me in some way or another. I'd also like to add Toro Toro and Voi to this list, and possibly Qbara (although it's a little more casual), but there is information on them already above.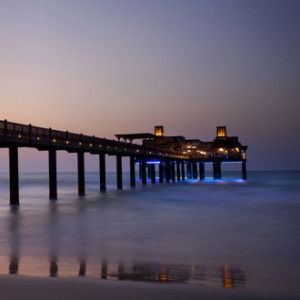 Pier Chic
Description and tips: End-of-the-pier fine dining seafood restaurant. Best view in Dubai at ground level. Views of the Burj al Arab and the candle-like wind towers of Madinat Jumeirah.
Menu must haves: Tuna Carpaccio, Scallops
Area: Al Sufouh
Price pp: 250+
Eau Zone
Description and tips: Seafood and grill restaurant positioned over a water garden on boardwalks. One of Dubai's most romantic venues. Have a drink at The Rooftop bar – a gorgeous outdoor bar in the resort – before or afterwards.
Menu must haves: Asian Seafood Dishes, Sorbet
Area: Mina Seyahi
Price pp: 250+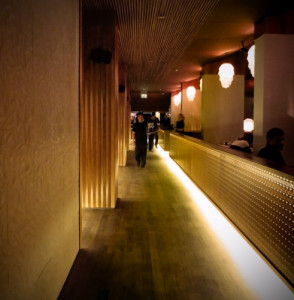 Toko
Description and tips: New Japanese fusion restaurant on the Boulevard, with all-encompassing menu and fantastic service. Managing a balance between casual and fancy-pants, super cool. Have your desert and a cocktail in the bar and go from dinner to dancing in your seat.
Menu must haves: Beef Tataki, Quail with Bonito
Area: Downtown Burj Khalifa
Price pp: 200-300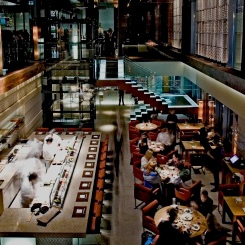 Zuma
Description and tips: Always the go-to for swanky fine dining in Dubai. It's been at the top for 5 years and counting. Japanese meets cocktail bar in a cavernous surrounding. Also great for brunch and after work sushi platters and drinks.
Menu must haves: Black Cod – it will make you weep
Area: DIFC
Price pp: 250+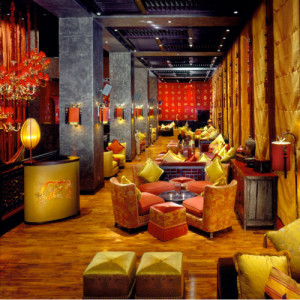 Buddha Bar
Description and tips: Oldie but still a goodie. It's hard not to be awed by the monstrous gold Buddha or the rest of the opulent interior, the chic crowd and the delicious Thai tidbits. Benchmark venue, the first in Dubai to successfully mix restaurant and club. Don't look at the bill – just enjoy yourself.
Menu must haves: Thai Duck Curry, Lobster Dumplings
Area: Dubai Marina
Price pp: 250+
Others on the list:
Atelier M, Bice, Casa Mia, Center Cut, Hakkasan, Icho, La Petite Maison, La Serre Bistro, Marrakech, Mizu, Okku, Rang Mahal, Reflets par Pierre Gagnaire, Roberto's, Studio Du Chefs, Table 9, The Exchange Grill, Tokyo @ The Towers, Traiteur. I thoroughly agree with the linked restaurants, however in this category where expectations are higher, I cannot guarantee that the restaurants are still as good as I remember (Table 9 has a new chef). There are also a couple of very good restaurants in here, but they don't really fit into my "Ultimate Dining" parameters.
Best Kept Secrets

Now here's an interesting one. Which word do you want to put the stress on? The word "best" or "kept"? If I share them, are they still secrets? If they really are the best, then why ARE they secrets? Do I really want you all to know anyway? I might not be able to get a table at my best kept secret if I tell you all…
Seaview
Description and tips: A new seafood restaurant in the hard-to-find Umm Suqeim 1 fishing harbour, serving fresh-caught seafood in many Asian styles. Take a pashmina – arctic AC. Don't sit next to the fish display – it's fresh, but a little strong smelling while you're eating.
Menu must haves: Malay Sea Bream, Tandoori Prawns
Area: Umm Suqeim 1
Price pp: 40-80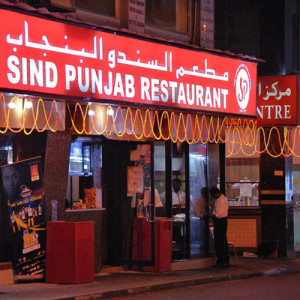 Sind Punjab
Description and tips: An unassuming Indian restaurant in Bur Dubai serving up Dubai's very best chicken tikka. Half the restaurant is prettier than the other half – if ambience is what you're looking for, look around before sitting down.
Menu must haves: Chicken Tikka, Tandoori Parotha
Area: Bur Dubai
Price pp: 35-70
Bait Al Wakeel
Description and tips: The perfect souk-stop, hidden between the buildings of the old souk in Bur Dubai, with buzzing water views and some simple levant fare. Go all the way up to the top and catch a view of the blue mosque in the streets behind. THE place to view the Creek at it's best.
Menu must haves: Fattoush, Fatayer, Morroccan Mint Tea
Area: Bur Dubai
Prince pp: 35-60
101
Description and tips: The prettiest bar in Dubai, built entirely over water with marina views, and serving Spanish tapas and super cocktails. Catch a boat from the One and Only Royal Mirage to save 50AED on the cab fare around the crescent. Incredible views in an almost secret space.
Menu must haves: Pintxo de Pimentos y Sardines, Tuna Belly
Area: Palm Jumeirah
Price pp: 150-300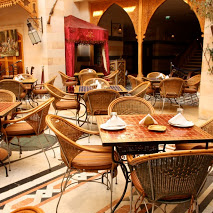 Khan Murjan
Description and tips: Centerpiece of the hidden Khan Murjan Souk at Wafi. You'd think there's a carpark under this sleepy mall, and then you find this. Extensive Arabic menu, gorgeous lighting, dreamy ambience – very special.
Menu must haves: Chicken Soaked in Yoghurt, Fresh Juices, Shisha
Area: Oud Metha
Price pp: 60-120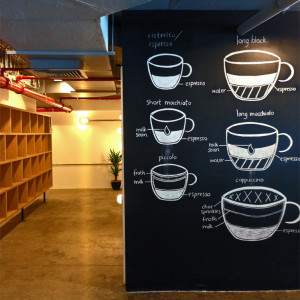 Tom & Serg
Description and tips: Urban café that probably should be in a different city, but thankfully here in Dubai. Around the corner of a slip-road, in the factory-district of Al Quoz. The café is warehouse-like, serves great coffee and simple western-fusion café food.
Menu must haves: Breakfast (Eggs and Avocado Salsa), Salads
Area: Al Quoz
Price pp: 50-120
Others on the list:
Bu'qtair, Caspian Restaurant, Chicken Tikka Inn, Chinese Pavilion, Claypot, Comptoir 102, Kabab Kolony, Maharaja Bhog, Manhattan Grill, Marta's Workshop, PepperCrab, Prime 68, Rossovivo, Tangerine, The Farm, The Pavilion Café, Wok It, Wox
So how much of our "Gourmet Trail" have you picked up? Do you agree with any? Have some more to list? Totally disagree? I'd love to hear your comments!
WE SAID THIS: Yum!