Flying Firefighters Are Actually a Thing in Dubai
Via Dubai Media Office
We don't know about you, but we here at Scoop Empire think firefighters. We might be biased because we're big fans of Chicago Fire (and its three *insert fire emoji* leading men), but whatever you might think. Firefighters are amazing, they get cats down from trees, save people's lives, and thanks to this new system in Dubai, they just got more amazing.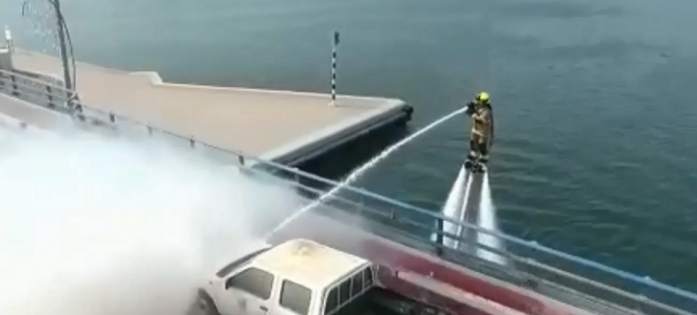 A new firefighting system that includes a jet ski and a jet pack that will allow civil defense to tackle blazes from water has been launched. The system, named Dolphin, was presented by Maj Gen Rashid Thani Al Matrooshi, Director General of Dubai Civil Defense, as one of the innovative ideas ahead of this week's Intersec conference, a trade fair for security, safety and fire protection.
A video posted on Dubai Media Office's Instagram shows firefighting like you've never seen before. The firefighter uses a jet pack to rise above a bridge, by using water pressure from the attached jet ski, before using a fire hose to douse a car which is made to look like it is alight.
WE SAID THIS: Check out the video above to see how cool it looks!