It's very common for most Egyptians to relocate from Cairo to Sahel during summer. Last year specifically, and because people were feeling restless due to the pandemic, many decided to head to the North Coast and spend the rest of the summer season relaxing, away from the bustling city and its noises. One of their main concerns however, was having to travel all the way to Cairo to get their PCR tests done. But finally now, people can rest assure that their concerns are no more, thanks to Al Mokhtabar's new COVID-19 testing facilities in Sahel. No one wants to unintentionally put themselves, their families, or their friends in danger if they're feeling a little under the weather. Although it has been challenging in adapting to this new way of living in the pandemic, Al Mokhtabar vows to put such worries to rest in the comfort of your own home in Sahel. A PCR test can easily be conducted without any sudden and inconvenient trips back to Cairo, ensuring citizens that their safety is always backed up by Al Mokhtabar.
With a fleet of cars offering house visit service all over Sahel area, and a new service called Sahel COVID clinic, Al Mokhtabar, the Middle East's largest private medical laboratory testing company, will make people's lives easier and more convenient. At these clinics, people who tested positive for COVID-19 can get a telephone consultation or a house visit from a specialized doctor to monitor their case and guide them through it. As Al Mokhtabar is opening three comprehensive clinics in Sahel, your PCR test has never been easier and you can now stay safe in Sahel!
Guaranteed sanitary precautions are implemented, including the wearing of a face mask, as well as gloves in order to prioritize the patients' wellbeing. Although every test has a different work frame in terms of results, you can rest back and be sure to receive it as quickly and efficiently as possible by Al Mokhtabar's team, all within the comfort of your home. In addition, all corners of Sahel, stretching from areas near Alexandria all the way up to areas near Marsa Matrouh, will consist of available means to get a PCR done through Al Mokhtabar's team.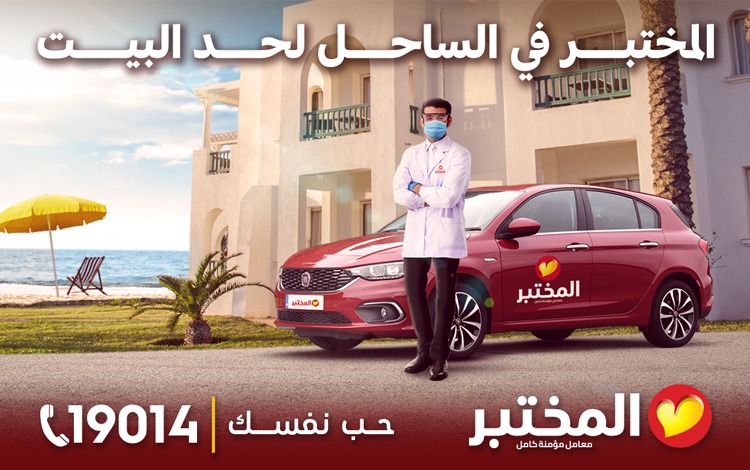 With a renewed thrust towards expansion over 40 years, today Al Mokhtabar is the largest, most respected private chain of medical laboratories in Egypt with over 230 branches across the country. As the only CAP accredited medical lab in Egypt, Al Mokhtabar holds 40 years of experience and leadership in the field of medical testing, and is constantly upgrading its services according to the highest international standards.
WE SAID THIS: Stay safe this summer!