Microsoft Corporation introduced the Microsoft 4Afrika Initiative last week, a new effort through which the company will actively engage in Africa's economic development to improve its global competitiveness.
By 2016, the Microsoft 4Afrika Initiative plans to help place tens of millions of smart devices in the hands of African youth, bring 1 million African small and medium enterprises (SMEs) online, up-skill 100,000 members of Africa's existing workforce, and help an additional 100,000 recent graduates develop skills for employability, 75 percent of which Microsoft will help place in jobs.
Simultaneous launch events to kick off this New Era in Africa were held on the 5th of February in five locations spanning the Continent: Cairo, Egypt; Abidjan, Ivory Coast; Lagos, Nigeria; Nairobi, Kenya; and Johannesburg, South Africa. In all locations except for Egypt, Microsoft is also hosted separate developer workshops in the coming weeks to facilitate and accelerate the development of new and innovative Windows applications for Africa, by Africans.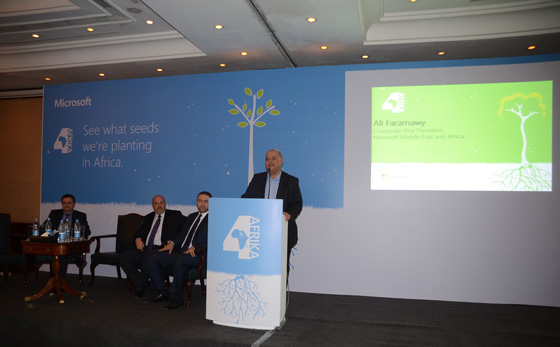 Microsoft has been taking initiatives in the recent month in collaboration with it's partners building up to the 4Africa Initiative :-
1) App Factory (Egypt & South Africa)
Hiring 30 paid student interns to staff the AppFactory centers to which the public can submit requests for Africa-relevant Windows applications (Windows 8 or Windows Phone). These requests are being crowd-sourced for voting, and the most popular ideas are assigned development resources to get the app built and launched into the Windows Store. Already, 73 Windows apps and 39 Windows Phone apps have been built by the AppFactory teams, and at full capacity, the teams plan to contribute around 90 new apps to the Windows Store per month. Check out South Africa's Page here.
2) Nokia and Windows Phone user training (Kenya and Nigeria)
Microsoft has established agreements with Safaricom in Kenya and Bharti Airtel in Nigeria to accelerate local adoption of the Nokia Lumia 510 and Nokia Lumia 620 Windows Phones. In these markets, more than 90 percent of phones sold are feature phones, so through these agreements, Microsoft is funding in-store training for consumers who purchase these Nokia Lumia models on how the data plan works and its benefits, to help make these smartphones better understood and therefore more desirable for consumers.
3) Female Empowerment Portal (North Africa)
This portal targeted at North African women will launch in March as an offshoot of the MasrWorks IT skills portal. It is designed to empower young women to play a leadership role in their communities, build their skills and self-esteem and introduce new models for self-employment. It will provide IT skills training and also softer skills training on topics including leadership, self-confidence and interviewing, as well as the mentorship needed to build a long-term career in technology. The mentorship will be provided via a sustained engagement between Microsoft, our partners, a local NGO, and the beneficiaries to support them in career building and to plan their role in society as female leaders.