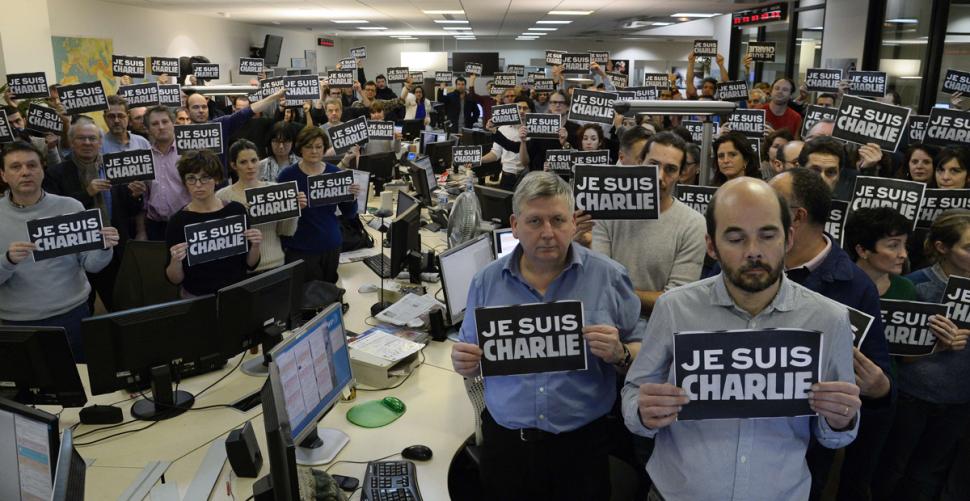 Last Wednesday, Paris witnessed one of its biggest terrorist attacks since the Algerian war of the 1960s, when at least two gunmen attacked the headquarters of Charlie Hebdo, a satirical French publication. Ten of its journalists and cartoonists, including editor and director Stéphane Charbonnier, were killed along with two police officers, with 11 others wounded.
Eyewitnesses claimed that these gunmen stormed into the office and carried out the massacre whilst shouting, "Allahu Akbar!", an Islamic mantra meaning "God Almighty" or "God is the greatest".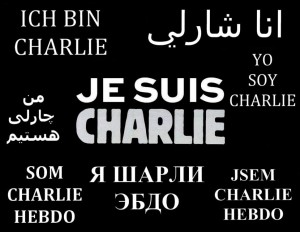 The world blew up in flames of critique, anger, support and opposition, and soon enough "Je Suis Charlie" went viral, with people placing the slogan as their profile picture on Facebook, using it as a hashtag on Twitter, and Instagramming cartoons to honor those murdered.
Notably, famed street artist Banksy shared a cartoon of his earlier on Thursday morning to show his support.
Meanwhile, other posts have been circulating claiming "Je Ne Suis Pas Charlie", supporting the idea that the attack of Charlie Hebdo was provoked by the publication's relentless belligerent depictions of Islam and Islamic figures.
Thousands of journalists as well as non-media members of the public have gone down to the streets to pay tribute to the victims and stand up for freedom of expression, rallying in many of the world's major cities, including Paris, London, Madrid, San Francisco, Brussels and Berlin, amongst others.
It is worth noting that this is not the first time Charlie Hebdo was attacked. In 2011, its office was firebombed after publishing a caricature mocking the Prophet Muhammad on its front cover.
Why, though, is Charlie Hebdo facing so many threats and causing so much controversy? Well, this French magazine specializes in mocking touchy subjects and figures, including different religions, noted businessmen and politicians, and even military figures, amongst others. The cartoonists of this publication stop at nothing and no one, and freely express their often times daringly offensive views in their illustrations.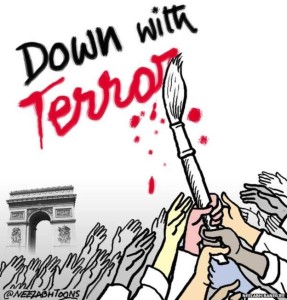 Charlie Hebdo's constant focus on Islam chronically spurred concern from many governments and world leaders. In 2012, Jay Carney, U.S. President Barack Obama's then press secretary, stated that "these images will be deeply offensive to many and have the potential to be inflammatory. But, we've spoken repeatedly about the importance of upholding the freedom of expression that is enshrined in our Constitution."
Charbonnier once responded to the constant backlash the publication received due to its constant publication of offensive Islamic references by stating: "We are only criticizing one particular form of extremist Islam, albeit in a peculiar and satirically exaggerated form. We are not responsible for the excesses that happen elsewhere, just because we practice our right to freedom of expression within the legal limits."
The rather nagging question we all need to ask ourselves here is: Should satirical press be monitored and regulated worldwide or should free press remain deregulated and, as its name suggests, free?
We know of local and regional examples of satirical artists who have faced hardships and serious threats due to the content they present, the most recent of which is Egypt's Bassem Youssef.
More questions worth considering are: Where to draw the line between media content being light-hearted and offensive? Is freedom of expression, as a right, being more and more violated? Was Charlie Hebdo simply spreading unneeded Islamophobia?
The ending thought here is that regardless of how we choose to answer the above questions, terrorism is never the route that should be taken or even considered. Extremist acts of violence are inhumane and unjustifiable.
Terrorism knows no ethics, and those who participate in gruesome terrorist attacks, even if they are fighting for a cause they believe is legitimate, should never be affiliated with any faith. Terrorism does not and will never represent a religion or a nation or a whole region.
WE SAID THIS: Don't miss Why I'm Not Apologizing For ISIS.