After France and Algeria ended a month-long diplomatic rift in December last year, the French president's visit this week was aimed at easing the strained ties and boosting cooperation. On Saturday, both countries signed a joint declaration for a "renewed partnership" at the conclusion of French President Emmanuel Macron's three-day visit. Abdelmadjid Tebboune, the president of Algeria, and Macron signed the agreement during a ceremony at the Algiers International Airport. According to France 24, Tebboune stated at the ceremony that Macron's visit was "important, and useful for the bilateral connections." In addition to an agreement between the two governments to create a "permanent collaboration" in higher education and scientific research, the two nations also inked five cooperation agreements during their visit in the areas of health, scientific research, and sports.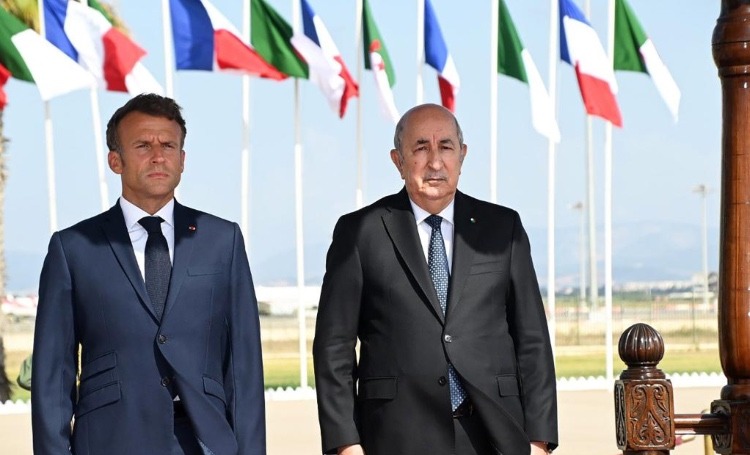 In order to resolve "the memory issue," which referred to the 132 years of French colonial control in Algeria before the country won its eight-year struggle for independence in 1962, the two nations also decided to establish a joint commission of historians.
The two leaders stated the following:
"France and Algeria have decided to open a new era….laying the foundation for a renewed partnership expressed through a concrete and constructive approach, focused on future projects and youth."

Macron & Tebboune via France 24
According to TRT World, French President Emmanuel Macron was met by protests when he traveled to the Algerian city of Oran. The French President was being pushed into the car by his bodyguards as the crowds screamed, "Long live Algeria." Therefore, he was forced to end his stay in the city.
But how French colonization in Algeria begins is a question worth asking. According to the Magazine of Cultural Independence, the French conquest of Algeria was sparked by a fly-whisk. The infamous Fly Whisk Incident occurred in 1827. Due to this incident, France and Algeria (which was a province of the Ottoman Empire,) came into conflict. It all started when the Ottoman governor of Algiers insulted the French government by hitting the French consul with his fly whisk and touching the consul with it.
In an effort to force an official apology for the incident after demanding one and receiving none, the French government set up a naval blockade of Algiers harbor. When Ottoman forces opened fire on one of the French ships keeping up the naval blockade, the French government launched a military invasion of Algeria. Three years exactly after the Fly Whisk Incident, in 1830, the invasion started.