Make Your Own Cadbury Marvellous Creations!
Actress Nisreen Eman at the CityStars Marvellous Creations Factory last weekend.
Last weekend, Cadbury Egypt launched a wildly popular Marvellous Creations Factory at CityStars where anyone could make their own personal mix of the beloved chocolate with all of their favorite sweets.
The event was a hit, with people lining up to create their own personal Marvellous Creations and then take home an instant picture from the Marvellous Creations photo booth.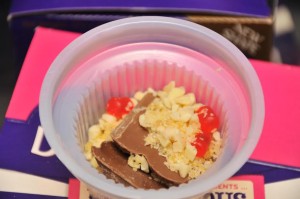 Because we melt when we hear the word chocolate, we lined up to get our own and then moved on to the second phase where we could choose from a carousel of flavors to make our own Marvellous Creation. From a choice of cookies, raisins, jelly, popping candy, chocolate chips and biscuits, we chose popping candy, cookies and jelly and it was definitely marvelous!
Actress Nesrine Imam, actor and Viner Mohamed Mekawy from Al Mohaysoon, and Omar Galal, co-founder of adventure travel company Gazef, all came to show their support and celebrate Marvellous Creations.
Be sure to catch the Marvellous Creations Factory as it travels throughout Cairo! Next weekend, it will be at Arkan Mall from Thursday, Oct. 29 to Saturday, Oct. 31.
The Factory will then go to Cairo Festival City Mall from Thursday, Nov. 5 to Saturday, Nov. 7 and finally to the Mall of Arabia from Thursday, Nov. 12 to Saturday, Nov. 14.
WE SAID THIS: Be sure to follow Cadbury Egypt on Facebook and Instagram for sweet live updates!