Step aside Ramez Galal and Hany Ramzy, there is a new show in town that has nothing to do with terrifying people and everything to do with comedy. This year, Al Mohaysoon proved to be a completely different prank show than what is currently considered mainstream; it takes us back to the days when pranks were actually funny and did not involve death threats and ambulances.
Raouf El-Sayed, director, producer and founder of The Roof Productions, is the mastermind and director of Al Mohaysoon. Previously, he worked on TV shows like Microphone and Road to London and with directors like Michael Bay in Transformers and Len Wiseman in Die Hard 4.
For Al Mohaysoon, El-Sayed wanted to feature pranks that are all about embarrassing the show's stars and seeing how far people will take it. Together with Anas Nasri, producer of Al Mohaysoon and Sola and founder of Star Gate Music Production, they created what we're calling the best prank show of the year.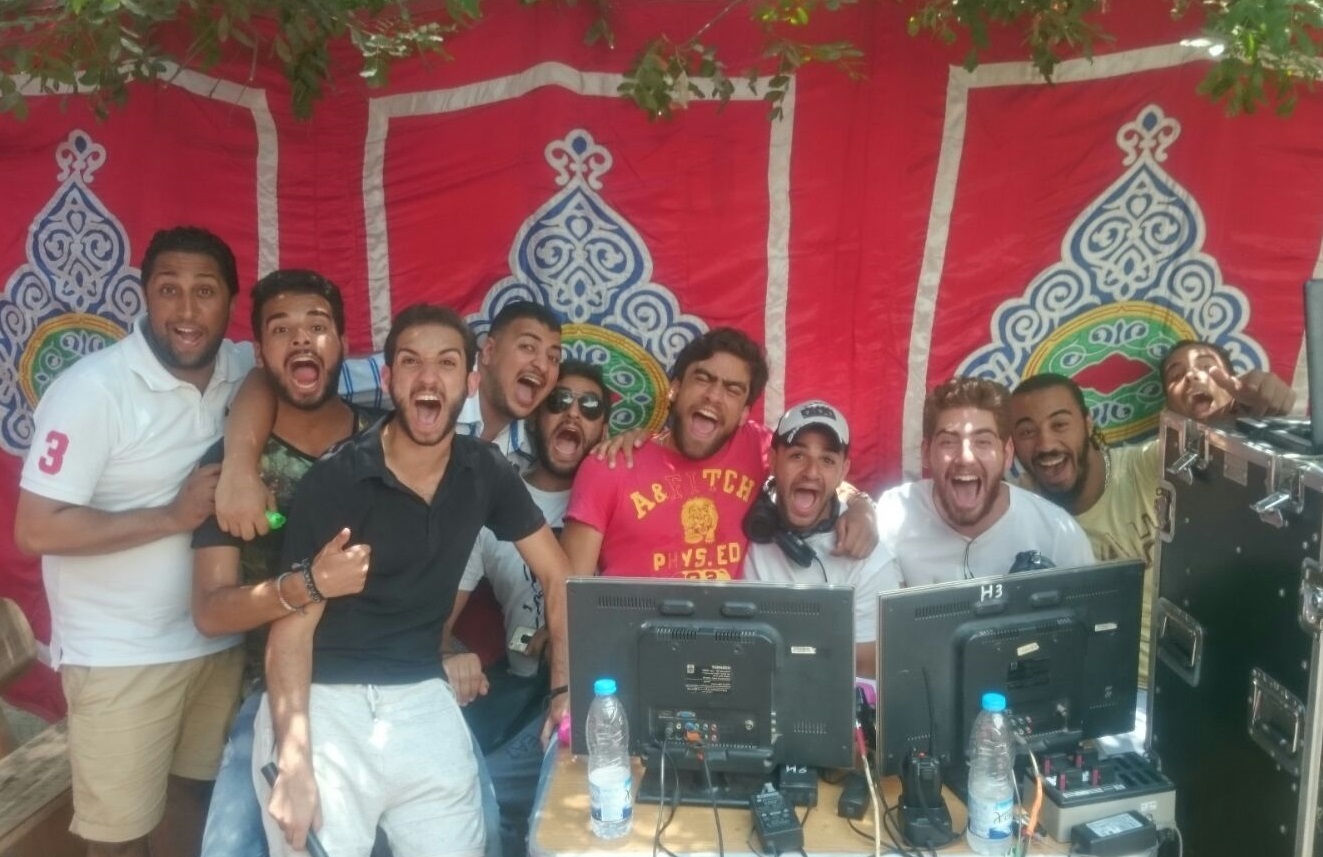 In each episode, the director and producer come up with sketches (tahyeesat) that the four stars, Henkesh, Attar, Yassin and Mekawy, have to complete. If they fail – and they usually do – the hilarious villains of the show, Samir and Kamal, come up with suitable, terrifying and 100% real punishments that leave the victim with insomnia the night before.
When we asked them which punishment was terrifying enough for them to bail out, Yassin told us, "The room with bats, they knew how phobic I am so Mekawy took that one for me."
"Yassin could get very emotional if one of the guys is hurting," Samir explained. "You can see the agony on his face and we die laughing, but I got to say hats off to all the guys, not everyone could go through the things they do for the sole purpose of putting a smile on people's face."
"The punishments are very real and that is what worries us," Henkesh added.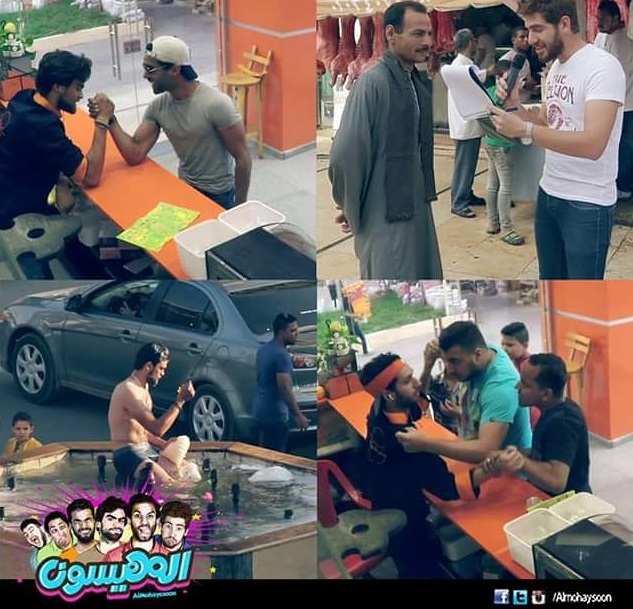 When I knew I was meeting the guys, honestly I was terrified that I might be their next prank victim. It turns out they are the funniest, most humble and hard working young men and you could tell they are having the time of their lives.
The team has six performers: Henkesh, the fearless 22-year-old football lover; Attar, the calm and witty 21-year-old Mass communication student; Yassin, the emotional 23-year-old Business Administration graduate and TV commercial star; Mekawy, the up-for-anything 21-year-old Business Administration student and popular Viner and social media influencer; Samir, the hilarious 25-year-old coffee shop owner and business man; and Ahmed Kamal, the 28-year-old Mass Communication graduate and advertising agency owner.
The guys were friends who met at Marwa Gabriel's acting workshop, through which they landed unconventional auditions for the show: Yassin was asked to walk in the street with only boxers on, Mekawy had to attend a meeting in boxers, and Attar and Ahmed Kamal had to dress up as ladies and try to hook up with men.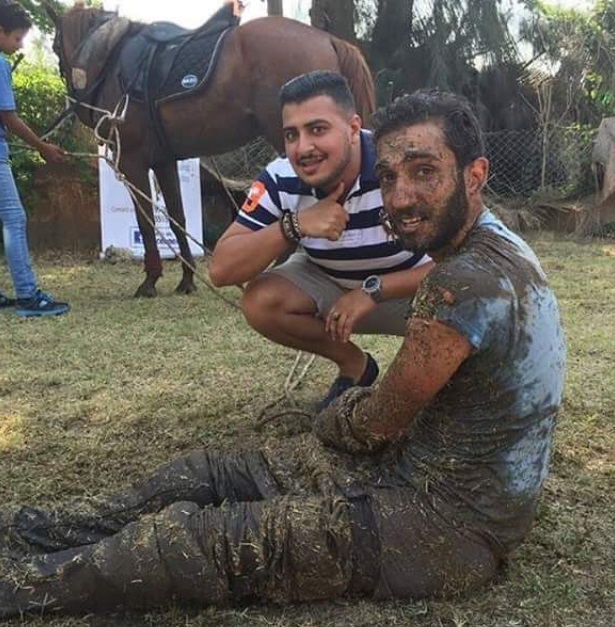 The guys told me they tried to stay away from viewers' reactions on social media, especially after the backlash they got when the ballerina stunt went viral.
"I was stunned by everyone's reaction even after they found out it was a prank," Henkesh told us. "I try not to read comments because it is freedom of speech. I have fans and haters and you can't please everyone. However, in two hours, we had 7,000 more followers on our Facebook page. It brought a lot of attention to the show. The problem was, the same day the video went viral, an episode came out with me as a belly dancer. But I had fun and don't regret anything".
"As much as people loved it, others weren't as forgiving, even though actors like Ismail Yassin and Mohamed Saad have done it before for entertainment," Samir explained. "At the end of the day, it is all about making people laugh."
Love it or hate it, the ballet dance was a monumental moment of the show that most probably changed their lives.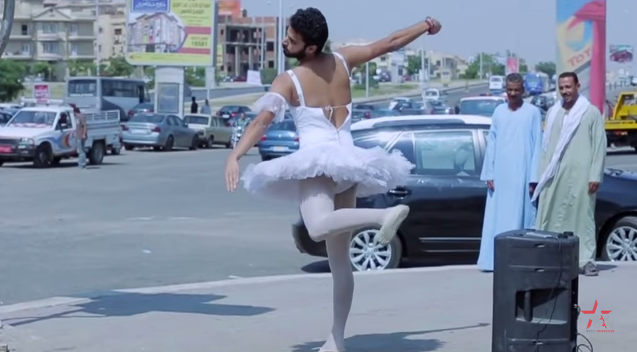 Meanwhile, Mekawy is getting a completely different reaction. "When people recognize me in the street, they start yelling 'Al Mohaysoon!', but the most common reaction is getting my T-shirt pulled down so people can see my waxed chest after one of Samir and Kamal's punishments."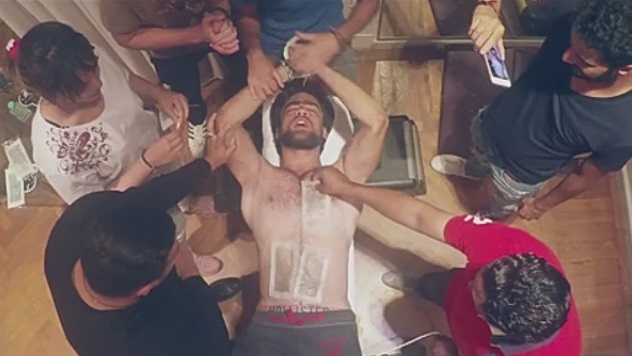 Currently, Raouf El-Sayed is working on a movie and a second season with Al Mohayesoon, while the guys plan on sticking together in future projects due to their undeniable chemistry.
On a final note, the whole team wanted to thank their mentor Marwa Gabriel, Mohanad Hosny, Alaa El-Seoudi, Iyad Dawood and Mohamed Hammad for every bit of success they are experiencing right now, and El-sayed would like to thank Omar Al Arian and Moussa Essa for their effort and support that made the show happen.
We can't wait to see what they have up their sleeves next. Pranksters of Egypt, watch and learn.
WE SAID THIS: Don't miss 15 Egyptian 'Avwara' Moments that Happened this Ramadan.