Whenever I hear the name GROHE, the first thing that comes to mind is my bathroom sink, and quite possibly, the toilets we had at home. With very little knowledge and a yearning to know more, I jetted off from Cairo to Frankfurt, with very little expectations and knowledge on what to expect from ISH 2017 — the world's biggest exhibition for both water and energy solutions.
Touching down in Frankfurt, where the world's biggest sanitary exhibition was about to take place, I knew I was in for a two-day whirlwind. GROHE, the leading global provider for sanitary fittings, had flown in and invited hundreds of journalists from all around the world, to give them a sneak peak at what they had hiding up their sleeves this year. With the rise of technology and customization on the helm of everyone's minds, I sat down with Lina Varytimidou, the Director of PR and Communications for GROHE Middle East and Africa, to find out what we here in the Middle East can get our hands on and expect in the near future.
One of the top themes this year at ISH 2017 is how brands, such as yourselves, are event-diverging into the digital world. How are you guys tackling this feet?
It's a big surprise; I can surely tell you intelligence is one of our key messages this year. We are diving into smart homes and digital technologies for the future.
The design world is going in the direction of unique products, how is GROHE tackling this?
We feel a freedom of choice is very important, so we have introduced over the last several months, the concept of color. We have introduced gold, matte finishes, and granite, giving the end user the choice to design their home as they like.
Our Aqua Symphony is the Rolls Royce of showers, which is quite impressive. It basically provides so many opportunities and functions in one item.
What trends do you see in the Middle East when it comes to buying patterns of customers?
I've been in the Middle East for the past 12 years, and what's we've observed as constant is the design interest of the traditional Middle Easterner. The Middle East loves design, so it's an easy sell. Everyone I've worked with as an operator, interior designer or architect, even the end user are all enthusiastic about design. So it's not difficult to introduce these sexy new concepts.
The gulf loves richer-looking items, while markets like Lebanon and Jordan prefer more minimalistic concepts, and we cater to everyone.
Tell us a little more about your journey with GROHE?
I feel privileged. I'm originally from Greece, but I come from the US and work with the Middle East. I think it's a fascinating region from a business and cultural perspective. I'm very honored to create programs that are very educational and humane, yet so well receipted. Even something like turning water into food, a concept very specific to the Muslim community, that was a charity campaign during the holy month of Ramadan.
It's an honor for me, as I'm not Muslim, so I get to delved into it. I've learned so much about the culture and religion and what makes sense from a brand perspective that speaks to the locals. You don't create a product that makes sense for you, but something that makes sense for the end user who will be using this product for a minimum of ten years.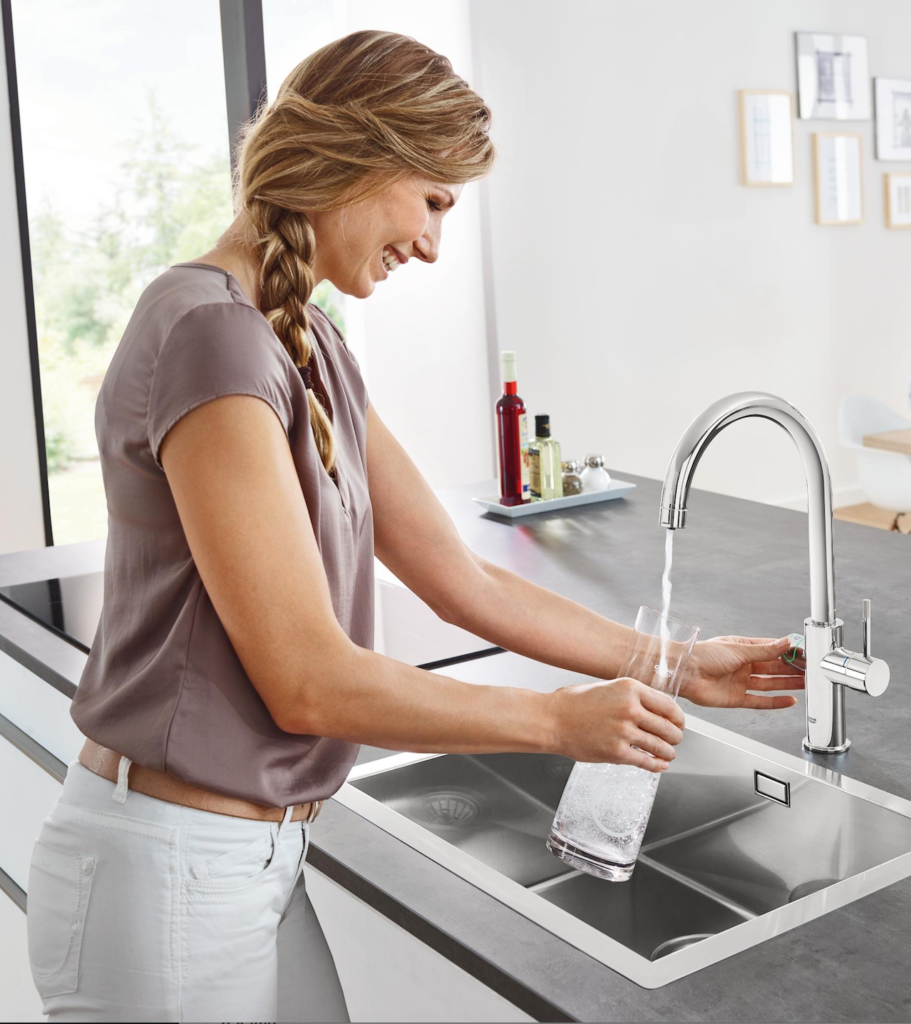 Countries like Dubai have a lot of foreign influence since the local market is quite small. Is the UAE's market style and taste different to the region?
Dubai really is a melting pot and it surely has a big expat community. When dealing with local operators, anyone who is invested and involved in construction, the entire approach has to cater to those business men and women that do stay and visit frequently and not so frequently. The influence is embedded in what is offered in hospitality and business use. Whether it's using Blue Home for offices or having a beautiful faucet in a hotel room.
Is Blue Home something that can be used in Egypt?
We are now in the middle of process of testing the water in Egypt, to see if it turns out positively. We'll also be reducing the carbon footprint in the country as well. We're currently working with the authorities to make sure it's safe.
Relating to the region, do you see any changes when it comes to product design. Considering it is a region that loves extravagance, do you see it going in a minimalistic direction?
We're a company that listens to the need of the end user. There is a product for every taste and need. What I can surely say is that the next several years will have a very interesting and exciting development when it comes to smart technologies and smart homes.
WE SAID THIS: We're excited to see what else they have in store for the Middle East!