After both teams took to the field, trumpeted their anthems, exchanged pleasantries and kicked off, the countdown to the death and destruction of the Brazilian national team began.
From the start, it was obvious that the Seleção were struggling without their captain and brick wall defender Thiago Silva, as well as their star striker Neymar Jr.
30 minutes hadn't passed before the entire collapse of the Brazilian defense. It started with Thomas Mueller, who snuck a goal passed Julio Cesar because he was completely unmarked and annoyingly close to the Brazilian net.
After the first goal, the Seleção began to unravel. The Germans capitalized on the Brazilian's state of shock and just unleashed a torrent of goals within 10 minutes. By half time, the fans were in tears, the Brazilian team was in shambles, and almost everyone around the world was left cringing at the prospect of watching the remaining 45 of the Semi-Final.
Clearly, Joachim Lowe told his boys to take it easy on the host nation during the second half, but the Mannschaft simply couldn't take it down a notch. Two more goals hammered the nails into the Seleção's coffin. Oscar's goal in the 90th minute did little to assuage the heartache felt by his teammates and fans.
I was relieved to hear the full time whistle, as every single minute of the game from the first half an hour onwards was torturous to watch. I welled up with emotion at full time, as the Brazilian squad fell to their knees in dismay. Not because I'm a girl, or because "ya haram, they lost". But because football is what Brazil is about, it is part of the culture, and the squads' failure to regroup and play on was extremely shocking and saddening.
Germany now awaits the winner of tomorrow's game between the Netherlands and Argentina, whilst the loser will face Brazil. Lets hope the Seleção recover in time.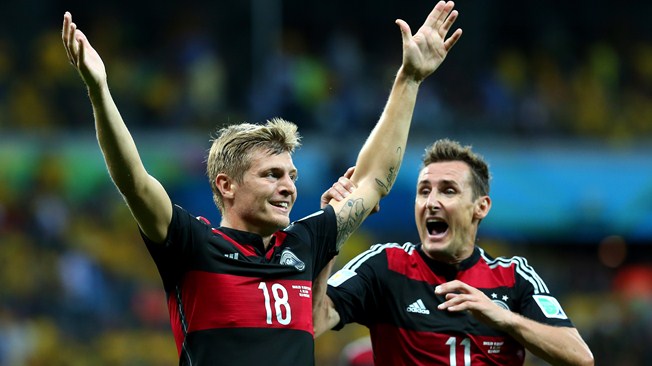 P.S. "Home court advantage" is not a thing. It is a sporting urban myth. Last night's massacre not only proved my point, but it should have embarrassed a lot of football fans and experts that have been saying nothing but "Brazil can't lose", "The home crowd helps a lot" and "It's hard to lose on your own turf". Sure, it may be hard to lose on your own turf, but its even harder to get completely and utterly decimated as well.
Myth. Busted.
WE SAID THIS: Brazil's shame… #ThingsTimHowardCouldSave