The best thing in life is to travel: to change pace, to experience new sights and sounds, to excite your palette with new tastes and break from your routine. If you can't afford or don't have time to travel, the next best thing is to experience everything vicariously through a book, blog, video or photos.
Did You Try Qat? by Mamdouh Sakr (Saray Publishing ) does just that. Sit back, relax and enjoy the ride as he takes you on this journey starting with Tunisia, then Italy, Yemen, Sri Lanka, Jordan and ending in Malaysia.
I would have loved a map, dates, and more photos, yet I have to admit that Sakr's explanations prompted me to Google, look and wonder. However, I still would have preferred to have them all in one place. Being an architect gave him an artistic edge, a unique way of describing monuments and cities.
My first flutters of intrigue while reading occurred when he was in Tunisia buying Rose Des Sables and his description of the Matmata: "the desert has some sort of magical effect; it leaves you with a combination of joy, grief and longing for others, yet at the same time, it encourages you to bask in your own solitude".
Susse was too touristy, yet Bardo the largest mosaic museum in Tunisia was something not to be missed. Carthage had a "superior classical western mentality that contrasted with a mysterious eastern one". Sakr couldn't get enough of the mint tea and mosaics in Sidi BouSaïd. Throughout this trip, the hamams, the hospitality, the famous Tunisian Champs-Elysee (Avenue Bourguiba), the souk, all these things encourage you to hop on a plane and find yourself in Tunisia.
Reading that he decided to take a bus to Italy enticed me even more. Sakr's description of everyone on the bus to Libya stung – how they were staring at him because they were all laborers and he was not sharing their suffering: "to them I was the oppressor". He started in Cairo, then Benghazi, Tripoli, then La Goulette in Tunisia, then he embarked on a ferry to Sicily.
Sakr explained how the ferry seemed more like a floating restaurant than a ferry for crossing open sea. The ferry, like the bus to Libya, was filled with workers. This time they were Tunisians going off to work in Italy. Sakr's unease increased as he came to the realization that he was doing this simply for pleasure and adventure, while all these people were trying to make a living while using very poor and run down services – for him it was a choice, for them a necessity.
Arriving at Palermo, the Monte Pellegrino threw "a mysterious claustrophobic flair upon the city". Everyone kept telling him how dangerous Palermo was and the fact that everything was closed encouraged him to go back to the hotel. Sicily was next, and Sakr also felt rejected by the city and was soon on a bus to Rome.
Yet Sicily left him a gorgeous scenic goodbye: "every possible shade of green was complimented by the sea's vibrant blues". He then surrendered to the beauty of Rome. Sakr found himself constantly smiling. The ambiance, charm, beauty and art was unparalleled. He was glad at the end of his trip in Italy that he had embraced it rather than "invade it with his camera".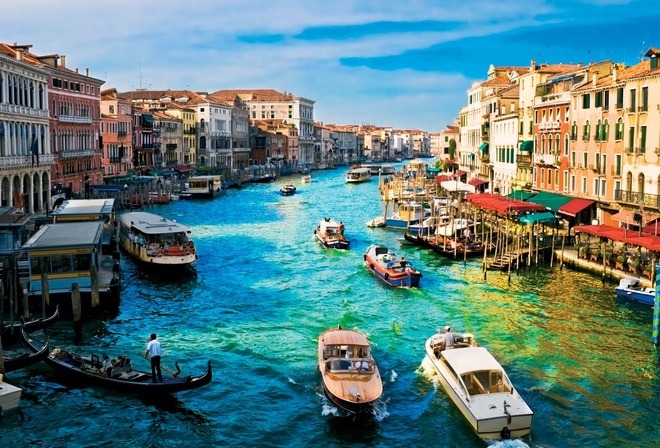 Yemen was a real discovery. Although an Arab country, it was surprisingly quiet, even the bazaars. It had a medieval aura that excited Sakr, and he soon discovered that this mellow silence was due to qat. This is when he was asked at several occasions if he had tried qat (the title of the book). Many Yemenis told him that qat, a plant consumed as a stimulant, was what enabled them to endure their lives.
Zabīd had the most concentrations of mosques and he was dazzled by the Italian House and the Citadel (Al-Iskandar Mosque). The main reason he chose to go to Yemen was Shibam, "the manhattan of the desert", the home of the oldest skyscraper in the world, where 500 towers were bunched together with a mud wall.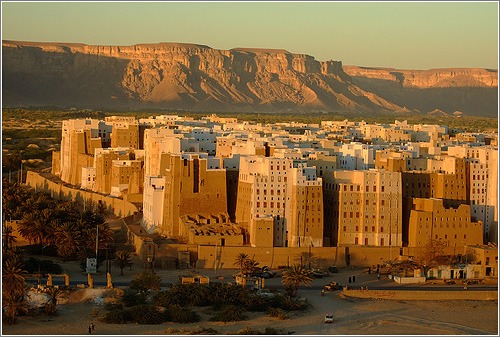 He then went to Al-Mukalla, which was according to Sakr a real beauty: "the contrast between the brown mountains and the white sands, with southeast Asian undertones and Indian inspiration". Al-Taiz didn't have streets, it had ramps and buildings separated by mountains, with stone houses on the cliffs. He claimed to have had the best coffee in his life there.
Throughout all the cities, towns and villages he visited in Yemen, he was amazed by "their obsession of building in difficult locations". "On my way to the airport, I was promising Sana'a to return to visit the mysterious isolated island of Suqatra, spend more time in Shibam, explore Mukka and the Red Sea shores and definitely try Qat."
Next stop was Sri Lanka. This was Sakr's fourth trip that year and excitement filled the air as he made his way to the airport to get on a plane to Kuwait, then transit and head to Sri Lanka. Again he found himself on both planes with workers, and the contrast between them and him gnawed at his conscience. In the first flight, he was accompanied by Egyptian workers trying to find a way to earn a living in Kuwait and in the second, Sri Lankan nannies going home after having been separated from their families. The realities of how tough life is sunk in.
However, arriving in Colombo, he left the plane ride behind and succumbed to his obsession with colonial buildings. "Did these buildings give the Dutch and British a touch of home? Or was it an attempt to mark their territory". Sri Lanka was full of wonders. It was home to the finest tea in the world. It was a resting place between Europe and Indonesia. It had an island culture that had come to life through trade.
So much to do and so little time, he thought. Yet Sakr managed to go to Kandy, experience the breathtaking Sigiriya, the wild Indian Ocean, and Galle. He realized why the Arabs had called it Seredeeb, because it really did bring serendipity, "an incomprehensible bliss that made him smile."
Jordan was tricky. From the start, a negativity and sadness overcame Sakr, although he tried to shake this mood it remained throughout his two final destinations, Jordan and Malaysia. The Dead Sea was ruined by a driver who wouldn't stop complaining about the political situation in the Arab world. The Bedoul in Petra gave him a tense and uncomfortable feeling. I wasn't sure if he was tired of traveling or homesick or if some places just rub you the wrong way. But definitely Sakr was not his same bubbly, excited self in these last two countries.
Despite his mood, Sakr still managed to see a lot in Jordan. His temperament started to change a little in Malaysia. He marveled at the ability of the three main ethnic groups (Malays, Chinese and Indians) to live in complete peace and harmony. Their acceptance of each other, and the way they embraced their differences made him really wonder why the Arab world was still so intolerant.
He could not miss the tallest twin structure in the world, the Petronas Twin Towers, which were a mix of Islamic Art with a modern feel. At Kek Lok Si, the largest Buddhist temple in Malaysia, he followed the ritual of freeing a turtle – the turtle was a symbol of longevity, endurance and strength. This ritual signifies a spiritual liberation, which might be what Sakr was looking for through all these travels – a fitting ending.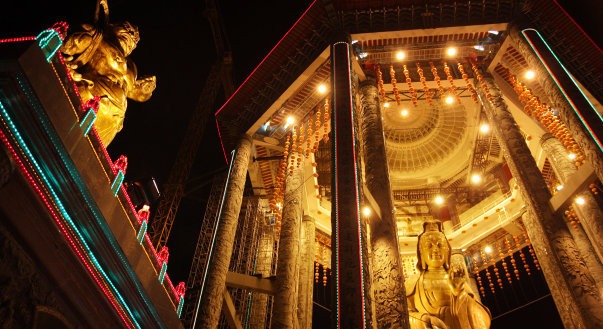 WE SAID THIS: Check out more of Sherine's writing and book reviews here.