Nowadays, it's fun to be hungry in Dubai! With Time Out Market open right now, you can just go there and enjoy a wholesome experience of quality foods. The market is open in Souk Al Bahar in Dubai, overlooking the tallest skyscraper in the world, Burj Khalifa. It's open every day from 12 PM to 12 AM,, offering mouth-watering food, a splendid view, and live shows every day. From live music, to pop-up events, to workshops and classes. It's all there!
The market this year has 17 restaurants and three bars. While you chew on yummy delights, you can also enjoy a cool drink. Drinks inspired by other Time Out Markets from all around the globe are offered here, from Lisbon to Montreal. This dining experience serves also as a cultural one, as foods from different corners of the world are made just for you. Don't forget about the mix of traditional Middle Eastern and modern foods, as well as the decorations that you can find in Time Out Market.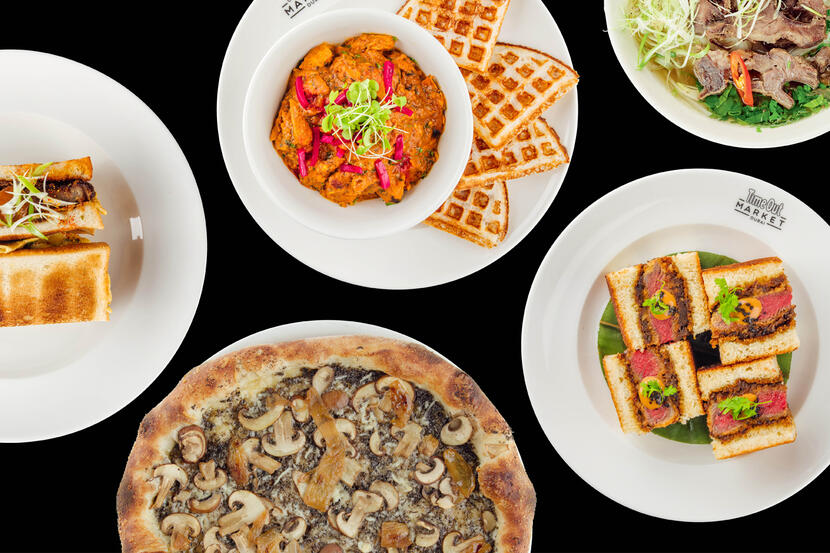 Options for everyone
For vegans and vegetarians, there are plant-based food options. Little Erth is a restaurant that serves solely plant-based foods, further including options for everyone!
For more traditional Emirati food, specifically seafood, visit the Middle Eastern restaurant Al Fanar. Whether you're Arab or not, try out a taste of culture from there!
For contemporary Lebanese street food, don't skip Allo Beirut. Serving traditional Lebanese foods, from breakfast to lunch, to dinner, enjoy the whole package here!
Middle Eastern cuisine meets Asian cuisine in BB Social Dining. Dishes will be hard to associate regarding their country of origin, considering the whole mix of different cultures.
For a sweet dessert after a meal, you don't need to leave Time Out Market. Just visit Brix Desserts, which offers all kinds of sweet desires to your liking: cakes, macarons, cookies, chocolates and much more.
Summer is coming, and if you're in need for some ice cream for dessert, swing by Scoopi! It has ice creams in all flavors, shapes, and sizes. In addition to that, try out their shakes too. With flavors from all over the globe, it's a guaranteed delight.
Of course throughout this entire experience, don't forget to flood yourself with a view of the Burj Khalifa throughout your journey!