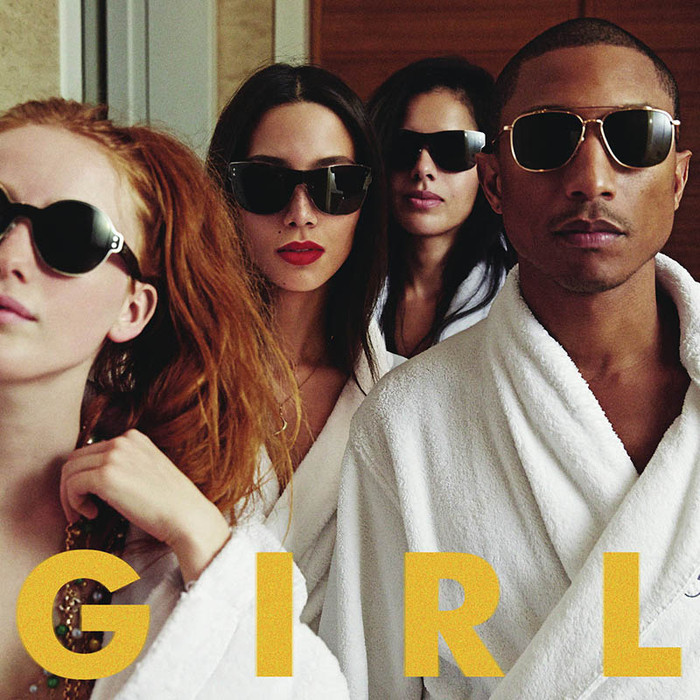 Pharrell's new album is almost here! G I R L will be released on March 3 and will include hit single "Happy", as well as new collaborations with Daft Punk, Justin Timberlake, Miley Cyrus and Alicia Keys. He will be performing "Happy", which was nominated for an Oscar for Best Original Song, at the awards ceremony next Sunday.
Other performances to look forward to at the Academy Awards ceremony include U2, nominated for their Mandela song "Ordinary Love", and Yeah Yeah Yeahs' Karen O, who is nominated for her her track "The Moon Song".
Kanye West has enlisted American Psycho author Bret Easton Ellis to adapt his album Yeezus into a film. Eliis had refused at first, then changed his mind after listening to Yeezus, saying "I thought, regardless of whether I'm right for this project, I want to work with whoever made this." West had previously used a scene from the film American Psycho to promote his album.
Is "Dark Horse" Katy Perry's best song yet? In the brand new video, she goes full on Egyptian, rocks some ridiculous grills and plays with magic:
For an artist who has described her muse as fickle, Lana Del Rey has done well for herself. She announced this week that she and Black Keys' Dan Auerbach are working on a new album titled Ultraviolence and is contributing a haunting version of "Once Upon a Dream" for new Disney film Maleficent:
And Foster the People have both toned down and funked up Calvin Harris's "Under Control", complete with a cowbell beat:
Fashion designer John Varvatos is on the search for the next Guns N' Roses and has started his own record label named John Varvatos Records, through which he hopes to nurture new musicians. "I want the artists to feel like I'm a real partner with them," he said. "I'm looking for young artists who are looking for a haven to create and evolve their music."
A chef in Detroit has created a 10-course menu inspired by Radiohead's 2000 album Kid A, with each course made specifically to accompany a track on the album. The menu includes scallops, lamb chops and two desserts, and was served on one night only, but chef Kyle Hanley is considering applying the concept to other albums for a monthly series.
WE SAID THIS: What do you think of the new Katy Perry video?