Known as "The Bosnian Diamond" in his home country, Edin Dzeko is determined to prove Bosnia-Herzegovina's place on the football world map.
In this Q&A from Adidas, Dzeko reflects on his team's chances, the competition in their group, chances for the knockout stage and more:
How proud are you that Bosnia-Herzegovina have made it to their first World Cup finals?
The feeling is unbelievable, indescribable. People are so proud back home, I am getting calls from family and friends all the time. We have played our hearts out for the national team and the fans have supported us with all their hearts. I know so many Bosnians are already going to get bank loans so that they can come to Brazil and cheer us on. It is a huge moment in our history, it means so much to the people. It is huge for the players, too. To go to Brazil is something I would have fantasised about as a kid. We must take our chance to show the world what we can do. I've said in the past that I'd swap all my medals to play with Bosnia in the World Cup, and I meant that.
You were even out on the streets in Sarajevo celebrating with the fans when you qualified…
Yes. I had to do that. I am a fan myself, I remember as a boy what supporting your team, your country, means. When we booked our place in Brazil with that 1-0 win over Lithuania, we helped to show how mighty Bosnia is. To have 5,000 fans over there with us was unbelievable, and to come back home to the capital and for the streets to be mobbed, with fireworks and flares everywhere, was just amazing. They were scenes of joy, and we showed that through hard work and persistence, a better future is possible for our country. We have been through hard times. Football can bring us together.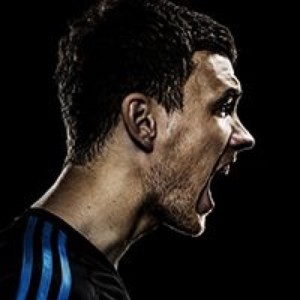 You're a keen Tweeter. Will you be using @EdDzeko to stay in touch with the fans during the tournament?
Of course. Twitter is a fantastic way to stay in touch with the supporters and everyone back home in Bosnia-Herzegovina. I won't be answering every tweet individually, otherwise I would have to spend all day on a computer, but the supporters should rest assured that we see the messages of goodwill and it gives us real heart. We will fight every moment on the pitch for them.
Will it be nice to spend a lot of time with your fellow Bosnians – you must miss them in England…
Yes. In Manchester I miss my best friends from Sarajevo very much. I spend most of my time with Aleksander Kolarov, Matija Nastasic and sometimes Nikica Jelavic. So it will be great to get the group together. Our national identity, our pride, is something that means a massive amount in Bosnia-Herzegovina. We will use it to drive us on in Brazil, to make us determined.
You've got a great strike partnership with Vedad Ibisevic…
Yes, we work well together and we have an understanding. We know each other's movements and what passes to make to each other. That is important, and we pray that we can keep it going in Brazil and combine. We have been a good attacking machine in qualifying, and even though there have been some problems in the run up to the tournament, I think we will solve them. We were disappointed to lose to Egypt in that warm up game, but a good spell of time working together should have us recapturing our team spirit and unity. That is what it is all about for Bosnia, we need to show we are the mighty Dragons.
What are the chances of getting out of your group, with Argentina, Nigeria and Iran on the schedule for you?
Argentina will be favourites to win our group, but we are here to give them a fight. We are not afraid of anyone, even Lionel Messi, even the best player in the world. We respect them but you can't respect sides too much otherwise you are giving in to them. But we need to target wins over Nigeria and Iran, if we don't manage to get something from the opener against Argentina. Both those games are winnable, and we just need to show our strength and togetherness to win through.
Should you get through, you'll face a winnable game against one of France, Switzerland, Ecuador or Honduras…
We don't think about the knockout stage before we get to it, but it is true that there are harder groups to go up against after getting through. We must respect every opponent, but we will have no fear. If we can get into the round of 16 from the group, our nation will be very happy. If we can get beyond that into the quarter finals, it will be crazy back home in Bosnia. But any team can beat any team, so if we go through, we will take the game to any opponent.
Are there any teams that you think might surprise people at the World Cup and break the cycle of the usual teams winning it?
Hopefully Bosnia-Herzegovina! We are aggressive and well-organised. But also, Belgium are a really top class side. I have spoken to Vincent Kompany, my team mate at Manchester City, and he tells me how determined they are to prove themselves as a true force in world football. I wouldn't be shocked if they went all the way in Brazil, honestly.
Everyone talks about Spain, Brazil, Holland, Argentina and Germany before World Cups, but the Belgian side has got a squad to compare to any of them…
Absolutely right. I am familiar with a lot of their players from the Premier League – Simon Mignolet, Jan Vertonghen, Thomas Vermaelen, Mousa Dembele, Marouane Fellaini, Eden Hazard, Christian Benteke, Romelu Lukaku – the list of great players they have is pretty amazing, and they play as a true side, too. They have got a very good chance of going deep into the tournament.
Who did you enjoy watching play as a youngster, did you have a hero that you modellled your game on?
My favourite player always was Andriy Shevchenko of the Ukraine. I watched him not only at the big competitions but also at the club level. He was so powerful, so fast, but really skilful, too. I tried to model myself on him all the time. More recently, it is great to watch Spain. They are a complete team, and they'd definitely be a side that we would want to avoid in this tournament.
Will you have your eye on the Golden Boot?
It is every forward's dream to win something like that, and you never know. A hat-trick here and a hat-trick there, I could be in the running. Seriously though, it is not something that I focus on. I want to score goals and do well for the side, but the team is more important than any personal awards, or trying to have more goals than anyone else. It is all about Bosnia, not Edin Dzeko.
How do you unwind after a game in a tournament like this?
It's good to relax and be with the guys. Take a swim. I also like to listen to a lot of music, that is a great escape for me. I will talk to my family a lot too, they keep me grounded, and remind me why I am playing the game, who I'm playing for.
WE SAID THIS: Don't miss our Q&A with Uruguay Forward Edinson Cavani.