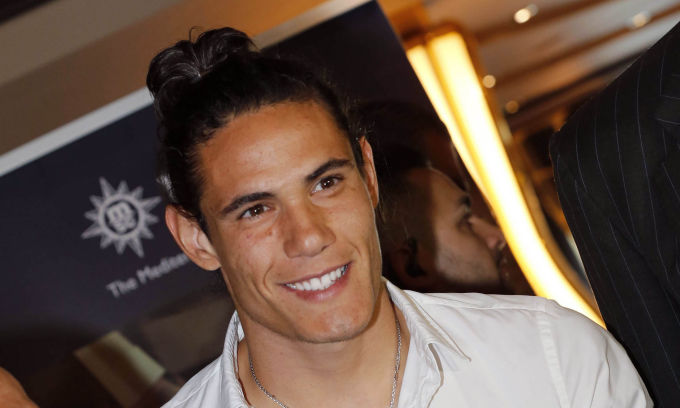 Hoping to make his nation proud in Brazil, Uruguayan striker Edinson Cavani reflects on the historical weight on his team's shoulders for the World Cup, their strategy and his expectations in this Adidas interview.
You've scored at a ratio of better than a goal a game this season at PSG, that must give you confidence coming into the World Cup?
Yes, it's been a good season for me in front of goal, but I am always confident that I can score, wherever in the world I have played. But as a forward, you sometimes have a run where you can't find the net for a few games, for whatever reason, so I'm delighted to come into this summer on good form. It's better than being on a bad run. I'm determined to take that into the tournament and get as many as possible.
Your strike partner Luis Suarez is also on an incredibly hot streak for Liverpool, that must help?
Yes. Luis has been unbelievable this year, he is the best player in the Premier League this year and I've loved watching him. You see the way he plays and think: "he's my teammate at the World Cup" – that gives you huge confidence. Luis is playing football joyfully, so confidently – he is scoring and he is creating chances. Hopefully we can both get a ton of goals and create chances for each other, too.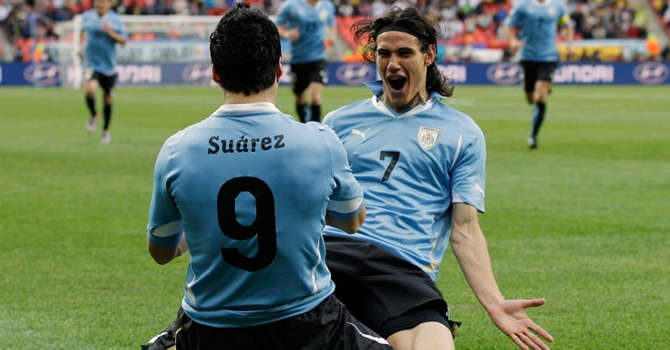 You might even have a personal shoot-out between the two of you for the golden boot?
That would be fun. And don't forget Diego Forlan, either. Hopefully it wouldn't get to the point where we're refusing to pass to each other because we all want to win it! But the game is not about personal honours. If Luis and I can play at the very top of our abilities, we know we can give Uruguay the chance to win this tournament, and that is what we are going there to do. Our job is to finish off chances against some of the best defenders and goalkeepers in the world.
You've had a winning start to your time at PSG, how do you reflect on your first season in France…
I've enjoyed it a lot. We've had a very good season and I'm happy with my contribution. We've won Ligue 1 and I got a lot of goals, and I scored a couple in the Coupe de la Liga final, which was a very nice feeling. It's a great club and while we were disappointed to go out of the Champions League, I think there will be even bigger and better things for PSG over the next few years.
You played a big part in Uruguay's 2010 World Cup charge, where you finished fourth.
It was an amazing summer for our team and we were bitterly disappointed to go out in the semifinals to Holland. I still think about it and I don't want to experience going out in a semi-final again. I scored my only goal of the tournament in the third place playoff, and that's a game nobody really wants to be a part of, knowing that it could have been the final. But Uruguay did ourselves proud, and we had Diego Forlan as a top scorer in the tournament and Suarez on great form. We can take that into this tournament and do even better.
You face England and Italy in some big group games. Is it a worry that you might not even make it to the knockout stages?
All three teams will be worrying about that because one of us – or two of us, if Costa Rica pull off some shocks – will be going home early, and their country will be very, very upset with them. We don't want it to be us so we need to be at our absolute best. We must focus totally and play the right game tactically.
You have Luis Suarez as a spy in England, and lots of Uruguayans are playing their football in Italy, though…
Yes. Luis knows these English players very well, as do Diego Lugana and Gaston Ramirez. And in Italy there is Martin Caceres, Diego Perez, Walter Gargano, Alvaro Gonzalez, Abel Hernandez. And I have played for Napoli and Palermo. We know all about Italian football, and in many ways it is similar to the Uruguayan style. That's why so many of us go there. Both sides defend well, are tough, are patient with the ball and try to tease out chances. They have great players and are probably on a level with Uruguay. And England have got many dangers. It's going to be a real group of death, but hopefully we will emerge alive and can go on to the next stage.
How much will playing in Brazil, the home of the 1950 shock Uruguay World Cup victory, spur you on?
It is a huge thing for us. That success is one of the main stories in Uruguay, it is a glory for such a small country to defeat such a big one, a real life David against Goliath. We would love to succeed on their soil again, it is the only thing that matters to us this summer. We want them to put on a good tournament and enjoy it, but we also want to win in our rivalry with them. There is still a major rivalry between the two sides, and I think if we got to play against them in the knockout stages, the history might unnerve them a little bit. We can use that to our advantage. The only time there has been a World Cup in Brazil, Uruguay won it. Imagine if that happened twice.
The Uruguay side is very experienced now, but might it be a little too old to last the pace of a World Cup?
No, I think we are just about right. We are still a very fit and hard working team. It's true we haven't changed our ranks much, and that must happen for the next World Cup, probably. But we've got great, experienced players like Lugano, Pereira, Diego Godin, Martin Carecas, Jorge Fucile, Forlan, Suarez and myself. We know each other's games and that is an advantage. And we aren't complacent. We know there are others ready to seize our places in the team if we don't perform.
Will South American sides have the advantage over European sides this summer?
I can't see at least one or two South American sides doing very well indeed at the tournament. Us, Brazil, Argentina, Colombia, Chile – there are some great teams on our continent and they will be feeling really comfortable and ready to succeed this summer. I'm sure at least one finalist will come for South America. It will be a shock and a disappointment if that doesn't happen. But Europe have won the last three World Cups, and Spain don't look any weaker than they were in 2010, so I'm sure you could argue the case for Europe being the stronger continent, too. It will be an interesting battle of styles, but for me the location will give South American sides a little edge.
And you'll have a lot of fans around, too…
That is very true. The Brazilian locals won't want us to do well, so we can't count on neutral support, but so many Urguayans will find a way of getting into games, that is for certain. Hopefully we can turn some stadiums Sky Blue and make it a real Uruguayan event.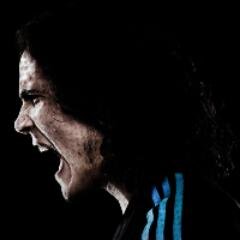 You like to tweet pictures of yourself with trophies – and who wouldn't! Will you be tweeting much this summer from @ECavaniOfficial?
Yes, I will be doing a little bit to stay in touch with Uruguay fans and football fans all over the world. And if I can tweet a picture of myself with the World Cup, that would be the greatest tweet of all time, I think…
WE SAID THIS: Don't miss "Coming at You Like a Dark Horse: 5 Underdog Squads Most Likely to Surprise You at the World Cup".