Following the holiday suicide car bomb in Beirut that rocked the nation and took several lives, including former minister Mohamed Chatah, a young Lebanese woman has developed an app to let loved ones know that "I am still alive."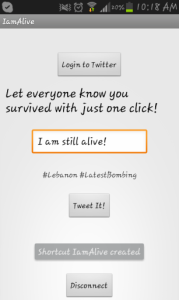 "I developed and published this app as a joke, a sort of dark humor, that in the situation we are currently living in such an application could be practical," explained Sandra Hassan, the app's developer.
But after she released the app, people actually took it seriously and requested improvements and additional features, such as functionality on more social networks. Hassan is now even coordinating with International Crisis Watch.
Currently, the app is available on Google Play and publishes a tweet that reads, "I am still alive! #Lebanon #LatestBombing." A newer version that publishes to Facebook is also in the works.
"Although the idea may be grim, I see the potential this app has to bring something good to the table, both for victims of crisis events and for those seeking to organize relief," Hassan said.
On the same black, tongue-in-cheek wavelength, Hassan is also developing an app for politicians to automatically condemn a bombing after it happens.
WE SAID THIS: Don't miss this Q&A with Rima Najdi, AKA Madame Bomba, who walked the streets of Beirut recently armed with a cartoon suicide vest. Find out why in the link.
[Ed. note: The original article stated that the International Crisis Group was interested in working with Hassan. It has since been amended to note that she is currently coordinating with International Crisis Watch.]