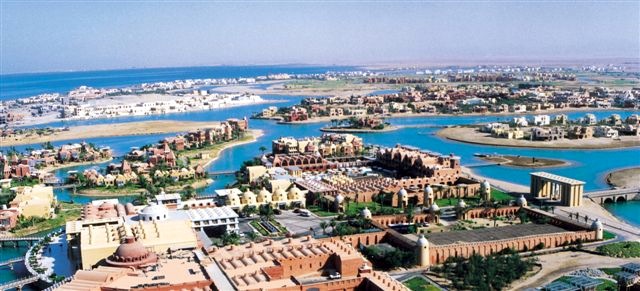 El Gouna on Egypt's Red Sea coast is going green. The resort town aims to become the country's – and the continent's – first carbon-neutral city. In a joint Egyptian-Italian project, El Gouna will transition to using renewable energy from windmill farms.
"(T)his agreement will help the Egyptian government to achieve a significant breakthrough in the fields of environment and tourism, enhancing Egypt's global image and opening the door for Egyptian tourism projects and cities to rank among the leading carbon-neutral entities," said Dr. Laila Iskandar, Egyptian Minister of State for Environmental Affairs.
Government estimates place current total greenhouse gas emissions of tourist establishments in Egypt at around 3.5 million tons of carbon dioxide.
According to the agreement signed at the end of December, the environmental ministry is responsible for providing technical support, the tourism ministry is accountable for standards setting and marketing, and the Ministry of Electricity and Power is tasked with supplying the clean energy.
Minister of Tourism Hisham Zaazou said the initiative will be rolled out to more towns and cities across Egypt. Sharm El Sheikh is set to be the next carbon-neutral destination, with Soma Bay, Ras Ghareb and Marsa Alam also planning to go green.
Municipalities around the globe are already racing to land the title of world's first carbon-neutral city, including Masdar, UAE and Seattle, U.S.
WE SAID THIS: Don't miss "Go Green: Tips for How to Recycle in Cairo".