One TV show that has left the audience stunned in just three days is Zai El-Shams starring Dina Elsherbiny, Ahmed El-Sadaany, and Reham Abdel Ghafour. The actors have been giving heart-aching performances for a week now and everyone could sense the director's vibes all over it.

Egyptian director, Kamla Abou Zikry, known for her work in Bent Esmaha Zat and Segn El-Nessa, is one of Egypt's favorite female directors. Rumors circulated before Ramadan, the director quit the show, to be replaced by Sameh Abdel Aziz, due to the long duration it took her to film scenes. Other media sources claimed that El-Sherbiny, along with Amr Diab, interfered with her job.
Everyone has been wondering which director shot the viral scene where Dina's character finds out about her sister's betrayal. We finally think we figured it out.

Abou Zikry has been silent about this whole mess since the series started, however, the director lashed out on social media today. Abou Zikry basically blames the new director for indirectly crediting her work to himself.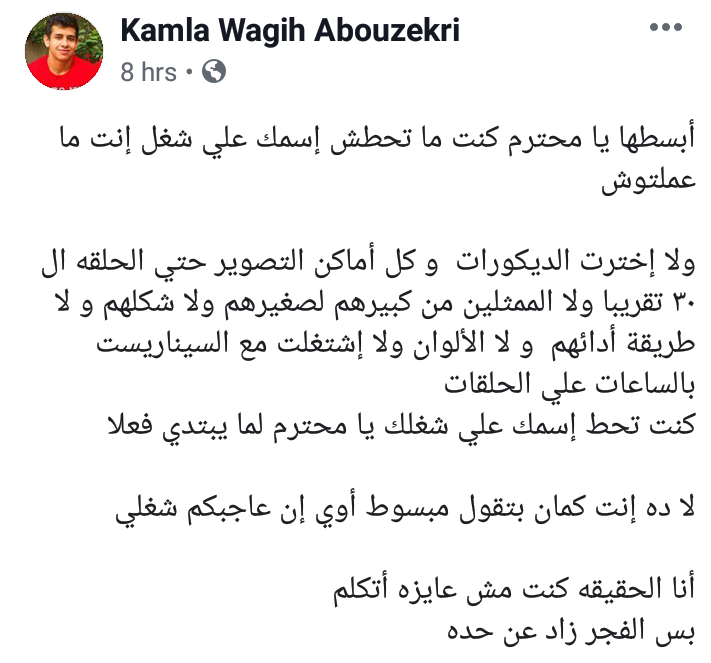 Other sources claim that Abou Zikry is the one who asked not to be added in the credits as she wanted nothing to do with the show.

Sameh Abdel Aziz hasn't responded to the allegations so far except with an obviously passive aggressive status.