By: Fatema Bashar
We all know the importance of choosing the right school. However, it is still not that easy to find a school that can meet all your expectations perfectly. For ages now, our traditional schools have struggled with issues like school violence, teacher quality, and infrastructure, etc. But now it's time to move ahead of these challenges & embrace the right online school.
Read on to know the reasons of why you should switch to an online school!
Benefits of Online Schooling
1. Flexibility – Freedom to choose one's learning pace
Online schooling has the feasibility for self-paced learning. This means that any student with any constraint (physical, mental and family, etc.) can now choose to learn at his/her own pace.
Your lifestyle preferences are no more a concern. And, you can manage all your important commitments through this unprecedented advantage of flexibility. Online schooling can be comfortably tailored in and around any student's lifestyle. Besides, the power of virtual school can also help you to bid goodbye to academic stress forever. You need not bother about any fixed study slots because an online school, can improve your educational productivity, and control your rate of learning each day.
2. Accommodates all learning styles
No two students are the same. Hence, their learning choices are also different and unique. Other than the freedom of flexibility, virtual schooling also offers a mix of online resources. It caters to all types of students and accommodates all learning styles perfectly.
Students can solidify their learning through recorded lectures and watch engaging videos as per their liking. Kinesthetic learners can also thrive in this non-traditional setting of a virtual school and can enjoy better learning through varied hands-on activities.
Feature-loaded online schooling appeals to each learning style. And we leave no stones unturned to address the unique learning needs of our students with special needs.
3. Simplifies your academic journey with minimum supplies
Remember the requirements of a traditional classroom?
Books, writing utensils, folders, markers, binders, files, and what not?
Now take this load off your life and learn at ease with us! All you need is an internet connection, a device, and our credible support of the best online high school.
And we bet your school setup is going to be simpler than you think!
4. Individualized attention by the teachers
We know about the chaos of a crowded regular classroom and we all witnessed changes in the educational system during the pandemic.
But, virtual schooling offers a respite through student-centric asynchronous learning. Getting the individualized attention of the teacher through online schooling can easily get you the necessary teacher support that you need, which makes it better through additional e-mailing and messaging options.
5. An array of exclusive course options
Several students wish to choose courses that suit their aptitude. But again, they compromise and accept whatever is available at their regular school.
Now you can broaden your horizon with the varied course options of an accredited online school. Improve your college readiness through advanced placement, honors courses, and a mix of electives (for middle and high school) will deepen your knowledge of the subject matter.
Do not restrict yourself to the minimalistic options of a brick-and-mortar school. Challenge yourself and get ready to graduate with better credits to boost your GPA.
6. Safety is guaranteed with online schools
School violence is a grave issue!
According to UNESCO, 246 million children and adolescents are victimized in and around school every year.
Save your productive time and energy by choosing a threat-free educational medium. You can now easily create a secure schooling design right within your home settings. And, what's even better is that you can opt for selective socialization as per your liking.
Do not let the negativity of academic or peer pressure deprive you of a positive learning environment. Instead, create a secure study space and enjoy the bliss of a happy schooling experience.
7. Saves time and energy
Zero commutes with online schools have brought a sigh of relief from the mindless noise and dreaded traffic jams. Now you can save all the travel time and use it for addressing other imperative life priorities.
Customized schooling experience creates a difference, and you can use your time and energy judiciously.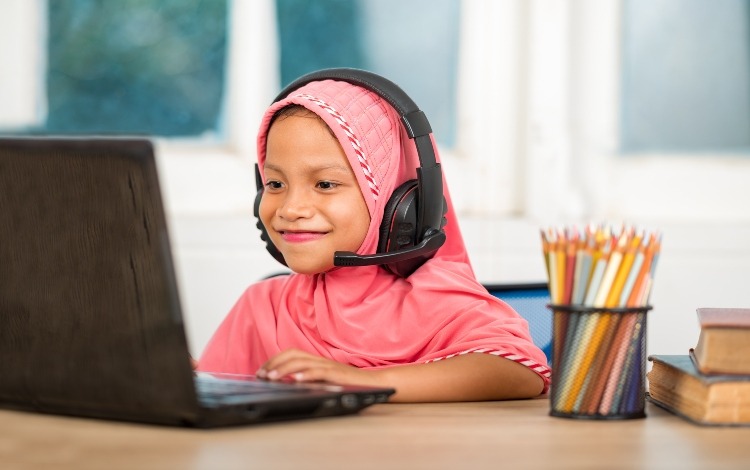 8. Bridges learning gaps
Ever wondered why your learning gaps get worse with advancing grades?
Well, when it comes to feedback, it's either delayed or incomplete. Most of your learning experience can be improved if you get to know your workable areas.
An online school integrates machine intelligence along with the human touch for 360-degree assessment feedback. This means that you get to know your strengths and weaknesses better for timely remedial action.
Educator support is always there to assist you in gauging and working on your pain areas. And the end results are bound to be rewarding for a student.
9. Supports active learning
Do you know that your brain can process and assimilate concepts well, only if you are actively involved?
With online schooling, this rule of thumb is the basis of our resource planning and content selection. This makes sure that students are actively involved in their learning. And they manage to retain information for a considerably longer period of time.
An online school can help each student to reach the pinnacle of academic success. And, with its host of other advantages, this can make a student THE MASTER OF HIS/HER OWN LEARNING!
WE SAID THIS: Switching to an International Online School could be the right decision for you!