How Con O'Donnell Went from Beach Bum to Digital Media Pioneer
Con speaking at TEDxAUC in Feb. 2013.
"There were many times when I wanted to leave Egypt," Con O'Donnell tells me. An ironic confession, since, as one of the most successful entrepreneurs in Egypt, his story is one that every startup in the country wants to replicate.
"There were many times when I was out of money, out of – you know, I had two divorces, mainly because of the stress of the financials and, you know, me being so stubborn about this business shit. 'I'm gonna make it work. And I'm not gonna go back til I. have. done. it.' And by the time I. had. done. it, I didn't want to go back."
"You're stubborn," I reply.
"I am stubborn, yes," he admits, with a smile and a glint in his eyes. "We call it 'persistent' in entrepreneur-speak, but it's stubborn."
We're sitting in the courtyard in front of the AUC Greek Campus's library building, the site of the upcoming, much buzzed about RiseUp Egypt Summit and even more buzzed about tech park – Egypt's first and what everyone hopes will be the region's own Silicon Valley.
A press conference about RiseUp just wrapped, and although he wasn't on the (impressive) panel of speakers, a glance at its major partners reveals Con's fingerprints all over the summit, billed as "Egypt's Ultimate Entrepreneurship Event".
He'll be on the panel at Wamda's Pitch n' Mentor – he's joining the entrepreneurship platform as an investment principle for a new 75 million dollar venture capital tech fund for the region; his new startup, Wafayet, is participating in the Cairo Angels Pitch Event – he's also a CA investor himself; he's a mentor at Flat6Labs; he's the Regional Entrepreneurship Advisor at MC Egypt; and he's a first-round investor in Eventtus, which is handling the ticketing for the two-day conference.
Known best for helming Sarmady – the company behind filgoal.com, filfan.com, filbalad.com, contactcars.com and mujaz.me – which he sold to Vodafone for an undisclosed amount in 2008, Con has clearly been busy behind the business scene. But twenty-two years ago, he was spending his time doing what you do on Sinai's beaches.
"I ended up here as a student," he tells me. "The typical week was three days studying, four days in Sharm."
He first came to Egypt for a university year abroad, studying Arabic, and even that wasn't a calculated choice.
"I had to take an extra arts-based course for the credits, basically," he remembers. "And when I went to sign up… there was like 80 tables and 80 long lines. And I looked all the way down to the end and there was a table that had three people in front of it, so I went there first. And what is this? This is Arabic. Aaaaarabic. Okay. Alright. I'll take that."
Before that, the child of Irish immigrant parents who grew up on the south coast of the UK was studying at a seminary, "training to be a Catholic priest – actually a monk of some sort, a brother – or whatever."
"Is that why you're atheist now?," I ask with a grin.
"Yea, exactly!" he  laughs. "Absolutely."
And before that, he was in culinary school learning French cuisine after leaving school at 16-years old.
As I was wondering how an Irish boy – known for holding their hearts in their hands – could last in a Catholic seminary, he tells me, "I fell in love with a girl while I was training to be a priest, which is a bit of a problem, and decided to quit." He followed her to Leeds University, where he did a joint degree in Comparative Religions and Arabic Studies. After graduating, he decided to come back to Cairo to brush up on his Arabic.
"So I ended up here with no clear idea what to do, didn't have a job or anything to come to. And then found a freelancing job for a fashion/lifestyle magazine. Obviously, you can tell. The fashion lifestyle guru that I am," he laughs. "And as things happen in Egypt, two weeks later I was the editor of said fashion/lifestyle magazine."
I had first seen Con on the streets outside of the press conference. I was running late and assumed it was over, until I saw him rushing to the Greek campus. If I didn't know it was him, I'd think he was just another expat in Cairo, maybe even a tourist if we still had those, dressed in an olive green short-sleeve button up and cargo pants.
"I spent some time there and the funny thing is that up until that point – in this decade I'm 28 now, okay – I hadn't touched a computer in my life," the digital media pioneer tells me. "I would hand write articles and then take them to a business center, get them to write it up, put it on a floppy – remember floppy? – take it to work."
"So you were a writer who had never used Word?" I ask.
"Yea. I mean we were supposed to get our thesis written up on, you know, like, with a computer but I went to the law school and paid the secretaries to do it there, you know. It's like, why would I want to do that when there's somebody who already does it more efficiently than I do?"
Unlike most of the new players on the business scene, with their noses pressed to their work, chasing trends and refusing to play with others, Con thinks in terms of "ecosystems" and "scale" – major buzzwords of the entrepreneurship world. While his success affords him the ability to think in such broad lines, he's always had that "vision" that he looks for now in budding entrepreneurs.
He tells me about the boutique design agency he started with a couple of graphic designers from the magazine. They called it Vision Egypt and one of their projects was printing 50,000 calendars for Novartis's agricultural division.
"Every single cut of the printer, there was a space this big that wasn't being used," he explains, his hands a full arm's length apart. So "I designed a magazine that was this big," about half a finger's length, "and we printed it on the extra space… so we got the paper for free and the printing for free and everything and we put it together and stapled it in the office," he laughs.
"And that was called Little Vision, obviously. It really caught on. We had just given it away at CAC and AUC and stuff like that and everybody loved it. It was like 4.5 point font. You know, you'd have to be young to read it, anyway. My first ad was Baraka Optics," he recalls, again laughing, "'cause it's playing around with 'You need glasses or you can't read it.'"
"And it actually took off and it actually got bigger. Even though the small font was nice, the advertisers really didn't like it. It's like, 'I'm gonna pay how much for a matchbox size thing? Are you kidding me?' And I would say to them, 'Look, dude, if you were in California, you'd be all over this,'" he says with a big smile, eyebrows raised.
"Sorry to interrupt," Ahmed El Alfi, founder and chairman of Sawari Ventures, tells us. He's about to leave the press conference and wants to say bye to Con. "I just want to thank you for that nice e-mail response you made on my behalf," Mr. Alfi says to Con. "I really appreciate it. You're much more eloquent than me – and when I get in trouble with my wife, I'll have you talk to her for me, too."
Con's slick way with words and sales skills also proved well when the agency launched Nightlife magazine – "big, glossy" and "very expensive" – but after some internal strife, the company closed and in the end, "what I walked away with was myself, my experience, no money – not even a pencil or a pen out of this first adventure – in debt, probably, and under financial pressure."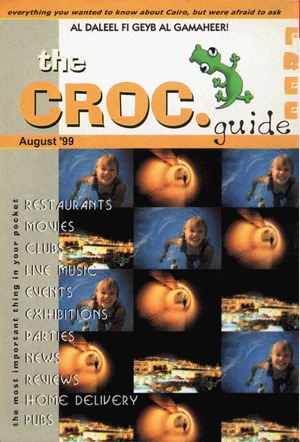 He went on to create The Croc Guide, Cairo's first pocket guide for nightlife, entertainment and dining. It became profitable and was a success, and that's when he became interested in "the Internet space."
"I got roped into one of these projects that was supposed to be like the Yahoo! of the Middle East. 50 million dollars and an escrow account, EFG-Hermes is the backer and da da da, da da da… So I put The Croc aside, completely. Basically wound it up. Went into this project. Nine months later it was done."
"It was the time of the Internet bubble bursting in the U.S. It had a massive shockwave and the backers pulled out and I had recruited a content team of 90 people and I had to sit around in a big room and tell them, 'Guys, we are not gonna get paid. Anyone who can, go and find another job.' So I was kind of burned after that."
Little did he know, his next move – launching filgoal.com with Basil Ramzy – would propel him to become one of Egypt's most successful entrepreneurs. He switched from English to Arabic content – a "eureka moment", he recalls – and entered the mobile space even before the 3G networks were up.
"We got everything onto WAP. And we caught the interest of Vodafone. First of all, as a sponsorship deal to filgoal, which is the first million dollar advertising contract signed in Egypt, and then as an investment when they were rolling out 3G and getting into a data strategy, they wanted content," he explains.
"They wanted to either build content or own content. So the easiest, fastest, most efficient way was for them to own content. So they bought Sarmady in 2008."
Since then, Con has been mentoring and investing in startups, with a larger view of developing the entrepreneurship ecosystem. "This means helping the existing ecosystem stakeholders (incubators, accelerators, angel investors, NGOs, educators) improve the quality and quantity of what they do," he has said.
He's also started a family.
"My daughter is four now and I have a six month old son, which is killing me. It's killing my wife more. It has its own pressures," he says. "I can already see that he's more stubborn than I am."
"More persistent," I remind him.
"More persistent, yea," he nods, smiling.
And he has a new startup of his own, Wafayet, a promising platform headed by CEO Yousef Samaa for digital obituaries that aims to fill the void left by the dying newspaper industry.
But like Little Vision, The Croc Guide and filgoal.com – seemingly small, niche projects that turned out to be his most successful ventures – there's more to Wafayet than meets the eye.
"The bigger idea behind this – it's not obituaries, really. That's one part of it," he teases. "Because when someone writes an obituary, they're writing a family tree – a very, very accurate family tree. It's the most accurate, clean data that anyone ever puts in, in their life, in Egypt," he explains. "The social capital that they lose if they get the names wrong or the connections wrong is too risky."
"So if I had the family tree of, let's say, the top 100,000 or 500,000 families in Egypt, through the obituaries, and if I archive all of the Al-Ahram stuff, I digitize all of the archives, then I have an amazing data play. And if I map that to the social network and I know everyone is connected to everyone in Egypt…"
"What are you gonna do with it?" I ask, wide eyed, the gamut of possibilities running through my head.
"I'm not gonna tell you," he replies, laughing. "That's the next thing."
WE SAID THIS: Follow the RiseUp Summit, taking place Nov. 24-25, on Twitter with the hashtag #RISEUP13.