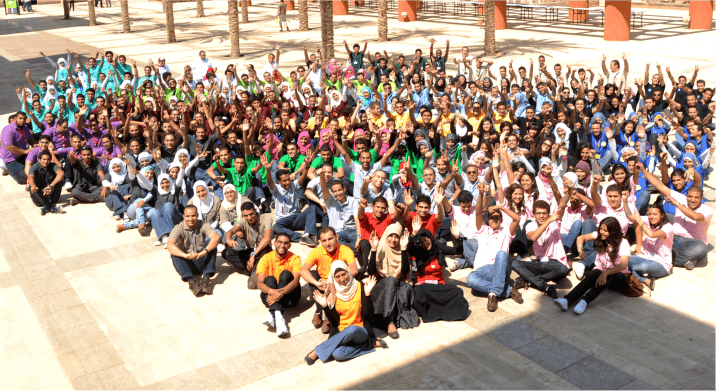 Education and youth unemployment are two of Egypt's biggest problems. Partnered with some of the most established names in business, Injaz Egypt, a volunteer-based non-profit organization working throughout the country, aims to tackle these issues in a variety of ways. You may have heard of them at school or through friends, now find out exactly what they do and how you may be able to help.
What is Injaz Egypt all about?
Our mission is to inspire, empower and prepare Egyptian youth, enhancing their opportunities to join the job market as qualified employees and entrepreneurs.
Youth participation is crucial to building a strong economy upon which Egypt's future stability and prosperity can be founded. In order to achieve this, we must urgently address the gaps that have left most Egyptian youth unprepared to become globally competitive professionals and entrepreneurs, and prepare as many as possible with skills, self-confidence and mentoring that will help them drive our future economy.
Entrepreneurial spirit, leadership and professional skills, critical thinking and problem solving are conspicuously missing from the public curriculum and form the key components of Injaz Egypt's effort to empower our disadvantaged youth and bridge the gap between public education and the skills required for professional and community leadership in our society.
Injaz aims to build confidence and creativity in students to enhance their knowledge and entrepreneurial spirit, whilst encouraging private sector participation and corporate citizenship involvement in educational development.
How did Injaz start?
Driven by the private sector, Injaz was established to create a new generation of empowered youth who will become entrepreneurs or the future employees of choice corporations, instead of joining the growing ranks of the unemployed.
Expansion plans depend on providing Injaz programs within schools and universities across Egypt, and in acquiring private sector partnerships with the organization. In 2007, Injaz Egypt was officially registered as an Egyptian organization governed by a board of Directors represented by leading companies of the Egyptian private sector.
As a member of Junior Achievement Worldwide and Injaz al-Arab, Injaz Egypt benefits from programs that efficiently link business principles to school curricula, bringing together students, teachers and members of the business community.
Injaz Egypt is in a distinctive position to actively engage the Egyptian community in inspiring and educating future generations.
With the cooperation with the Ministry of Education, Injaz Egypt's private-public partnership has impacted 300,000 Egyptian students in more than 451 public schools and 21 universities in 26 governorates since its establishment in 2003.
Where do you see Injaz in five years?
We aim to have the ability to reach out to 250,000 students after five years. Additionally, we are currently working tightly with vocational schools (skill-based schools) in order to create a strong entrepreneurial environment to motivate students to utilize their skills and to either start their own businesses or enter the workforce.
Injaz has several initiatives that tackle and address the various concerns in our current educational system, and we hope that in five years their presence will be even stronger. We also expect to gain more companies on board to increase the number of volunteers, which will help us reach out to a greater number of students.
What do you think is the biggest challenge facing Egyptian adolescents today?
One of the biggest challenges facing Egyptian adolescents today is that they are constantly facing battles entering the workforce. This is mainly due to the gap that has been created where students are not prepared to enter the workforce and lack skills of leadership, spirit, and overall motivation.
Missing elements such as leadership and entrepreneurship are crucial topics that need to be touched on in order to ensure their development and ability to enter the workforce. Moreover, the current curriculum does not motivate students to think critically and does not challenge them. These missing elements are crucial for an adolescent to acquire during their school years as they are highly valued characteristics most private companies are looking for.
Many societies underestimate their youth, including here in Egypt. How does Injaz address this?
Injaz Egypt implements interactive teaching methods to tackle this specific problem that can be found in almost every public school throughout the country. Egyptian youth lack confidence in themselves and Injaz works hard to ensure that each student is aware of how their participation, whether they work in a company or open their own business, is a crucial element in bettering the country's economy.
All our programs utilize various techniques to motivate students in the classroom to participate. Some of these techniques are presentations, games, and even mini competitions. We also expose many of our students to influential individuals from the private sector to help inspire them.
Tell us about your favorite project to date.
If there is one project I would have to pick it would be Adopt-A-School. Adopt-A-School is the first and only holistic partnership approved by the Ministry of Education between an adopting company and institution.
The purpose of this program is to develop the Egyptian educational sector, and help create a new 'culture' in which the private sector plays a major and direct role in the development of the educational system.
Injaz facilitates a partnership in which a company forms a long-term relationship with their underserved public school of choice by becoming part of a committee with school administrators and parents.
This personal relationship with the school helps to promote a sustained connection that is responsive to each school's specific needs and encourages greater commitment from volunteer mentors and the adopting company.
Give us the scoop on your next big project.
Our next big project just launched recently! It's our Metlife Award winning entrepreneurial pipeline Start-Up Egypt.  Start-Up Egypt is a pipeline tailored to passionate, hard-working, creative university students.
The purpose is a holistic, long-term approach that can take an enthusiastic student from any field of study in any university with no prior business experience or knowledge, and transform him or her into a successful entrepreneur with an innovative new business that contributes to our national economy and generates jobs.
The pipeline provides students with the necessary guidance and support to ensure that their ideas are translated successfully into the business world, including two rounds of funding. The pipeline is divided into three main phases to ensure each member is exposed to all the necessary information: ideation, acceleration and incubation. Find out more in the video below.
WE SAID THIS: Why don't you try volunteering? Fill out this form and check out more about Injaz Egypt here.