The United Nations has been embracing individuals with special abilities and annually celebrating them on December the 3rd, for the last 26 years. The International Day of Disabled Persons aims at empowerment, inclusion, and promoting equal opportunities, since it was inaugurated in 1992.
This year on the 3rd of December, Rahma Khaled, a unique girl with Down Syndrome, had her dream turn into reality after AL-Ghad channel allowed her to host a segment on the Yaum Jded TV show. A week later, DMC channel announced that Khaled will be a regular and the first ever TV host with Down Syndrome on their morning show, Tamanya El-Sobh.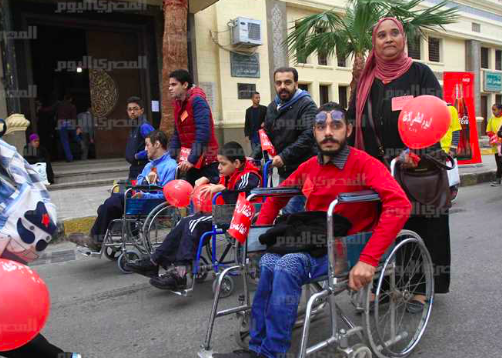 Ever since the news made headlines, families with special needs individuals have been feeling hopeful, believing that their children will finally get a chance to live a normal and equal life. This Friday, Alexandria embraced individuals with special needs with a march on the city's iconic Corniche.
The march was organized by the governate and took place from the beginning of the Corniche and ending at the Citadel of Qaitbay. Hundreds of families joined, headed by Mohamed Saad, the Secretary-General of the district.
Some of the banners held by the participants read "I have the right to work", "I have the right to have an opinion", and "I have the right to be protected by my society".