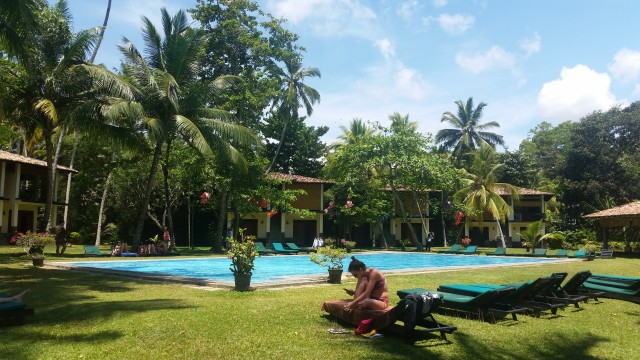 They say there is a first time for everything. I guess the real question is whether or not when it's your turn, you jump at the chance to experience a new first. Or, as that which tends to be much more comfortable, you shrink back into your comfort zone- never knowing what exists out there in this vast, beautiful world in which we live.
Recently, I had some pretty bad wanderlust and decided on a complete impulse to book a trip to somewhere I had never been before. Not only that, I knew this trip would be something I wanted to do completely on my own. While it sounded a bit daunting, I pushed all fears aside and plunged myself into researching what my idea of a perfect "me, myself and I" kind of place would be- something near a beach and overflowing with activities!
Sri Lanka had been suggested to me, and I figured …why not? It was only a 4 hour flight, nice, hot weather and beautiful beaches. Within hours of looking up keywords yoga and water sports, I stumbled upon Talalla Retreat's website, and everything just clicked.
Talalla offers options for surfing, yoga as well as a combined option for surfing and yoga bundled together in an all-inclusive week-long camp. It was perfect! I had never been surfing, but figured it would just be another first to add to the list while I was racking them in.
Without going into too much detail about the range of emotions experienced on this trip, I have to say that this was definitely one of the best decisions I have ever made. The resort was a 3 hour drive from Colombo and absolutely breathtaking. It has an underlying vibe of "being one with nature" so no AC and the rooms were all open out into the jungle surrounding us.
While bugs were definitely an issue, it wasn't something that proper bug spray couldn't manage. Even though they were everywhere – a moth the size of my hand happened to enjoy showering with me often – they at least were not crawling on me, so I was happy.
The weather was hot and muggy, so you kind of end up just sweating 24/7. However, once I was able to drop all the very Dubai-ish attitudes about having to constantly be perfectly groomed and look put together, it was kind of fun just not caring about my pedicure chipping or the fact I hadn't worn a smidgen of makeup in 3 days; It was liberating.
Being on my own and challenging myself to learn a new sport as well as meeting all the interesting people from different places around the world that came together around a common interest of fitness and exploration, was truly exhilarating.
Learning to surf was such a pleasant surprise. I figured it would be something enjoyable, but I had no idea just how much fun it would be! It's like snowboarding, but better because you aren't sitting around on a lift waiting to get up the mountain.
The surfing experience starts the second you are in the water, paddling out, eager for catching just the right wave and once you get it, the adrenaline rush is euphoric.I also felt really lucky to have just the right instructor. The camp offered the perfect amount of instruction where you learn while not being too serious and still feeling like you're on a vacation and having fun.
The surf team would ensure that every single wave any of us rode was filmed every single day and the incredibly friendly and fun-loving instructors would take time each day to sit with each of us and explain what we were doing right or what we needed to work on. It really helped all of us progress quickly and by the end of the week, I was riding green waves with no problem and super impressed with how much I had learned and been able to implement.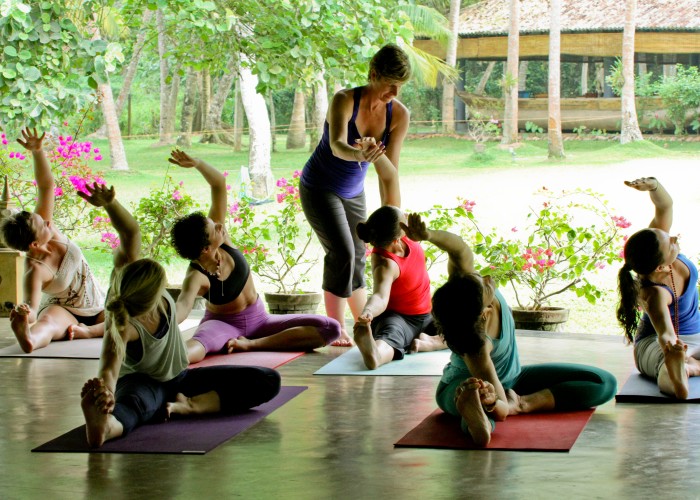 The yoga was just as awesome. With offerings of vinyasa and yin yoga – a series of deep stretches and poses which are held for up to 5 minutes each, giving you the most incredible release and subsequent feeling of tranquility-,  it was the perfect complement to all the physically grueling activity in the water.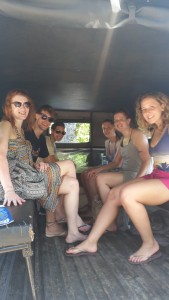 While the surfer camp was split into 3 different levels -with no more than 4 people to 1 instructor -, every day the entire group would meet up at the surfer's table in the common area during meal times to discuss how our day went and to socialize.
On a trip where I thought I may have a little too much alone time, I ended up craving the hour or so I would get to myself in my room right before passing out at the ridiculous time of 9 pm to get a good night's sleep before surfing the next morning. And while I thought the early morning wake up calls would be rough, waking up to the view of monkeys playing around in the trees right outside my open room was a joy to watch.
While I wouldn't exactly say I came back feeling well-rested (I slept a good 11hours straight once I hit my bed at home), I would definitely say I came back feeling confident, proud and committed to keeping surf as a part of my life. Oh and I also got a pretty kick-ass tan too.

WE SAID THIS: Don't miss 9 Ways to Make your First Trip to Thailand Extraordinary