Eid al-Fitr is finally upon us with all its joy and colors! It's family time, unplugging time, and celebration time. Movie nights and comedy shows are dominant in this time of year, making it even more of a truly pleasant time. The kids get new clothes and toys, whilst houses are filled to the max with desserts and food. So here we are, with five sweet food recipes you can make in the comfort of your home!
Date Balls With Nuts
Nothing says sweet like serving those date balls mixed with nuts. Add half a kilo of dried dates to a quarter cup of melted butter. Then add a cup and half of mixed nuts, ground or crushed. Finally, add half a tablespoon of cinnamon. Mix the dates with the melted butter, then add the nuts and keep mixing. Then, shape the mix into balls, and it'll be ready to serve. This delicious dessert will surely keep the guests coming!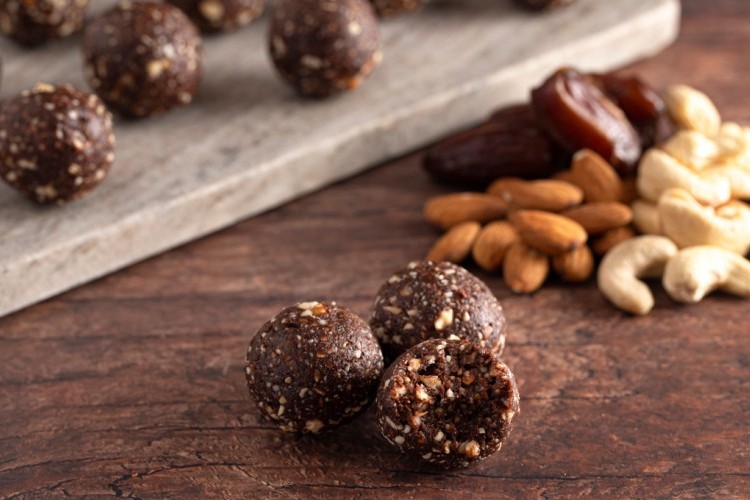 Coconut Ma'moul
To make this yummy snack, you need a kilo and half of semolina, three cups of flour, half a kilo of margarine, a cup of sugar, half a cup of rose water, a cup of water, and two tablespoons of yeast mixed with warm water, and finally, half a kilo of coconut. To prepare it, mix the semolina, flour, and sugar together, and leave overnight. The next day, add the margarine and yeast, and leave for another hour. Once the time is up, put the water and the rose water on it, and mix. Finally, shape the mix into a ball, and fill it with coconut. Once you're re done with the shaping, leave it in the oven to cook. To top it off once cooked, try sprinkling some powder sugar on it or glaze it with honey!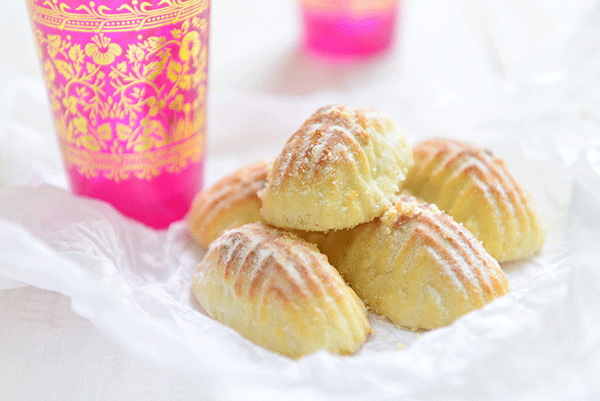 Almond Biscuits
This delicious treat consists of one and a half cups of sugar, a cup of butter, two cups and a half of flour, two-thirds a cup of almonds, a quarter cup of powdered sugar, and a quarter tablespoon of salt. It's pretty easy, and magical. To prepare it, mix the butter with the ground almonds until it makes a soft paste. Add to it the flour and salt, and keep mixing. Then add the sugar, and keep mixing again. Leave it in the freezer afterwards for 25 minutes, then once that's done, start shaping it to look like a crescent! Put it in the oven afterwards for 12 minutes, until the biscuits turn yellow, spray some powdered sugar to it, and serve!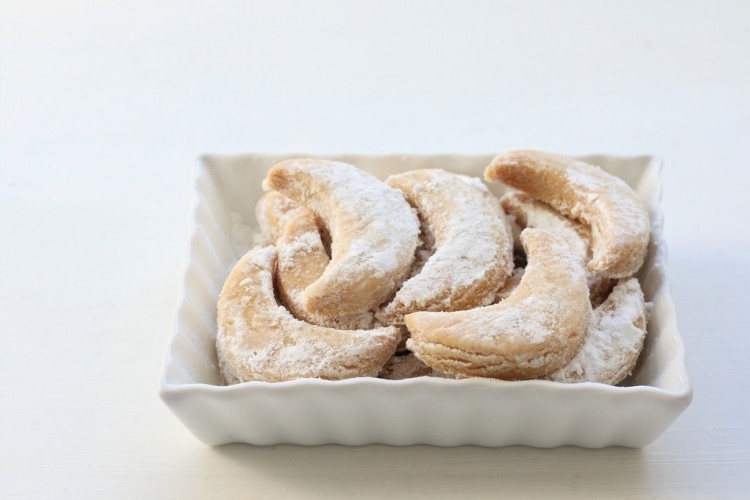 Kahk
The official Eid al-Fitr dessert, and making it is actually easy. All you need are two cups of margarine, five cups of flour, a big spoon of yeast, a tablespoon of sugar, half a cup of warm water, and half a tablespoon of salt. The final dressing for kahk is of course, powdered sugar. Now to prepare it, mix the yeast with the warm water and sugar, and let it sit for a while. Then heat the margarine until it's soft, and add the flour and salt to it, mixing it until it cools down. Knead for 20 minutes with your hands, and as you knead, add the water with the sugar and yeast and continue kneading. Leave the mix for two hours, and then shape it however you wish, traditionally a flat circle. After cooking in the oven for about 39 minutes, spray it with powdered sugar and treat yourself! And others too…
Basbousa
Basbousa is a Middle Eastern legend, be it throughout Eid al-Fitr or not. To make it, you need a cup of sugar, a cup of milk, half a cup of melted butter, and half a cup of coconut. Additionally, you'll also need three cups of semolina and almonds. Add the sugar to the milk, butter, and coconut. Mix them well together, then add semolina and mix again. Put the mix in the oven until it looks cooked, then place the almonds on top and cover it with honey. Voilà!