Six Places in Cairo Tailored for Hard Core Adrenaline Junkies!
Via Cyborg
In case you're an adrenaline junkie who's also craving a new adventure and likes moving some muscles, our regular hangouts are definitely not your thing. Since most things one can do in the city are usually food-related, we tend to hit level boredom super fast. That's why did a lot of research to come up with the ultimate adrenaline-fueled entertainment list for you. These are places where you can still enjoy cool activities without having to leave Cairo.
Wadi Degla Protectorate
Unless you've been living under a rock, then you probably know that there's a natural protectorate in the heart of Maadi. It's Wadi Degla Protectorate I'm talking about. There you can enjoy camping in a piece of heaven not so far from city lights, in addition to hiking of course. The trails are very beginner-friendly in case you're new to the whole hiking experience.
This one's super cool for those who like things a little bit extra. Canadian Mario has been living Cairo for a while now and he has his own rope wonderland next to Saint Simon the Tanner Church in El Mokattam. There you could enjoy high ropes, low ropes, rock climbing, and zip lining with a magnificent top view of Cairo.
If you're craving some rock climbing but the unbearable summer weather is stopping you, don't fret! Gold's Gym has the perfect solution, an indoor rock climbing wall.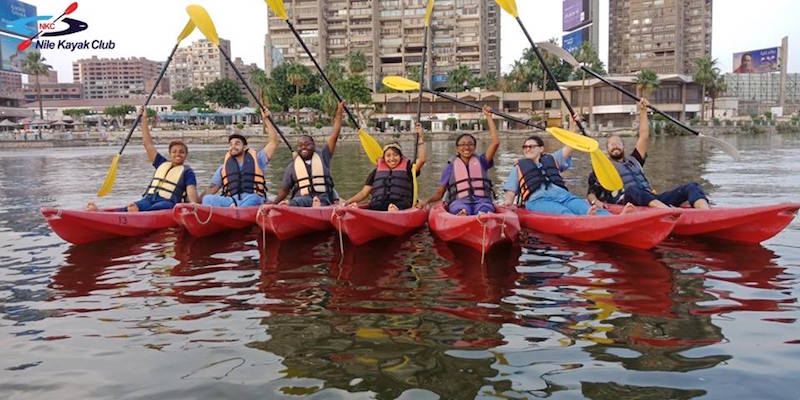 There's no need to explain this one, it's pretty clear, the name of the place says it all. If kayaking is one of your favorite outdoor activities, the Nile Kayak Club is the place to go. Even if you're a beginner, don't worry about it.
Aside from the norm in Egypt; where we'd usually melt under the sun, this is a really nice option for a change in the overall surrounding atmosphere as well. No need to to go to the Alpes to ski; okay we might be exaggerating, but you can do it here. All that you need to do is hold your breath and get ready to drive all the way to 6th of October.
Turn your beast mode on and take your daily workout outdoors for a change. Cyborg's adopting the outdoor body-weight gym and we love it!
WE SAID THIS: WARNING: Overdose might lead to muscle strains.