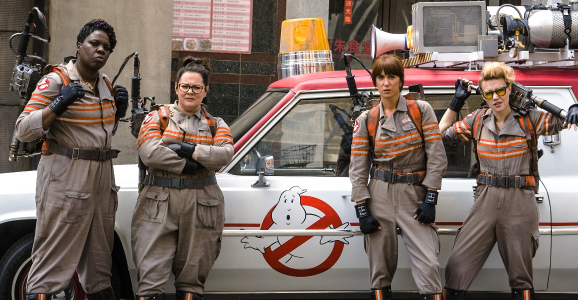 With less than five weeks to go, the countdown is on for the release of the new and rebooted Ghostbusters movie. With its all-female team – Melissa McCarthy, Kristen Wiig, Kate McKinnon and Leslie Jones – the film has already attracted controversial opinions from hardcore fans of the original and misogynists with no imagination.
The soundtrack will be released with the film, but we already have the first couple of tracks: Elle King's bold "Good Girls," and Jeremih and G Eazy's ridiculously catchy "Saw It Coming":
The soundtrack also features tracks by 5 Seconds of Summer, Walk the Moon and Pentatonix, as well as a remake of the iconic theme song by Fall Out Boy and Missy Elliott, snippets of which you can hear in the just-released Ecto-1 vignette:
And in case you miss the original, here is Ray Parker Jr. performing it with both sets of cast members on Jimmy Kimmel's show:
https://www.youtube.com/watch?v=XXoQXfi_0oI
WE SAID THIS: But for real though, who are you gonna call?