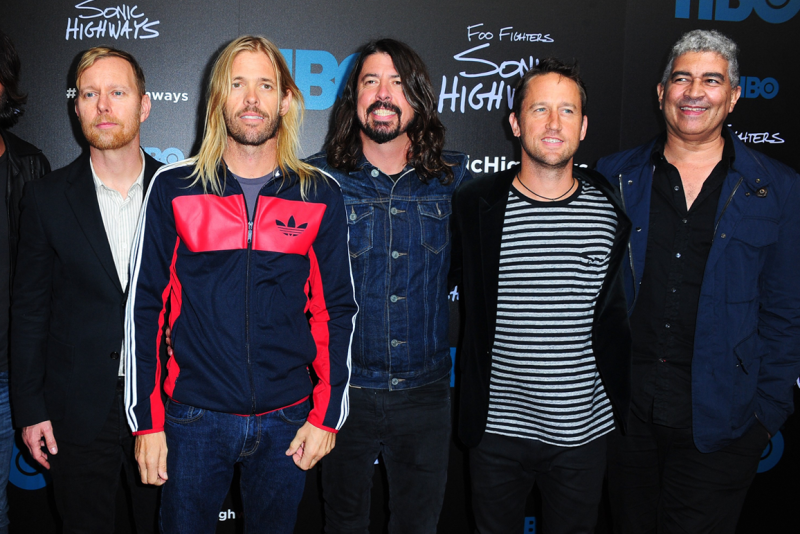 The Foo Fighters documentary Sonic Highways just premiered on HBO this week and the band has released their Chicago-recorded first track "Something from Nothing" to accompany the first episode set in the Windy City. The track is the first of eight from their eighth studio album, each recorded in a different legendary recording studio throughout the US. And in true Foo fashion, it starts off slow and melodic and builds to loud and bangin':
Marina and the Diamonds has been releasing juicy snippets of new material on her Instagram account for months now, but we finally have something real to bite into – check out "Froot", the first single from her third studio album of the same name, the release date of which has yet to be announced:
And the title track of T.I.'s Paperwork has also been released as a single ahead of the album's release this week:
In this week's new videos, Jessie J turns up the heat in 2 Chainz-assisted radio favorite "Burnin' Up":
Meanwhile, Ne-Yo sees pole dancers wherever he goes in the video for new single "She Knows". But not just any pole dancers – the women appearing in the video were apparently hand-picked by Ne-Yo himself and have competed professionally and own their own dance studios, and their skill shows:
Iggy Azalea leads this year's American Music Awards nominations with six including Artist of the Year and Single of the Year with "Fancy", while Katy Perry, Pharrell and John Legend have scored five nominations each. The ceremony will take place on November 23rd in L.A.
And the nominations for the Rock 'n Roll Hall of Fame for 2015 have just been announced and include Nine Inch Nails, Green Day, Lou Reed, the Smiths and Sting, among others. Voting is currently open to fans worldwide here and the top five artists will be inducted into the Hall of Fame in April.
WE SAID THIS: Don't miss this week's steamy Eargasm: Music to Get Your Freak on To.