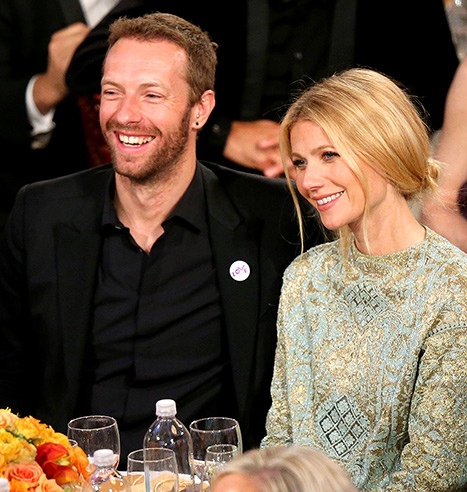 After more than 10 years of marriage, Chris Martin and Gwyneth Paltrow announced their separation on her website Goop in a post titled "Conscious Uncoupling", whatever that means. (To be fair, you can find out what it means in the follow-up post here but tl;dr).
Meanwhile, Chris Martin is joining The Voice this week as an advisor, which should be interesting, and is currently recording a track with Cat Power for the sequel to Garden State, titled "Wish I Was Here".
Hans Zimmer has recruited a soundtrack dream team for the score of upcoming film The Amazing Spiderman 2, including Pharrell, Johnny Marr, Incubus's Mike Einziger and the Eurythmics' Dave Stewart. The movie, starring Andrew Garfield and Emma Stone, premieres in May.
In his new "Stay With Me" video, Sam Smith wanders the streets, sings with a choir and gives us a serious case of the feels:
And Travie McCoy enlists Panic! at the Disco's Brandon Urie for his new feel-good track "Keep On Keeping On":
Shakira is beautiful and mesmerizing as always in her new "Empire" video, but for once the song is really, really good and she actually uses her voice; I dare you to only listen to this once:
Billy Corgan is a busy man. While organizing Rumi-inspired poetry jams at his tea house and working on a wrestling television show with Kevin Smith and Seth Rogen, he's also had the time to (finally) start recording with the Smashing Pumpkins and has promised two new albums next year. We'll be awaiting new singles by the end of this year with bated breath.
Nick Cannon's new album White People Party Music is being released on April 1st, and he's chosen a weird way to promote it. Cannon posted photos and videos of himself in whiteface, as his alter-ego Connor Smallnut, a brotastic mix of white stereotypes, prompting all sorts of internet reactions. Racist or genius PR stunt? You decide.
WE SAID THIS: Don't miss the Egyptian version of Pharrell's "Happy" Song: #كاشمجي