Red velvet is all the rage these days – let's face it, every day if it were up to us. You may think there's some super secret special ingredient that makes red velvet cake and its derivatives so drool-worthy, and here it is: There is none.
Nothing more special than red food coloring, anyway. Otherwise, you're dealing with a basic cake/cupcake/pancake recipe. What makes red velvet special is the cream cheese frosting that's slathered on top. Yum!
Here are a couple of fun takes on the red velvet rage – one recipe for mini cupcakes and another for pancakes. Try them out!
Mini Red Velvet Cupcakes (makes 48 mini cupcakes)
By Allie

Ingredients:
1 1/4 cup flour
1 cup sugar
1/2 Tbs cocoa
1/2 tsp salt
1/2 tsp baking soda
1 egg
3/4 cups oil
1/2 cup buttermilk
1/2 Tbs vinegar
1/2 tsp vanilla
2 Tbs (1 oz) red food coloring
Directions:
Preheat oven to 350F. Line 2 24-capacity mini muffin pans with cupcake liners.
In a medium bowl, whisk together flour, sugar, cocoa, salt and baking soda.
In a large bowl, whisk together egg, oil, buttermilk, vinegar, vanilla and red food coloring. Slowly add in dry ingredients and whisk until just incorporated. Fill liners about half full. Bake cupcakes for approximately 9 minutes, or until they have just set. Let cool in pans for 10 minutes before moving them to a drying rack to cool completely.
Cream Cheese Frosting
Ingredients:
5 Tbs butter, softened
8 oz cream cheese
2 1/2 cups powdered sugar, sifted
2 tsp vanilla
Directions: In a medium bowl, cream together the butter and cream cheese until combined and creamy. Slowly add in powdered sugar and continue to mix until the frosting is smooth. Stir in vanilla. Pipe cooled cupcakes as desired. For these, I used a plain, round tip.

Red Velvet Pancakes Recipe
By Food Republic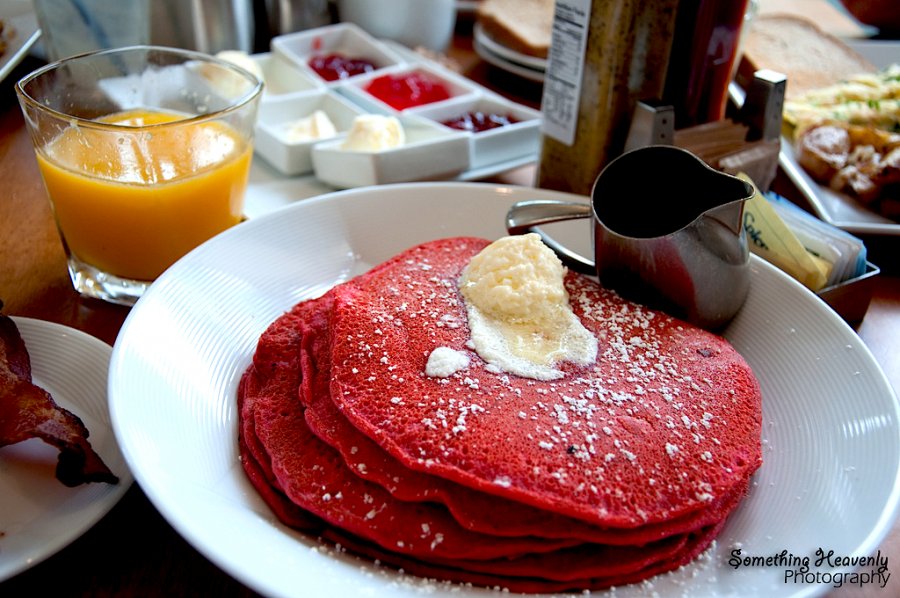 Ingredients:
1 cup all-purpose flour
1 teaspoon baking powder
1/4 teaspoon baking soda
1/4 teaspoon salt
2 tablespoons sugar
2 tablespoons unsweetened cocoa powder
1 egg
3/4 cup buttermilk
1/4 cup sour cream
1 tablespoon red food coloring
1 teaspoon pure vanilla extract
3 tablespoons butter, melted
Directions:
Whisk flour, baking powder, baking soda, salt, sugar and cocoa powder in a large bowl.
In another large bowl, beat egg with buttermilk, sour cream, food coloring and vanilla extract until smooth.
Slowly whisk in the flour mixture, adding melted butter in gradually as well, until all lumps are out.
Heat a large nonstick pan over medium heat, then drop in batter 1/4 cup at a time to form pancakes.
Flip when bottoms are set and bubbles are forming on top and cook until firm and fluffy all the way through.
Serve warm with cream cheese or syrup.
WE SAID THIS: Check out all of our recipes here.