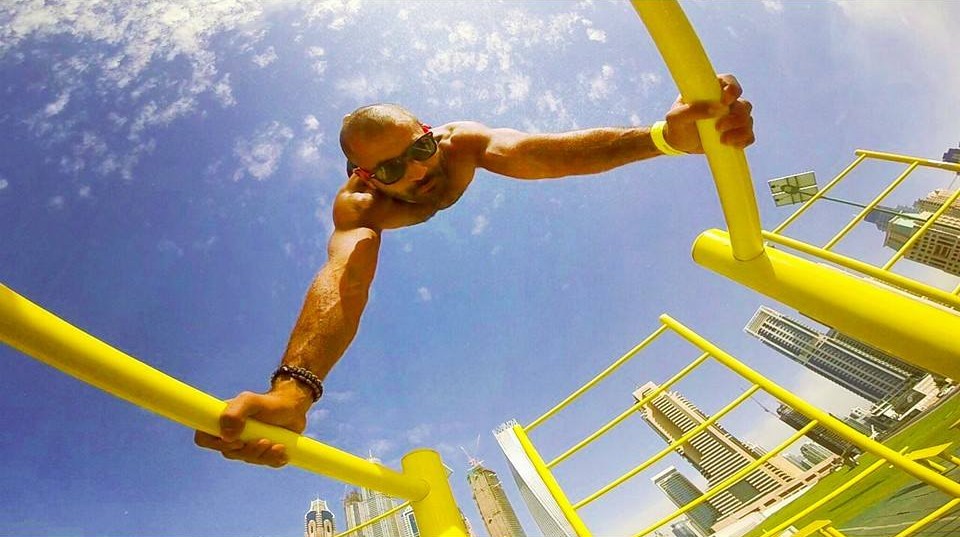 Ahead of Egypt's biggest fitness competition, the ELFIT Challenge taking place at Egypt Fitness Fest this weekend, we caught up with athlete and trainer Khaled Monib.
The Bake Rolz & Bake Stix-sponsored competitor shared with us his athletic journey, passion for fitness and words of wisdom.
Tell us briefly about your fitness journey. Have you always been fit? What made you start? How has it changed your life?
It has been a long journey. I was a hyperactive kid and I had a passion for trying any new sport. I started with gymnastics and judo and settled for rowing. I did rowing for seven years (from 2001 to 2008) and then I got injured while playing football in 2008.
I did an ACL surgery "robat saliby" on my left knee so I couldn't do anything except pull-ups and dips for seven months. I was really down, but I didn't stop! I kept working on my upper body during physiotherapy, and after seven months I recovered and was back on track with a stronger will and determination to come back stronger than before.
I went back to my rowing club, but the coach told me, "Sorry you can't be on the team anymore." I didn't want to stop rowing so I changed clubs and continued rowing as an amateur, just for the love of the sport.
In 2009, I competed in the National Universities Rowing Championship and won second place twice, and that was the last time I rowed. After that, I was back to judo in Gezira Club with the best coach, Sensei Karem Dahan. I did judo and Mixed Martial Arts (MMA) and competed in two championships in 2009 and 2011.
In addition to everything else I mentioned, I was always into calisthenics or body-weight training. In 2012, I founded a calisthenics community in Gezira Club called "Bar Community Egypt". I had a good team and we used to train five days a week. I progressed really fast and started taking it to the next level.
In 2013, I was invited to the World Calisthenics Championship in Riga, Latvia, but unfortunately I couldn't get travel permission from the army. However, this year I was chosen to compete in another event in Dubai called "Battle Of The Bars", a great competition organized by World Calisthenics Organization (WCO).
Last May, I was proud to be chosen as one of only 10 athletes from the Middle East and now I'm a WCO Master Trainer. I took the Calisthenics Level 1 & 2 courses in Dubai and the Master Trainer course and I'm now teaching calisthenics in Gezira Club.
2. What has your training been like for ELFIT?
I always integrate some weights and intervals with calisthenics, but for ELFIT this year I was already qualified from last year as I was among the top 20 athletes. Honestly, I wasn't keeping up with the announcements and I found out about the semi-finals just a week before the event, but I was ready and I made it to the finals and I'm so excited!
3. What advice do you have for people who want to compete in challenges like ELFIT?
Do anything and everything. You can't just go to the gym and lift weights or just do body weights; you need both! In order to be a complete athlete, you have to do everything! ELFIT challenges measure speed, agility, power, endurance and strength. So make sure to work on each. And do burpees!
4. Do you have any embarrassing stories related to training or competing?
In 2007, I was in a 2000-meter rowing race and in the middle of the race the sliding seat got off its track and I couldn't finish the race!
5. What fitness accomplishment are you most proud of?
Representing Egypt in the Battle of the Bars event in Dubai! Only 10 were chosen from the Middle East. It was an amazing experience!
I also have some personal accomplishments that I'm proud of. Every now and then I set a new challenge for myself and I work on it every day. Last year, I challenged myself to do 1,000 burpees and I timed it. Yes, I did one thousand burpees in 84 minutes! (The fastest time for 1,000 burpees at CrossFit Oakleigh/Strong Melbourne was 73 minutes by Jack Cotton on May 24, 2014. I think I'm close!)
6. How do you deal with disappointments and losses?
I'm not a sore loser; if I lose I accept it, but I don't like losing!
7. Who of your competitors do you secretly admire?
My friend Ali Ismail; he is a fighter! He won first place in ELFIT's first event in 2013. Last year, he got a slipped disk in his back but he knew how to deal with it and it made him stronger. It didn't break him down, he didn't stop, and after a whole year of struggle with his injury, he got the opportunity to compete again at the ELFIT Middle East finals this weekend.
8. What will your personal motto be going into the finals of ELFIT?
Give it your all!
9. Who is your sports idol?
Kenneth Gallarzo!
10. Are you like the rest of us and eat junk food?
Haha yes, sometimes I crave it!
WE SAID THIS: Don't miss Egypt Fitness Fest: The Ultimate Fun Fitness Weekend.