The city of sky-scapers and shopping malls, Dubai has a lot of impressive places you can go to. If you are going to Dubai, these helpful tips for unusual places are for you.
Ain Dubai Ferris Wheel on Bluewaters Island
Burj Khalifa is the world's highest skyscraper and the true symbol of modern Dubai — but recently, Dubai has beaten another record.
On October 21, 2021, locals and tourists got an opportunity to enjoy mesmerizing views from the highest Ferris wheel in the world, in Dubai. It will lift you to 250 meters in the sky, and you'll see the beautiful Dubai Marina and Bluewaters Island from a bird's eye view. Even the famous London Eye would get jealous!
Observing the emirate from the mind-blowing height is not the only reason to ride on Ain Dubai. It's different from other Ferris wheels — VIP tourists can dine in their booth and ask a personal bartender to prepare them Margarita while the wheel is spinning (a full spin is 38 minutes.) Book a ride during daylight or enjoy the views of the night city lights for AED 130 for a standard booth or AED 380 for a VIP booth.
The World's Tallest Panoramic Pool With 360-degree City Views
For those who want to relax and feel beautiful: swim in Aura Skypool, located on the fiftieth floor of Palm Tower, 200 meters above the sea line. It opened in the middle of November, and now, guests can bathe in the sunset in a pool of 775 square meters while looking at the horizon of astonishing views of the Arabian Gulf and Palm Jumeirah.
You can book tickets starting from the price of AED 170 and up. High above, without a worry in the world, you can swim in the pool surrounded by a green terrasse in a vibrant atmosphere of comfort and peace, leisurely sipping cocktails and eating delicious Pan-Asian food.
The World's Largest Floating Nightclub Float Dubai
QE2, also known as Queen Elizabeth 2, is a historic ocean liner that now hosts the largest water nightclub, Float Dubai.
QE2 used to be the biggest passenger liner — its story began in 1969. The vessel gained so much popularity that you could always spot first-class stars on the board. Since 2008, QE2 has been functioning as a hotel on the water in Dubai. On October 14, 2021, it opened as a floating nightclub for the first time.
The opening party lasted for three days. American rapper DaBaby, DJs, dancers, hula-hoopers, and acrobats have been invited to delight the guests and make a spectacular show. Incredibly expensive Dom Perignon Rose Gold champagne became the most popular drink of the evening.
The floating club was created as a unique space that combines the past, present, and future: a legendary British ship, modern beats, and technology that almost seems futuristic, all blended to provide guests with an unforgettable experience.
The Deepest Diving Pool in the World in Nad Al Sheba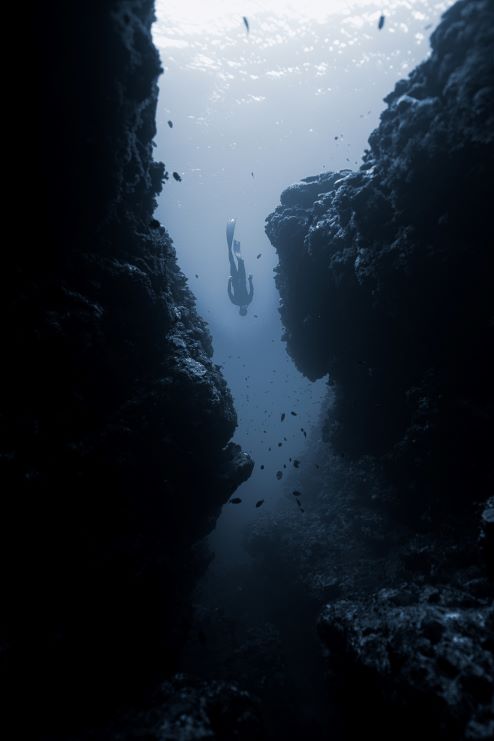 You can also visit a Deep Dive — a diving pool that can fit 6 Olympic pools inside. It's practically an underwater town — with a capacity of 14 million liters of water and sixty meters of depth, the pool has beaten the previous record-breaker — Polish DeepSpot.
If you have proper certification, dive deep to explore the mysterious sunken city, its alleyways with street arts, rooms with old books, kickers, pianos, and many more things you wouldn't expect to see underwater. Modern and realistic lighting and sound systems help to recreate the real-life atmosphere.
Where to Stay During this Exciting Trip
Dubai mesmerizes. Whoever you are: a luxury seeker; a person interested in the emirate's history and culture; or a person, simply seeking a good vacation time, you will find a housing option that fits your preferences.
So where to stay in Dubai? Check out a few recommendations gathered based on Telegraph experts' choice.
Al Seef/Al Fahidi – Old Dubai
A neighborhood for those who want to explore a blend of different cultures and traditions in the city: tiny streets, lots of museums, and sun-baked country yards. Al Seef Heritage and XVA boutique hotels are the places where tradition and luxury blend.
Jumeirah – For Refined Luxury
Jumeirah is a district for those who long for luxury. It stretches miles alongside the seafront lined with elegant villas and commercial areas. Book a room in Burj Al Arab or Mandarin Oriental — it's a few minutes away from an amazing waterpark, opulent boutiques, and high-class restaurants.
Dubai Marina For Adventurous Weekend
Dubai Marina looks like almost a separate city. This is one of the most sought-after neighborhoods in the entire emirate. Glowing skyscrapers at night, water taxis and parasailing, supercars events, and many other places and activities make Dubai Marina so attractive for visitors. The Address Downtown and Rove Dubai Marina would be the perfect places to stay.
There are so many interesting places to go and things to do in Dubai! Tourists who go to the city for the first time, and those who visit the emirate regularly will get so many great memories from exploring it.
WE SAID THIS: Dubai is a place that you will never regret visiting!