In the past 18 months, couriers in yellow t-shirts took over the streets of Egypt, delivering orders all over and making our lives easier in the process. For that, we have to thank Glovo, an on-demand delivery startup that has taken Egypt by storm. Glovo held sway over the competitive delivery market in Egypt, achieving double-digits. Today, as the Spanish-based company opens its third Glover Center in Egypt, it seems that it is committed to expanding further into the Egyptian market.
The Glover Center is the hub, where all day-to-day problems encountered by Glovers are solved. Glovers, of course, are Glovo's delivery riders, who cycle orders all over throughout the day. It is also where Glovers attend onboarding sessions to get acquainted with the work environment with workshops tailored to them and are provided with proper training to deal with customers as well as stores.
The launch of Egypt's third Glover Center – and Cairo's second – saw the honoring of the top-performing Glovers in all zones. Then, all Glovers sat down for road safety training sessions to help them get accustomed to Egypt's traffic with its hustle and bustle.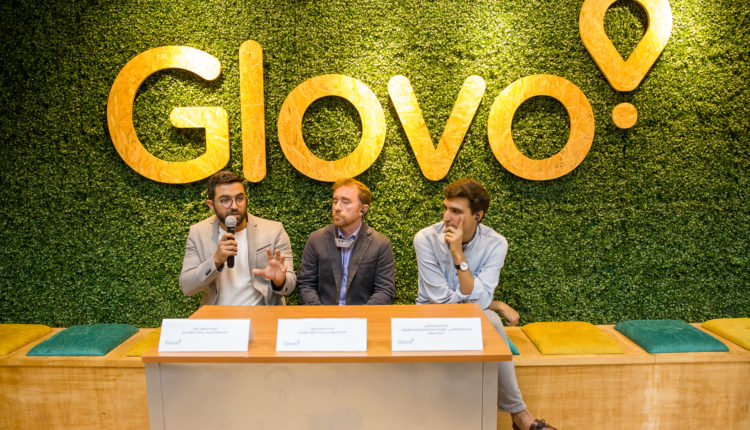 The event was attended by Glovo's representatives from the HQ in Spain as well as the local management team, led by Sacha Michaud Co-founder of Glovo, Rodrigo Alier Regional General Manager EEMEA, and Mustafa Kamel, Head of Sales at Glovo Egypt.
"We are a service company that has been able to achieve remarkable success since its establishment in 2015 in Spain. Today we are pleased to announce the opening of our 3rd Glover Center in Egypt. This came to confirm our strong and effective commitment towards the Egyptian market which has become one of our fastest-growing markets in the world today."
"Glovo was founded by ambitious youth, the principle on which the company's plans were settled. Stemming from this point, we provide easy to use technology in everyone's hand, giving them access to their own city to buy and get everything within minutes, thanks to the help of our active Glovers since its launch in Egypt. This comes in line with Glovo's strategy to expand and strengthen the service sector across all markets," Michaud stated at the event.
Ever since Glovo started its operation here in Cairo and then expanded to other governorates, it provided around 5,000 job opportunities to the Egyptian youth. It is one of the few companies in Egypt that publicly state its commitment to the country's youth.
During the event, Alier pointed out that, "the company was not only looking to employ the youth of intermediate education but university students as well to help them support themselves. He then revealed more about Glovo's ambitious expansive plan for the next quarter; the Spanish delivery app looks to put down its feet into two new zones inside Cairo and tow new cities outside of the capital." Alier stated.
Mustafa Kamel, Head of Sales at Glovo Egypt said "We are glad to announce that our sales and customer base increase by 35%, and 8% – 10% on average every month, respectively. During this period, we have been able to collaborate with many distinctive partners to reach 1000+ partners working in the food and non-food sectors locally and internationally. Through this fruitful cooperation, we have succeeded in increasing sales and additional revenue for all partners by 25% – 50%," Kamel added.
Today, Glovo serves around one million customers, and by the end of 2020, the on-demand delivery app aims to reach more people and to provide more jobs, promising an additional 1,000 job opportunities to the youth of Egypt.
WE SAID THIS: Looks like it will be one hell of a ride. Good luck, Glovo!