It's 2018 and celebrity males still don't know the first thing about 'political correctness'. The whole world has been going on and on about beauty coming in all sizes, shapes, colors, attitudes, acceptance, and self-love, but we guess Khaled Eleish didn't get the memo.
Halloween is just around the corner and while photos of not-so-scary costumes are taking over our newsfeeds, so are the Halloween-themed memes and jokes. Nogoom FM's host, Khaled Eleish, shared a supposedly funny tweet, about women going out without makeup on Halloween because apparently that is scarier than any costume and they should all try to guess who the woman is.
The tweet is what we call burrowed-humor, as it is anything but original; the same joke has been shared on social media thousands of times in the previous years.
ليه الهالويين الجاي ما نعملش مبادرة ان الستات و البنات كلها تنزل الصبح من غير ميكاب ولا تعمل شعرها .. و نحاول نخض بعض و يبقي التحدي هل هتقدر تتعرف علي زميلاتك في اليوم ده ولا لأ ؟؟ #بدون_مكياج_افضل #الهالويين_المصري

— Khaled Eleish (@KhaledEleish) October 21, 2018
Khaled Eleish: "Why don't we encourage women and girls to go out with no makeup or hair done on Halloween? Then the challenge would be whether we'll be able to guess who each one of them really is!"
Yet, celebrities need to be careful with what they share on social media. The radio host has thousands of female fans who are apparently offended because that's what people do in 2018. We read stuff online and think how this could directly, or indirectly, be held against us and get offended. It's funny and ridiculous but it's the world we live in.
The female social media backlash was quick and fierce, yet Eleish replied with humor and later tweeted that he blames Autumn's bloom for people taking his jokes too seriously.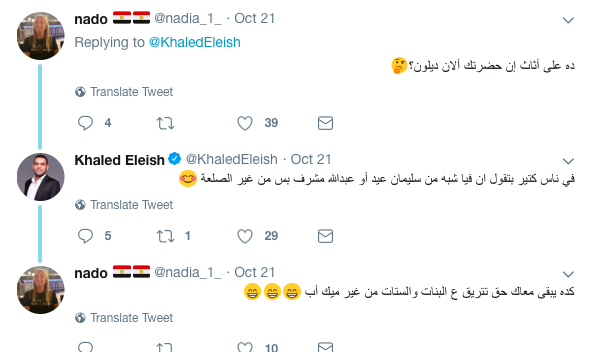 Nadia: "As if you're Alain Delon's lookalike?"
Khaled Eleish: "A lot of people say I look like Seliman Eid or Abdallah Meshref if they weren't bald."
Nadia: "Oh, so you have the right to make fun of girls without make up.."
Arabi: "Why the hassle when you can just show off your teeth?"
Khaled Eleish: "That's my sexiest feature!"
However, the host couldn't let things die, he just had to add salt to all the women's wound with a final tweet.
اللي فهم التويتة الهزار بتاعة الهالويين وميكياج الستات غلط
أولا انا مش بتريق علي خلقة ربنا لان البنات اللي بتحط ميكيب وحش هما اللي بيبوظو خلقة ربنا لو حطو ميكيب اوڤر و غلط
ثانيا اللي رد و علق علي شكلي أو سناني أو خلقتي فحابب اقولك اني حاببها جدا عشان ببساطة دي خلقة ربنا
شكرًا ?

— Khaled Eleish (@KhaledEleish) October 27, 2018
Khaled Eleish: "Those who misunderstood my Halloween joke in my previous tweet, firstly, I'm not making fun of God's creation because girls who put on terrible makeup are the ones doing it, not me."
WE SAID THIS: Two words: Delete tweet!