The television show, Sheikh El-Hara, left viewers stunned earlier this month after host Basma Wahba aired an interview with Somaya ElKhashab. The actress accused her ex-husband of domestic abuse in a tell-all interview.
It appears that Wahba's days of celebrity confessions are over. Egyptian director, Khaled Youssef, took to Instagram to announce that he decided to sue the television show, Wahba, and ALKahera W Al Nas for defamation after the last aired episode which featured his ex-wife, Yasmine El Khateeb.
Yasmine El-Khateeb referred to her marriage to Youssef as a curse and denied leaking the videos of him engaging in sexual activity with two actresses. The director vowed to sue every media outlet that intentionally attempts to start rumors that have affected his personal life just for the sake of traffic and views.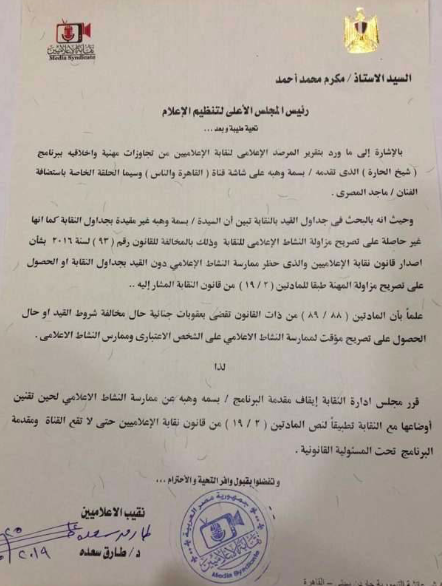 This is not the first time the show has been under fire. In an earlier episode, actor Magued El-Masry made a racist remark about being horrified by a group of African women which caused a social media storm. The head of the Media Syndicate, Tarek Saada, stated that the suspension of Basma Wahba and the show was based on violating professional morals.