It's no secret that director Khaled Youssef escaped one of the biggest sex scandals in the history of Egyptian film. After the leaking of several pornographic videos alongside young Egyptian actresses, Youssef fled to France to avoid being "named and shamed."
We're not here to hang out his dirty laundry, but it's worth looking at how celebs and other public figures have received him.
After being absent for two and a half years, he pretty much strolled back into Egypt as if nothing happened.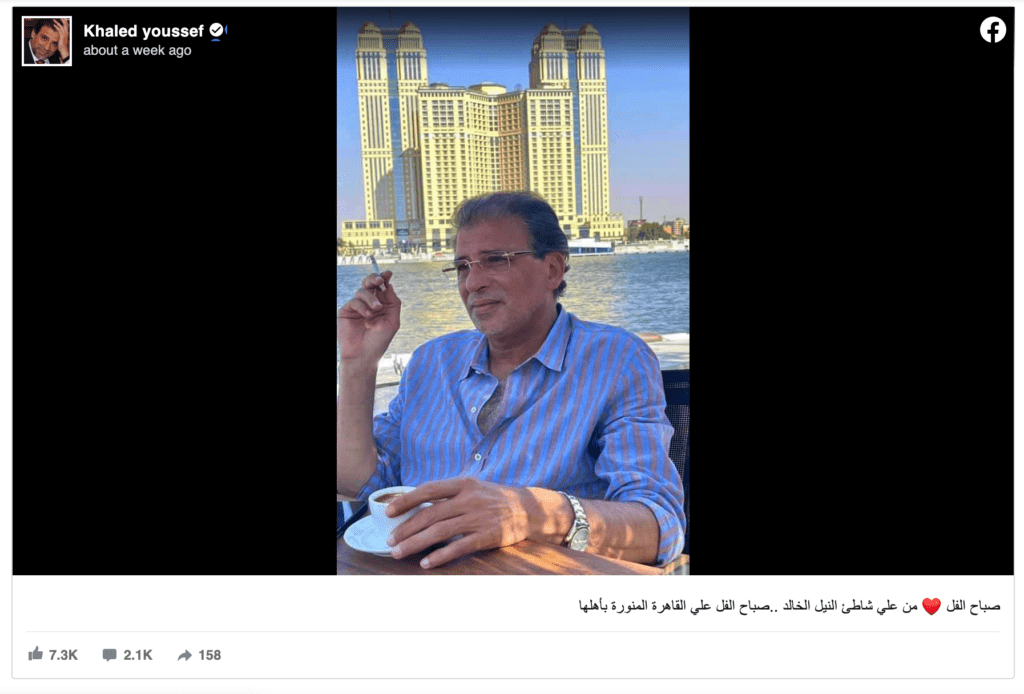 Khaled captioned, "Good morning ❤️ from the timeless shore of the Nile. Good morning to you Cairo that is lightened up with all its families"
Khaled Youssef seems to have a reputation that has nine lives, as comments were flooded with celebs welcoming him back and sending him their best wishes.
Even Amr Adeeb welcomed him back with open arms on his talk show
A short clip from the episode on which Khaled Youssef appeared as a guest on Amr Adeeb's show. We can't help but notice the arrogance in his tone as he tried to justify why he left Egypt.
In the end I'm coming out of it with a film. And I can assure you I was living well. I never doubted that I would return to Egypt. I just took a break from the industry to get away from all the negatvity. Suddenly, I found myself in a position where people bacame very harsh towards me – they even swore at me! It upset me a lot and I couldn't live in an environment like that.

(Translated from Khaled Yossef's appearence on Amr Adeeb's Show)
Do you think his return should be celebrated? What happened with him would definitely have been career-shattering if he were a woman.
Just some food for thought – this really is a prime example of the film industry's hypocrisy and double standards…