#JusticeForNoura: Viral Movement Demanding Freedom for This Sudanese Teenager
Via Change.org
"It was a shocking moment when the judge convicted me with murder. I knew then that I would be executed, leaving my dreams unfulfilled." Said Noura Hussein after her initial sentence! Noura is a nineteen-year-old Sudanese girl, who has been condemned to death by a court in Omdurman for stabbing her husband to death after raping her with the assistance of her family.

The story began three years ago when 16-year-old Noura was told that she was to be married to a stranger. The young girl refused and ran off to live with her aunt, and after three years, she received a call telling her that the wedding was canceled and she can return home to her family. What she didn't know is that when she returned, the wedding plans were ready, but with no chance for her to escape.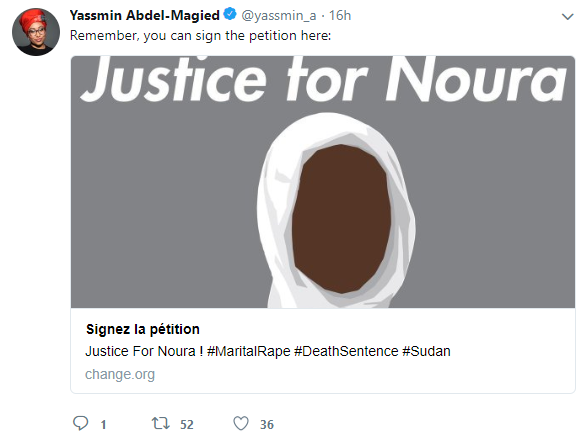 After Noura's wedding, she alleges that a number of men, her husband's relatives, entered her home, asked why she was rejecting intercourse with her husband and then held her down as he raped her. As he tried to rape her again the next day, Noura stabbed him to death. As Marital Rape is not recognized as a crime in Sudan, the young girl was sentenced to death. The family of her husband declined financial compensation and therefore asked for her to be executed.
#JusticeForNoura is a movement and a viral hashtag that sparked to save the girl and to highlight the catastrophe that is marital rape. Her legal team is preparing to appeal the sentence, while online and on ground supporters are rallying in hopes to save Noura.
WE SAID THIS: We hope that the movement succeeds in saving Noura, and ending the injustice for women whose similar cases do not go viral!