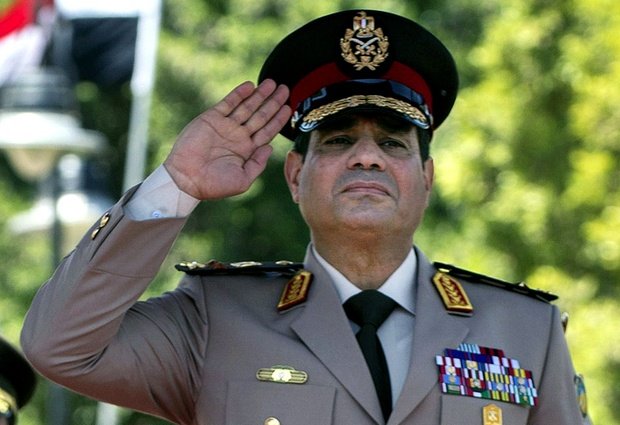 Today marks the birthday of Egypt's celebrity strongman du jour, General Abdel Fattah El-Sisi. In honor of his birth – a blessing to the Egyptian people, according to people like her, or a curse according to people like him – we've decided to give you a round up of his essential details.
Read up on the man behind the name spray-painted all over Egypt's fast-moving streets these days.
Background
A/S/L: General Sisi was born on Nov. 19, 1954, making him 59 years old today and one of the youngest members of the country's Supreme Council of the Armed Forces (SCAF). Born in Cairo, Sisi hails from the historic Gamaleya district.
He has two brothers – one businessman and one judge – and five sisters. His father owns a handicrafts shop in Khan El-Khalili called Al-Sisi.
Military Academy, '77: Sisi graduated from the Egyptian military academy as an infantry officer at the age of 22.
The general is married with three sons, one daughter and four grandchildren.
Before the revolution, Sisi was generally unknown to the Egyptian public. After graduating from the academy, he rose steadily through the army's ranks, although dates and background details are hazy.
Military Career
Like most members of the younger military elite, Sisi conducted trainings twice in the U.S. (as opposed to Russia), the most recent stint being in 2006 for one year. He also did a course in the UK at the British Command and Staff College and was sent to Saudi Arabia as a military attache in Riyadh.
During his career, Sisi advanced through progressively more responsible (and powerful) positions, rising from Commander of a battalion, to Chief of Staff then Commander of a brigade, to Chief of Staff of a division. He then rose to Chief of Staff then Commander of the Northern Military Zone (Alexandria) before being promoted to Deputy Director of Military Intelligence and Reconnaissance.
In 2011, then military chief Field Marshall Mohamed Hussein Tantawi handpicked Sisi to head military intelligence, making him one of the youngest members of SCAF.
In Aug., 2012 Sisi was appointed to Minister of Defense by then President Mohamed Morsy, who also promoted him to the rank of General. Sisi succeeded Tantawi in this post.
Choice Quotes
"The virginity-test procedure was done to protect the girls from rape as well as to protect the soldiers and officers from rape accusations." – Apr. 2012, Al-Ahram
"Mark my words and take me very seriously: The Egyptian military is different from other militaries around the world." – Aug. 2013, Washington Post
"I read the [Jul. 3] statement and then went to my mother's place." – Oct. 2013, Egypt Independent
WE SAID THIS: Check out Just the Facts: Sami Anan.