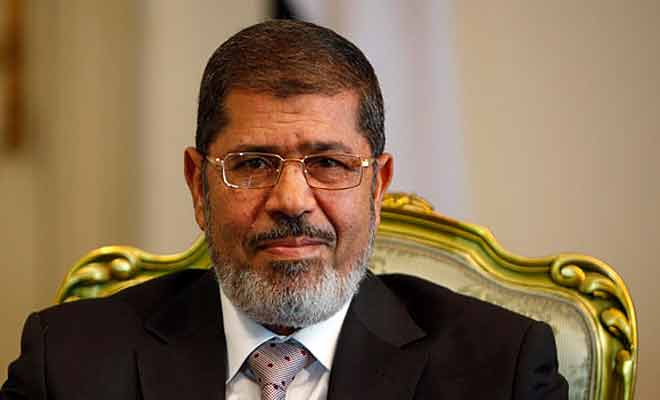 Former Egyptian president Mohamed Morsy is scheduled to stand trial on Monday, Nov. 4, for charges of "thuggery" and inciting his supporters to violence against protestors, including murder, at the Ittihadiya presidential palace last December.
With so much unverified information swirling around online, here's a factsheet about the man who was at the helm of the Muslim Brotherhood's short-lived presidency in Egypt.
Background
A/S/L: Morsy is a 62-year-old Leo (rawr). He was born on Aug. 20, 1951 in Sharkeya and his current location is unknown to the public. It also isn't known whether he will appear in person for his first day of trial, or where the trial will even be held. The most likely locations are Cairo's Police Academy, where former president Hosny Mubarak is being tried, or the police officers' institute in Tora, where MB leaders are being held.
Cairo U, Class of '75 and '78: Morsy graduated with a Bachelor's degree in Engineering from Cairo University in 1975 and a Master's in Metallurgical Engineering in 1978.
Egyptian Military, Batch of '76: After graduating, Morsy did his military service from 1975-76 in the chemical warfare department.
Muslim Brotherhood, Since '79: Morsy joined Islamist organization and largest opposition group in the Arab world the Muslim Brotherhood when he was studying in the U.S.
USC, Class of '82: Morsy received his PhD in Materials Engineering from the University of Southern California on a scholarship.
"Professor Al-Ayat", 1982-85: Morsy was Assistant Professor at the Department of Civil Engineering and Construction Management at California State University, Northridge. According to a colleague, even back in the '80's Morsy was "conservative" and "His English destroyed many students".
Father of Five: Morsy has five children. His two eldest were born in Los Angeles and they hold U.S. citizenship, which they refuse to renounce.
Back to Egypt, 1985: After his return, Morsy taught engineering at Zagazig University in Sharkeya.
The public record of the next decade gets fuzzy after Morsy leaves the U.S. During this time, Morsy rises within the ranks of the Muslim Brotherhood due to his allegiance to the group and to leading member Khairat el-Shater.
Politics
MB Guidance Bureau, 1995: Just ten years after returning to Egypt, Morsy became a member of the Brotherhood's powerful Guidance Bureau, which is comprised of about 15 longtime members and oversees a range of issues, including education, politics and women.
MB's Voice in Egypt's Parliament, 2000-2005: Morsy won his seat as an Independent, since the Muslim Brotherhood was banned from office in Egypt during this time, and acted as the group's representative in parliament.
Political Prisoner, 2006 and 2011: Morsy was jailed for seven months in 2006 for participating in demonstrations about the judiciary. In 2011, he was jailed for two days during the Egyptian revolution along with 34 other MB leaders. They were all released in a prison break, the details of which are sketchy at best.
FJP Head, 2011: After Mubarak's ouster, the Muslim Brotherhood established its political wing, the Freedom and Justice Party, with Morsy as its head.
Egypt's First Democratically-Elected President, 2012: After el-Shater's disqualification from Egypt's presidential elections, Morsy was tapped as the FJP's new candidate. He won close to 25% of the vote in the first round of elections and 51.7% in the hotly debated run-off, defeating opponent and former prime minister Ahmed Shafiq.
Egypt's First Democratically-Elected President to be Overthrown, 2013: After a highly contentious year and mounting public dissatisfaction with his presidency, massive, record-breaking protests urging Morsy to step down were staged around the country on Jun. 30, the anniversary of his election win. Smaller, competing demonstrations in support of Morsy were also held. The Egyptian military then announced a 48-hour ultimatum for Morsy to "meet the demands of the people" or it would step in to restore order. On Jul. 3, military forces apprehended Morsy and he has been held in detention in a secret location since.
WE SAID THIS: What are your thoughts about the Morsy trial? Tell us in the comments.