In Pictures: The Egyptian Museum Introduces a New Path for the Visually Impaired
Via Memphis Tours.
On Thursday, the Egyptian Museum in Tahrir inaugurated a new path for visitors who are visually impaired. The upgrade came as a part of a collaboration between Egypt's and Italy's governments.
The inauguration saw Minister of Antiquities Khaled El-Enany, Minister of Tourism Rania Al-Mashat, Minister of Youth and Sports Ashraf Sobhy, in addition to 16 foreign ambassadors, attending the ceremony and embarking on a tour of the new path.
According to Ahram Online, the path was developed by the Archaeological Centre of the Italian Cultural Institute in Cairo as a result of the ongoing collaboration between the Egyptian Museum and the Museo Tattile Statale Omero in Ancona under the auspices of the Italian foreign ministry's Vivere all' Italiana program.
Earlier this year, Egypt expressed its wishes to make its museums more accessible to people with special needs and disabilities. Italy's Omero Museum in Ancona came in with its expertise in the field, allowing people with visual disabilities to enjoy the country's heritage along with the rest of the public.
The new path in the Egyptian Museum in Tahrir is ready to be expanded and replicated in other museums around the country.
The path has 12 artifacts of ancient Egyptian art made of hard Egyptian stone with labels in Braille and electronic audio devices. These masterpieces include the Narmer Palette, the triad of King Menkaure, and the Sphinx of King Amenemhat III.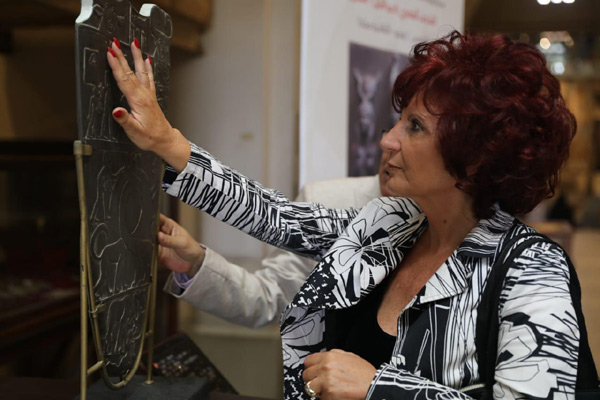 WE SAID THIS: We've been seeing so many upgrades to the Egyptian Museum lately!