There is nothing more glorious and mouth-watering than devoruing half a box of kahk on the first day of Eid. It's not like we've been starving ourselves in Ramadan with all the konafa we've eaten, but the end of the holy month marks the begining of a new era. I delude myself into believing that what happens in Ramadan, stays in Ramadan.
Unfortunatley this year my conscious has awakened and I will try to stay strong as I face the kahk; or as Khloe kardashian likes to call them snowball cookies.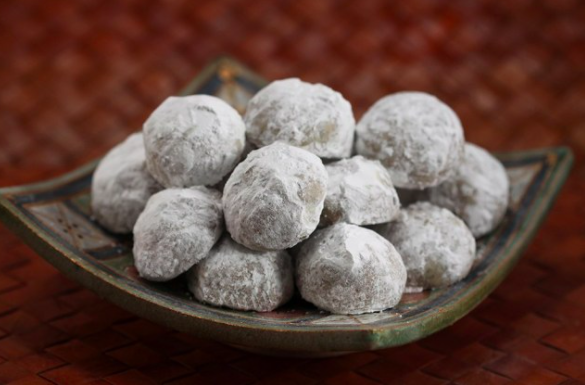 I've been searching for desserts that will leave me drooling and have less than a 1000 calories per bite. Let's all agree on something, even the healthiest sweets can end up in your hips, abs and thighs if you don't count your calories.
Moderation is key and since we can't stop at 1 kahk/ day which is 112 kcal (7g carbs, 8g fats, 1g protein), we will hopefully avoid it altogether.
Here is a list of kahk replacements that can still get you fat, but not as fat as kahk fat:
Berry pancakes, banana bread, chocolate brownies and peanut butter cookies.
This Youtube video has four recipes for supposedly healthy desserts. Ingredients include whole wheat flour, low-fat milk, Greek yogurt and unsweetened cocoa. Personally, I like to use oat or almond flour.
It's true that healthy desserts lack that puff and moist feel of regular desserts, but it's bikini season so get over it.
Icecream, frappe with whipped cream and soft cookie dough
These are some really exciting recipes that are perfect for the weather. Main ingredients include coconut and almond milk and a protein bar by RXBAR. It's obvious that it's an ad, but the recipes are unquestionably amazing.
Parfait
Three different perfect parfaits that will quench your summer thirst. Main ingredients include Greek yogurt, granola, fruits like strawberries, bananas and berries and unsweetened cocoa.
Cookies
Another kahk replacement that is both dull and sad, but life is unfair and cellulite is real. Main ingredients are oats and you can easily make lemon almond, peanut butter, banana raisin or coconut cookies.
Chocolate banana lollipops, popsicles and banana peanut icecream
These recipes are packed with calories however they are a healthy substitution to artificial desserts for the children. They're fun and look heavenly.