From Sending Aid To Treating Gazan Babies: How Egypt's Been A Helping Hand Through The Gaza Genocide
Egypt as the closest country to Palestine, geographically and in spirits, has since day one of the ongoing genocide in Gaza been negotiating with Israel, and the United States, and handling an extremely delicate and complicated position with regard to aiding people in Gaza amid intransigence. Lots of efforts have been made so far, below are some of the highlights of Egypt's efforts in showing genuine, effective support the neighboring Palestinian people.
Hospitalizing 36 New Born Babies From Gaza
As Egypt acknowledges the urgency of aiding the Palestinians in Gaza, the Minister of Health, Khaled Abdelghaffar has confirmed that Egyptian officials are working to transfer 36 newborns from Al Shifa Hospital in Gaza to Egypt. in accordance with the Palestinian Red Crescent.
أعلنت وزارة الصحة المصرية، العمل على استقبال 36 طفلا من حديثي الولادة الموجودين داخل مستشفى الشفاء في قطاع غزة#متن_نيوزhttps://t.co/SNuRzK9qzS

— متن نيوز (@MatnNews) November 15, 2023
Negotiations With Israel & US To Send Aid Through Rafah Crossing
Since day one, Egypt's President Abdelfattah Al Sisi has been negotiating with the United States and Israel concerning the urgency of reopening the Rafah crossing amid the humanitarian crisis in Gaza. After lots of reluctance from Israel, and persistence from Egypt's side, the crossing opened for the first time on 21 October allowing 20 trucks of humanitarian aid.
دخول وفد من الصليب الأحمر وعدد من الشاحنات المحملة بالمساعدات إلى قطاع #غزة عبر معبر رفح البري pic.twitter.com/YvLBvFINBl

— التلفزيون العربي (@AlarabyTV) November 15, 2023
Hosting Cairo Peace Summit
Egypt called for an international summit on Satuday 21 October to address the developments and future of the Palestinian cause. While the trucks of humanitarian aid supplied by charitable organizations in Egypt and other international organizations was crossing to Gaza, Egypt was hosting the Cairo Peace Summit where representative of 35 countries and four international organizations attended. In his opening remark Al Sisi said:
"Who thinks that the resilient Palestinian people want to leave their country, even if it was under strike and occupation, doesn't understand the nature of Palestinians…In clear words I confirm to the whole world that resolving the Palestinian conflict in any scenario possible will not be on the expense of Egypt."
الرئيس السيسي خلال قمة السلام في القاهرة:

🚧 "أؤكد للعالم أن تصفية القضية الفلسطينية 🇵🇸 دون حل عادل لن يحدث على حساب مصر 🇪🇬 " مكررا قوله مرتين! pic.twitter.com/1wF65kyfDm

— أحداث سياسية (@rzc_o8) October 21, 2023
Receiving Cancer, and Severely Injured Patients
Since late October, Egypt has been preparing to receive a number of severely injured patients, whom were distributed to hospitals. The Ministry of Health announced receiving 19 Palestinians from the Gaza Strip who are suffering from cancer or tumor disease, among of them are 12 children. They were then distributed over Egyptian tumor hospitals.
#عاجل| هيئة المعابر والحدود الفلسطينية: #مصر أبلغتنا بأن 81 من مواطني غزة المصابين بجروح خطيرة سيغادرون إلى مصر غدا لتلقي العلاج#القاهرة_الإخبارية#من_غزة_هنا_القاهرة#تضامنا_مع_فلسطين #غزة #فلسطين pic.twitter.com/b58XxEjzd9

— AlQahera News (@Alqaheranewstv) October 31, 2023
Doctors Syndicate: 2000 Doctors Volunteer to Aid Patients From Gaza
While the hospitals in Gaza are shutting down one hospital after the other, including its largest hospital Al Shifa, the Doctors Syndicate in Cairo comes prepared to offer complete support for injured people of Gaza. 2000 doctors have volunteered to join the front line who are being trained to work in Arish and Sinai hospitals. In addition to that, one of the committees of the syndicate has dedicated two million Egyptian pounds as an initial amount to cover medical supplies and the expenses of volunteer doctors.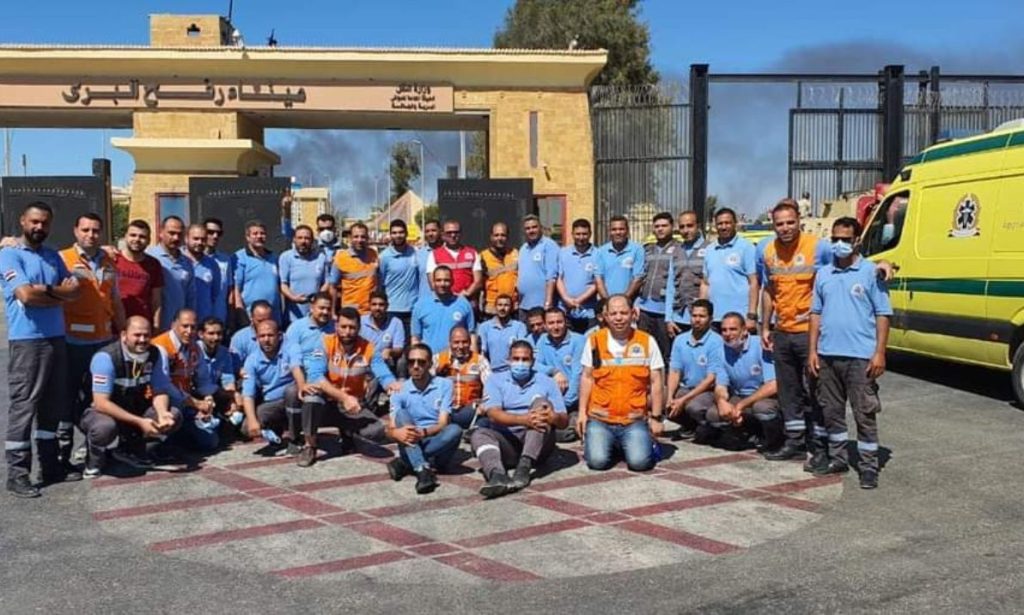 Receiving Aid to Gaza Internationally Through Arish Airport
In a statement issued by the Ministry of Foreign Affairs, Egypt called on countries and organizations to send the planes and cargos of humanitarian aid to Arish International Airport which has been designated by Egyptian authorities to receive international aid. Egypt takes full responsibility for receiving this aid, and then delivering it to the Palestinian Red Crescent in Gaza.
قطر ترسل مستشفى ميدانيًّا إلى مطار العريش استعدادًا لنقله عبر معبر رفح إلى قطاع غزة pic.twitter.com/qh9BR24LgP

— الجزيرة مصر (@AJA_Egypt) November 15, 2023
The situation in Gaza is escalating every minute. Only in 40 days, the Israeli occupation has massacred more than 11 thousand Palestinian man, woman, child. More than four thousand of the martyrs are children. The injured are estimated to exceed 26 thousand people many of them are between life and death. At this point in time, the conflict has shifted from a historicist one, and many are coming in terms with the reality of Israeli occupation over Palestine.
WE SAID THIS: Don't Miss…20 Trucks Finally Offloading At Rafah Crossing