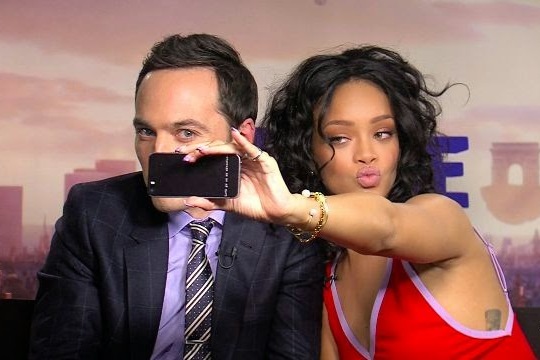 She promised a new direction, and she's certainly delivering – Rihanna's newest single "Towards the Sun" is an upbeat, positive song focusing mostly on her falsetto. The single is off the soundtrack of upcoming animated film Home, and is currently available on iTunes. RiRi will also be starring in the movie along with Steve Martin, Jennifer Lopez and Big Bang Theory's Jim Parsons.
 And in case she hasn't already outdone herself this year, she is also apparently dating Leonardo DiCaprio, who – according to People Magazine – she got flirty with while celebrating her 27th birthday last week. Other guests included Jim Carrey, Naomi Campbell, Mick Jagger and Bill Murray.
The other headlining couple of the week is Zedd and Selena Gomez, who have also come together on a new track titled "I Want You to Know". Unfortunately, I think that makes their celebrity name Zeddlena.
Kelly Clarkson is known for belting out those empowering tunes like a boss, and her new one "Invincible", which was written by Sia, is equally fantastic. The single is included in her new album Piece by Piece, which is due this week.
Ed Sheeran is performing in Dubai this weekend, so if you're not already pumped up… well, check out his amazing cover of Christina Aguilera's "Dirrty" on BBC Radio 1's Live Lounge:
And speaking of Xtina, here she is doing a kickass Britney impersonation on Jimmy Fallon's Tonight Show:
WE SAID THIS: Don't miss "For the Record: The Five Best Collaborations We've Heard This Week"